The Oxford word of the year is to be decided by the public for the first time.
The options for 2022 are metaverse, #IStandWith and the phrase goblin mode.

They were chosen by a team of lexicographers from Oxford University Press - the publisher of the Oxford English Dictionary - who felt they were "each relevant to the year in a different way".

Language lovers have until 2 December to decide.

So, what do the three different terms mean?

*  The metaverse is a conceptual virtual world where people can live, work, shop, eat and make friends. Usage of the word has quadrupled in October 2022 in the age of virtual reality and working from home, compared to the same month last year, according to Oxford University Press. Here we break down the metaverse for you.

*  The hashtag #IStandWith "recognises the activism and division that has characterised this year" and is used by people expressing solidarity with a movement or cause, such as the war in Ukraine, the team said. The hashtag has 2.8m views on TikTok, they added.

*  Goblin mode is a slang phrase dating back to 2009, according to Oxford University Press. It is used to describe someone as being lazy, greedy and self-indulgent, and in doing so, rejecting social norms. The phrase was rediscovered at a time when people came out of lockdowns around the world and could relate more to its meaning, the team said. They added that it saw a rise in interest when actress and model Julia Fox was linked to a fake headline using the phrase about her break up with rapper Kanye West.

The opening of the vote to the public is a significant move, and organisers said although the world was opened back up this year and physically reunited after Covid, it feels "more divided than ever".

President of Oxford Languages Casper Grathwohl added: "Over the past year the world reopened, and it is in that spirit we're opening up the selection process for the Word of the Year to language lovers everywhere."

Other contenders this year were Platty Jubes - an internet term for the Queen's platinum jubilee - and quiet quitting - doing the minimum required for your job - but the choice was ultimately narrowed down to three. Here we explore the workplace trend that has been taking over TikTok.

Last year's winner was vax, which rose to popularity with the emergence of the coronavirus vaccine and saw a surge in use.

In 2020, Oxford Languages decided there were too many contenders and the award included a range of winners including lockdown, bushfires and Covid-19, as well as Black Lives Matter, WFH [working from home], keyworkers and furlough.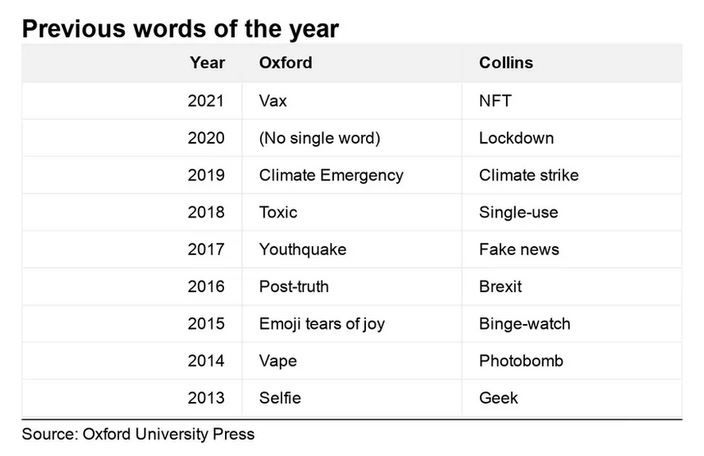 Permacrisis, a word describing the feeling of living through a period of war and political instability, was chosen by Collins Dictionary's as their word of the year for 2022.

The winner will be announced on 5 December.