The omission of measures to improve workers' rights from the Queen's Speech has been criticised.
Unions accused the government of "turning its back" on workers while industry groups said they were disappointed the bill had been omitted.

Flexible working rights, protections against pregnancy discrimination, and rights for staff to keep all tips had been hoped for in an Employment Bill.

Plans for the bill were first announced by the government in 2019.

A planned Employment Bill was first announced in the Queen's Speech in December 2019, but no firm legalisation has been brought forward to date.

There had been concerns that workers' rights could be watered down after the UK left the EU, and worries about treatment of employees in the gig economy had also led to calls for reform.

TUC head Frances O'Grady said the lack of the Employment Bill in Tuesday's Queen's Speech meant "vital rights that ministers had promised - like default flexible working, fair tips and protection from pregnancy discrimination - risk being ditched for good".

She claimed by shelving the legislation, ministers had "sent a signal that they are happy for rogue employers to ride roughshod over workers' rights," adding it would see "bad bosses celebrating".

When first announced, the bill had promised:

*  the creation of a single enforcement body, offering greater protections for workers

*  making sure that tips left for workers go to them in full

*  all workers would have the right to ask for a more predictable contract

*  redundancy protections would be extended to prevent pregnancy and maternity discrimination

*  parents allowed to take extended leave for neonatal care

*  entitlement to one week's leave for unpaid carers

*  subject to consultation, the bill also proposed making flexible working the default unless employers have good reason not to.

The government said it had a "strong track record in supporting workers" as well as "protecting and enhancing their rights".

"Our ambitious legislative programme includes a comprehensive set of bills which enable us to deliver on priorities like growing the economy, which will in turn help address rising living costs and get people into good jobs," it added.

Although there was no Employment Bill announced,the speech the government did confirm plans to introduce legislation banning ferries from docking at UK ports if workers aren't being paid the equivalent of National Minimum Wage.

The move comes after P&O Ferries' sacked 800 seafarers without notice.

The Department for Transport said the Harbours Bill aimed to deter companies from repeating P&O Ferries' actions, by closing loopholes used by some firms operating in and out of UK ports.

The British Ports Association said the policy could work, but said it wasn't happy that ports were being asked to enforce it.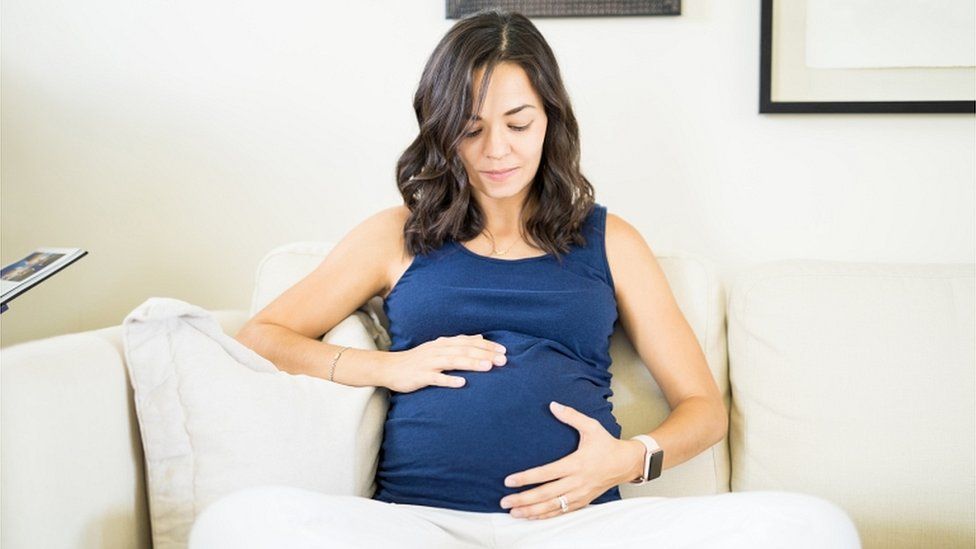 Pregnancy protection call

Ros Bragg, director of maternity rights charity Maternity Action, said she was "deeply disappointed and frustrated" that the Employment Bill did not feature in the Queen's Speech.

She said pregnant women and new mothers needed "urgent legal protections from unfair redundancies", which she said had "dramatically increased" since the coronavirus pandemic.

She called on ministers to adopt the bill put forward by former cabinet minister Maria Miller, who has proposed legalisation to prevent firms from sacking women during pregnancy or six months afterwards.

"We'd also urge strengthening legal protections for insecure workers - who are predominantly women, and who are currently bearing the brunt of the poverty crisis," Ms Bragg added.

"Ministers have promised women stronger legal protection, and they now need to urgently deliver on that promise."

Neil Carberry, chief executive of the Recruitment & Employment Confederation, said it was "incredibly disappointing" the government had "chosen to kick the Employment Bill into the long grass again".

"It is now two and a half years since the Employment Bill was first promised, and five years since the Taylor review into modern working practices - the government must prove its commitment to this issue and bring forward this bill as soon as possible."

Verity Davidge, director of policy at manufacturing organisation Make UK, said: "Business will be frustrated that, yet again, three years after having promised it there was no Employment Bill. This is a major omission given how fast the world of work is changing, a trend accelerated by the pandemic."

'Missed opportunity'

Meanwhile, Ben Willmott, head of policy for the CIPD, which represents HR professionals, said the omission of the bill left the government with "very little time to meet its promises to protect and enhance workers' rights".

Mr Willmott added it was a "missed opportunity" to protect workers rights, particular those in lower paid jobs dealing with rising household costs.

"The recent sacking of workers, without notice, by P&O Ferries shows that much more needs to be done to ensure unscrupulous employers cannot ignore their legal responsibilities and undercut employment standards in the UK," he said

"It will also be hugely disappointing for working carers that there is no progress on legislating to give them new rights to take time off to manage their caring responsibilities."