Humza Yousaf has said he would consider a snap Holyrood election as part of a strategy to secure independence.
The SNP leadership contender also dismissed suggestions he was simply the continuity candidate.

And he told BBC Scotland's The Sunday Show he would need assurances before serving in a Kate Forbes cabinet if she won the contest.

The health secretary is running against Ms Forbes, the finance secretary, and ex-community safety minister Ash Regan.

SNP members will start voting for the new leader on Monday, with the winner to be announced on 27 March.

Mr Yousaf has been backed by senior party figures including Deputy First Minister John Swinney and the SNP's Westminster leader Stephen Flynn.

On Sunday Mr Yousaf was asked about a report in The National in which he raised the prospect of an early Scottish election "to test the popular will, when we believe we have that consistent majority support for independence".

The Glasgow Pollok MSP told the BBC: "To achieve independence we will use any means necessary that is within a legal framework, of course."

However, he also emphasised that his priority was to build solid support for independence, rather than fixating on "process".

Questioned about what would justify calling a snap election, Mr Yousaf said: "It would be about demonstrating that we have a consistent majority for independence. We don't have that at the moment.

"This week is a perfect example. We have seen one poll that puts support for independence below 50% and, literally a day later, support above 50% in another poll. We can't have that fluctuation."

He also pledged to set up regional assemblies in his first week to "empower our membership".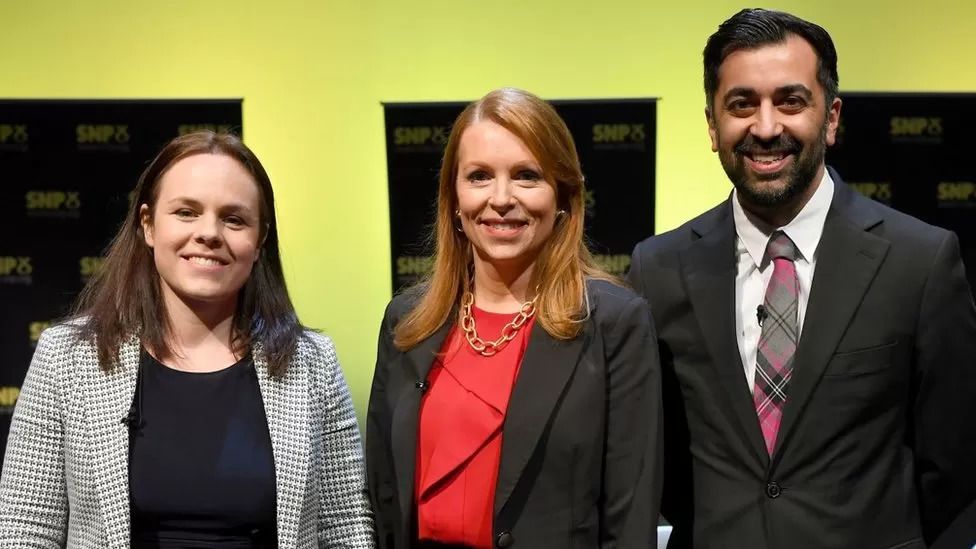 Kate Forbes, Ash Regan and Humza Yousaf have been taking part in SNP leadership hustings across the country

Mr Yousaf defended his record as health secretary after a BBC poll suggested one in five Scots had paid for treatment in last 12 months. He told the programme neither he nor his family had ever used private healthcare.

He was also asked if he could serve in a Kate Forbes cabinet after she quipped in the STV leadership debate that she would give him a post but "maybe not in health".

He told the programme: "I would have to have a discussion about whoever the first minister was and understand what their perspective was because collective responsibility is really important.

"It is a cornerstone of a functioning government so I would want to ensure whoever was the first minister, if they asked me to come into government, that I could give them the assurance around collective responsibility."

On Saturday Mr Yousaf secured the backing of outgoing Deputy First Minister John Swinney and the SNP's Westminster leader Stephen Flynn.

The endorsement of Mr Swinney, the most high profile party figure to endorse any of the candidates, prompted accusations from Ms Forbes' campaign manager that the SNP hierarchy were "absolutely panicking".

But Mr Yousaf said the support he had secured was a "sign of strength" and evidence that his campaign had momentum.

He also stressed: "I am my own man and will do things my own way. I will have my own leadership approach.

"I have a lot of admiration, as you would imagine, for the excellent work Nicola Sturgeon has done as first minister.

"But she had a certain leadership approach. Mine would be less inner circle and more big tent."

Former community safety minister Ash Regan, meanwhile, insisted she has a serious chance of winning the contest despite being regarded by many as an outsider.

She told Sophy Ridge on Sunday, on Sky News: "At the moment we understand that a large amount of the membership are still undecided, it is a very short contest.

"But I have had many people get in touch with me recently to say that they think I am the only hope for the SNP."

Scottish Labour said Humza Yousaf should be focusing on the state of the NHS rather an independence.

Deputy leader Jackie Baillie commented: "His threat to achieve independence 'by any means necessary' will be chilling words for anyone who has already seen the price patients and staff have paid for Mr Yousaf's unearned self-confidence and inexplicable self-promotion."

Scottish Conservative chairman Craig Hoy said: "Scotland has had 16 years of SNP governments putting their endless pursuit of independence above the public's real priorities - and all three leadership candidates have made it clear they offer no change.

Scottish LibDem leader Alex Cole-Hamilton said Mr Yousaf's interview showed "come hell or high water he will focus on breaking up the UK".

The three leadership candidates will take part in an hour-long Debate Night programme from Edinburgh at 20:00 on Tuesday 14 March on BBC One Scotland.