Wales fans have been left dejected after World Cup optimism turned into heartbreak.
The country's first World Cup for 64 years looks set to end at the first hurdle after a last-gasp - but deserved - 2-0 defeat against Iran in Qatar.

Up to 6,000 Welsh fans packed the Ahmad bin Ali stadium in Doha, double the pre-tournament estimates.

Many thousands more watched the game back home in pubs, fan zones and schools, where lessons were suspended.

Children in Wales were able to watch the match after the Welsh government told schools they could cancel lessons to show it.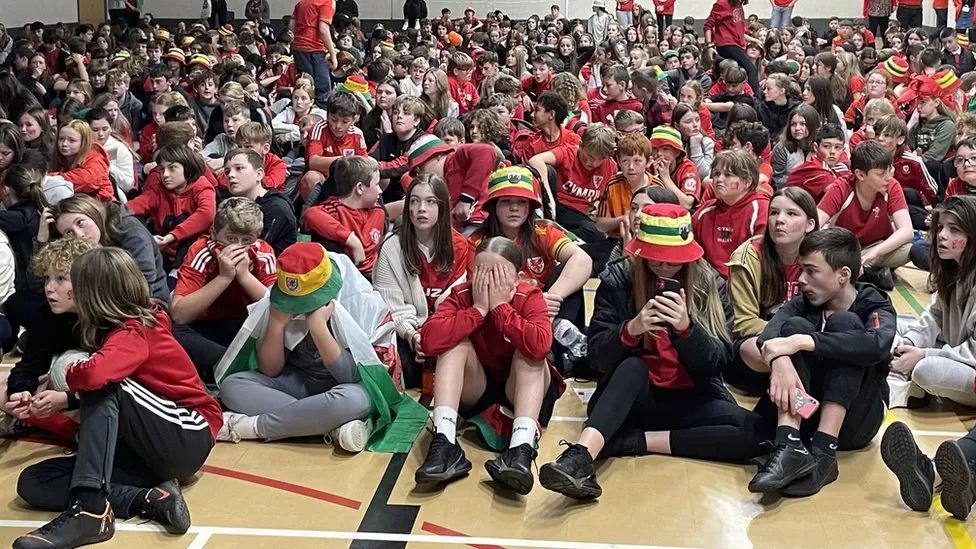 Schoolchildren in Ysgol Glan Clwyd in St Asaph, Denbighshire, reflect the national mood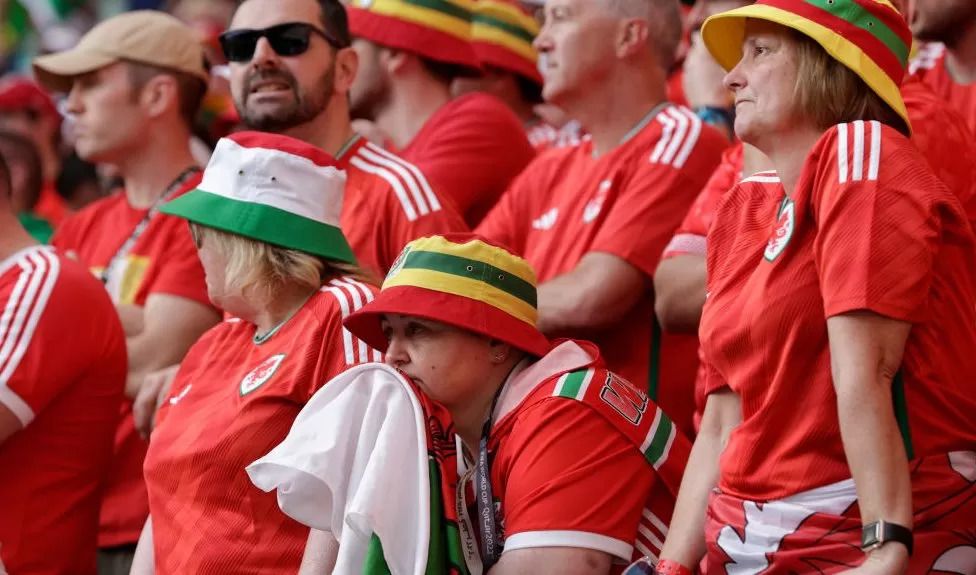 Two injury-time goals condemned Wales to defeat
Thousands had made the long journey to Qatar to watch the second game of Wales' return to the World Cup after a 64-year absence.
There had been a quiet confidence among many before kick-off following the second-half display against USA.
However this match, which kicked-off in 31C (88F), looked a game too far in the heat, according to fan David Crean, who had travelled from Cardiff with his son Jack.
"I'm gutted. We just ran out of puff. We didn't turn up and just couldn't keep up with the pace," he said.
"I just hope England win tonight [against USA]. If not, I don't really want us to be humiliated by them."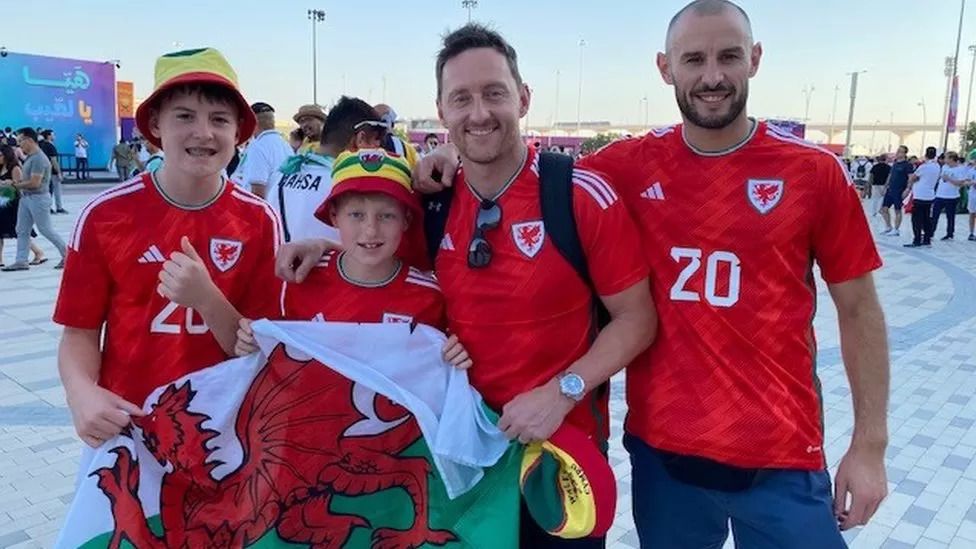 'It was a hostile atmosphere with the Iran fans'

While The Red Wall of Wales fans dominated one end of the ground, Iranian fans took over most of the rest, and were loud throughout the game.

Mr Crean added: "It was something completely different. My ear drums have gone."

Matt James, 33, from Caldicot, Monmouthshire, added: "It was an incredibly hostile atmosphere, like an away game. We would have taken a 0-0 but to lose in injury time like that is gutting."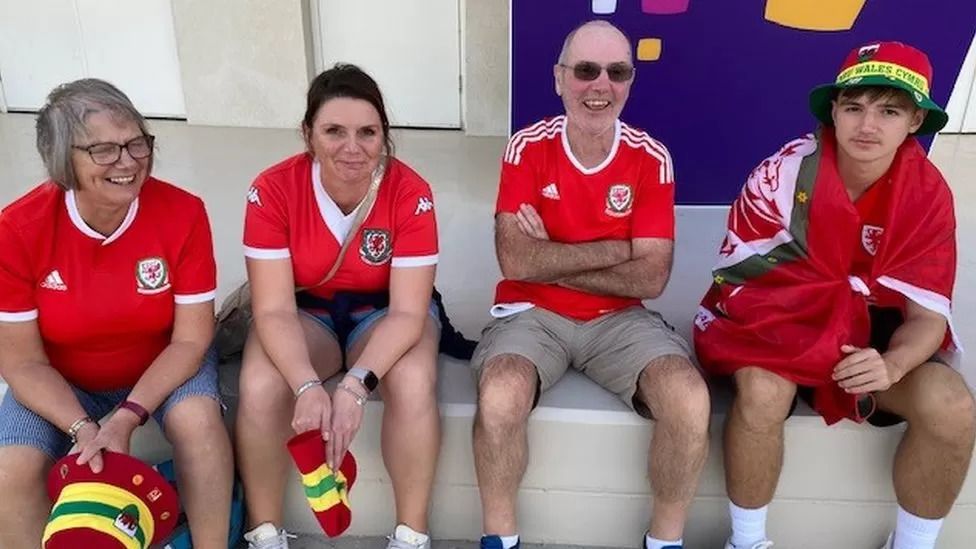 'It's still great to be at a World Cup' said the Green family after the match

"It's a tough pill to swallow, but we will be ok tomorrow," said Becky Green, 48, from Llantwit Fardre, Rhondda Cynon Taf.

"After the way we played in the second half against the USA, I thought we were in with a chance. But it wasn't meant to be."

Dad Eric, 69, was also pragmatic and said: "We have seen worse things over the years as Wales fans.

"It's just great to be at a World Cup."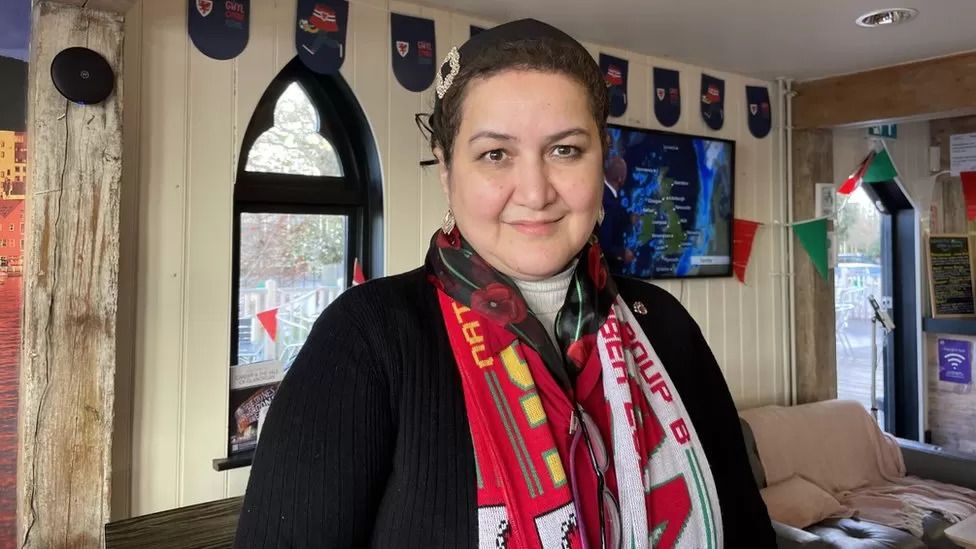 Neda said she wanted it to be 1-0 so it would be a close call, but was quite happy when the final score was 2-0

Iranian-Welsh fan Neda Arshadi said she was hoping for a win for Iran, but was sorry for the Welsh boys.

"I'm Iranian by birth, and as Iran won, I was screaming like crazy, and I think I lost my voice a bit.

"I'm sorry for the Welsh boys, because my boys are half Welsh, and the Welsh boys worked really hard."

She added that she loves her team, and her country and always wanted them to win.

"It was a fabulous moment for me, I was celebrating and apologising at the same time."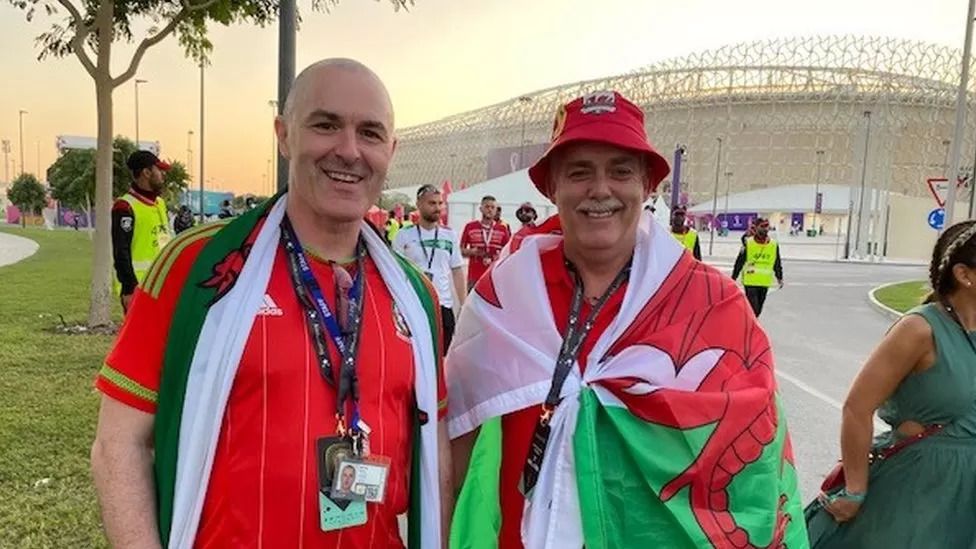 Wayne Vernon and Chris Hancock

Outside the stadium, fans were in fairly upbeat mood despite the result.

"The best team won, we can't have any complaints," said Wayne Vernon, 54, from Wrexham, who now lives in Melbourne, Australia.

"I was sat next to an old Iranian man and when they scored, he just burst into tears, so I gave him a cwtch. I think they just wanted it more."

Chris Hancock, 55, from Port Talbot agreed it had been an incredible experience just being at the World Cup, adding: "Who knows, we could beat England."

Despite the result, Colin Barker said he had had "the best week of my life".

The 47-year-old from Caernarfon, Gwynedd added: "I've had a fantastic time, I'm at the World Cup so will take the defeat on the chin. I can't complain, all the Welsh fans have had a great time out in Qatar, we are in the sun, and will have amazing memories."
Wales fans gutted to lose against Iran, but hope they will beat England in their final game