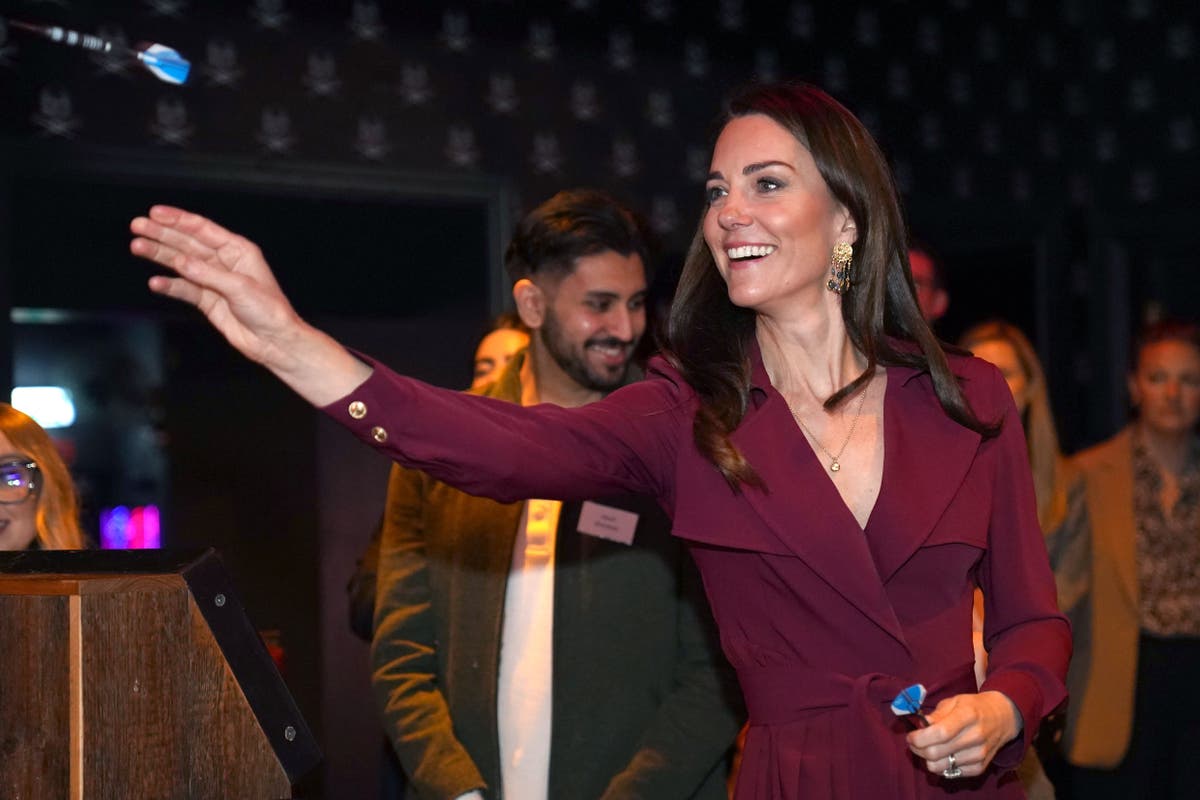 William takes restaurant booking and Kate tries darts during visit to city
Princess of Wales was complimented on 'very solid' throwing action
The Prince of Wales took an unsuspecting customer's restaurant booking on the phone as he and the Princess of Wales visited an Indian street food restaurant in Birmingham.

William answered the unexpected phone call and took a booking for two while he and Kate were being served a range of Indian dishes at Indian Streatery in Bennetts Hill on Thursday.

After negotiating over the time of the booking and giving the customer directions, William said: "He knows where you are now, I probably sent him somewhere else in Birmingham so I apologise."

At 2.15pm, the customer Vinay Aggarwal and his wife Ankita Gulati, a husband and wife visiting from London, arrived at the restaurant ahead of their train home at 3pm.

Mr Aggarwal, a software engineer, said he had "no idea" that William took the call.

He said: "It's pretty amazing and a surprise. I didn't know at that moment, but it's a very nice surprise.

"Obviously (I will be telling everyone), it's not something that happens often.

"I didn't recognise his voice at all, this is the first time I was listening to him on the phone, so I genuinely thought someone was taking the booking for me."

Asked about the unexpected phone call, restaurant owner Meena Sharma said: "All of us around him were really surprised he actually picked up the phone and actually said 'this is the Indian Streatery', and there was a genuine person on the other end wanting to make a booking.

"But I think he probably could have a role as a front of house manager, we could probably employ him to take phone calls in future as he did a really good job."

During the visit, which comes as part of a wider tour of the country ahead of the King's coronation, Will and Kate said they "love curries" and "secretly try lots of curry houses around the country".

In the first of two stops in Birmingham, Kate said food is "so nostalgic" and said she "loves spice".

Meanwhile, William said he preferred milder food, adding: "I'm a masala man."

When asked whether their children enjoy Indian food, Kate replied: "Absolutely, they love it."

After being introduced to Mrs Sharma and her husband, Rakesh, William and Kate met front of house staff before heading into the kitchen to prepare rotis, a traditional flatbread.

They took part in a cooking competition, which was judged by the restaurant's head chef and co-owner, Meena Sharma.

He also asked staff for their top tips on preparing rice as it was always "soggy" when he made it, with Mrs Sharma, who opened the restaurant in 2017 and runs an all-female kitchen, telling staff not to give away the eatery's recipes.

The couple were served portions of traditional Indian street food including pani puri, black dahl, methi chicken and balpuri chaat.

The Prince and Princess of Wales also both tried their hand at darts during their visit to Birmingham's Jewellery Quarter – with one fellow competitor praising Kate for her "very solid" throwing action.

During a visit to The Rectory bar on Thursday, William and Kate chatted for more than half an hour with local business owners and workers from the city's creative industries sector, before taking to separate oches in the cellar bar.

The royals also both chatted with Birmingham-born TV presenter Alison Hammond during the visit to the pub's 180 Club, which has four interactive darts booths.

Hundreds of well-wishers greeted William and Kate when they arrived at the bar, overlooking the 18th century St Paul's Square, and remained there for a lengthy walk-about as they left.