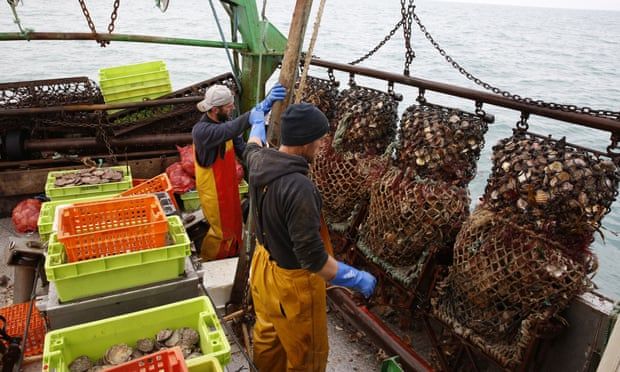 UK and EU settle fishing row but French fishers vow to go ahead with blockade
Talk of trade war dropped after UK and Channel Islands governments agree to issue more licences
Paris, London and Brussels have dropped talk of a trade war and appeared to settle a dispute over post-Brexit fishing licences, but angry French fishers threatened to go ahead with a pre-Christmas blockade of British goods entering Calais.

The European Commission and the French government signalled satisfaction with the result of an intensive fortnight of negotiations as the UK and Channel Islands governments agreed to issue 83 more operating licences before an EU deadline.

The offer did not fully meet the demands of Emmanuel Macron's government, however, and fishers in Brittany said they would go ahead with a planned blockade of Calais on 23 December.

"Far from satisfying the professionals of the sector, this news exasperates the fishermen of Hauts-de-France, who feel both betrayed by the British government … and neglected by the European Commission", the committee for maritime fisheries in the region said in a statement. "Movements will be expected, movements which will target the import of British products".

French vessels imposed a similar blockade at Calais, described at the time as a warning shot, in November. A vessel run by DFDS, a Danish shipping company, and a P&O ferry were forced to wait outside the port, the biggest entry point to the continent for British goods.

The EU commissioner for fishing, Virginijus Sinkevičius, had thanked the UK earlier on Sunday for respecting the deadline by which Paris had demanded additional licences for small boats seeking to fish in the coastal waters of the UK and the British Crown dependencies of Jersey and Guernsey.

"I think it was a very important step achieved last night and I'm thankful to the UK that they respected a deadline that we set by 10 December," he said. "The two weeks were very intensive, we've managed to bring over 80 additional licences now."

He said the European Commission and the French authorities would examine all applications to ensure they included the necessary evidence of having previously fished in the waters.

The French minister for the seas, Annick Girardin, said the government would seek to assist those fishers who had not been successful in their applications.

The government had previously made a range of threats over an alleged failure to respect the trade agreement by providing sufficient small boats with fishing licences for the waters around the UK, Jersey and Guernsey.

Downing Street had insisted that sufficient evidence proving that applicants had previously fished in the coastal waters had not been met, but Macron demanded a "gesture of goodwill" by midnight on 10 December. French ministers spoke of cutting energy supplies to Jersey and applying tariffs on UK trade.

The latest threat had been to start the dispute process in the EU-UK trade agreement, but other key member states with fishing interests showed a distinct lack of enthusiasm shown.