Relativity Space, a 3D-printed rocket company started seven years ago by an alumnus from Jeff Bezos' Blue Origin, wants to launch its first rocket.
Relativity Space is preparing to launch the world's first 3D-printed rocket.

The Terran 1 rocket is expected to lift off from Cape Canaveral on Saturday. If it is successful, it will become the largest 3D-printed object to reach orbital flight.

The 3D-printed rocket is the brainchild of Tim Ellis, a former engineer at Jeff Bezos' space startup, Blue Origin.

Here's how Ellis plans to take on his former boss and Elon Musk's SpaceX by disrupting the rocket-manufacturing industry.

Terran 1 is the world's first 3D-printed rocket.

Terran 1 is Relativity Space's first functional rocket model. It's also the world's first 3D-printed rocket.

The rocket will use nine engines to boost it off of the ground and will be able to carry a payload to a low earth orbit of about 2,800 pounds.

85% of the rocket was printed using huge 3D metal printers. The 20,500-pound rocket stands 110 feet high and 7.5 feet wide.

The rocket passed its wet dress rehearsal with flying colors. Relativity Space is now ready to test it in flight for the first time.

The rocket's first launch attempt on Wednesday was scrubbed, but the company aims to attempt a launch again on Saturday March 11, between 1 and 4 p.m. ET.

You can watch the live feed here:
The rockets are built by the world's largest 3D metal printers.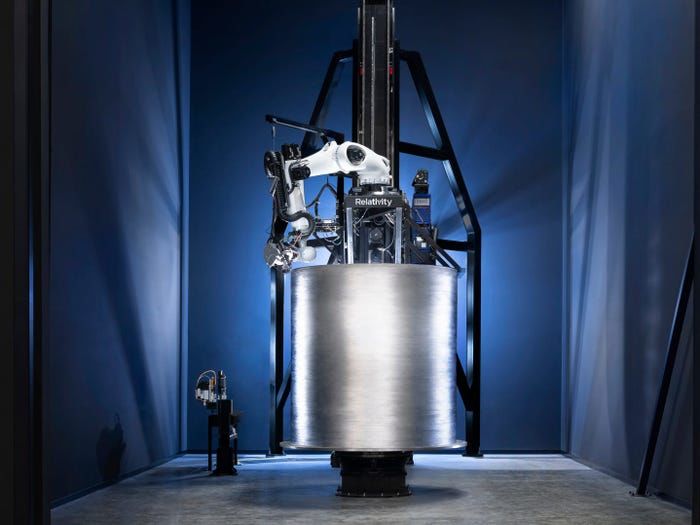 The first step for Relativity Space was to design 3D metal printers that could build a whole part of a rocket.

The printers, called Stargate, need to print the rocket in about 1,000 pieces. That means that the biggest pieces they're printing are about 20 feet tall, said Ellis.

Here's Relativity's third iteration of the printer putting together a stage of the rocket:


"The largest printers that existed when we started the company could only do about a single cubic foot," said Ellis.

"What Relativity had to do was invent the world's largest metal 3D printers."

The pieces are then joined up by a machine "that's very similar to a 3D printer but it ends up, joining those pieces together again without fixed tooling," said Ellis.

The printers are flexible, quick, and smart.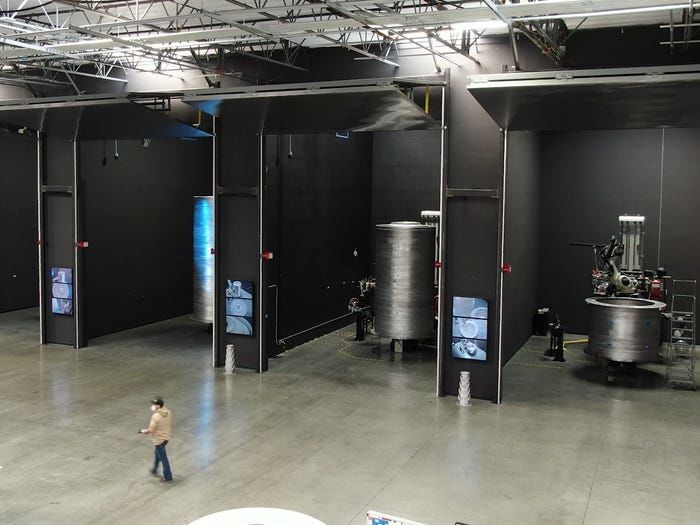 The printers can put together a rocket in just 60 days, according to Relativity Space's website. Competitors will take between one and two years to build a rocket, per the website.

Because the printers are so quick, it's easier to test different versions of the rocket, which is one reason why Relativity's development has been so quick.

The printer also learns from its mistakes, said Ellis.

"While it's printing, we're collecting many gigabytes and even terabytes of data per print," he said.


"We're also using data science and starting to use machine learning and other more sophisticated data science techniques in order to have the printers learn from their own prints," he said, adding: "Essentially the printers and the process that the team is going through are getting smarter the more hours we print across our increasingly large fleet of printers."

That also helped the company develop its own aluminum alloy.

"That would only be possible because we're 3D printing. So it's a very integrated process between the design of the rocket and the design of the materials and 3D printers," said Ellis.

The rocket's engine, called AEON, is also 3D printed.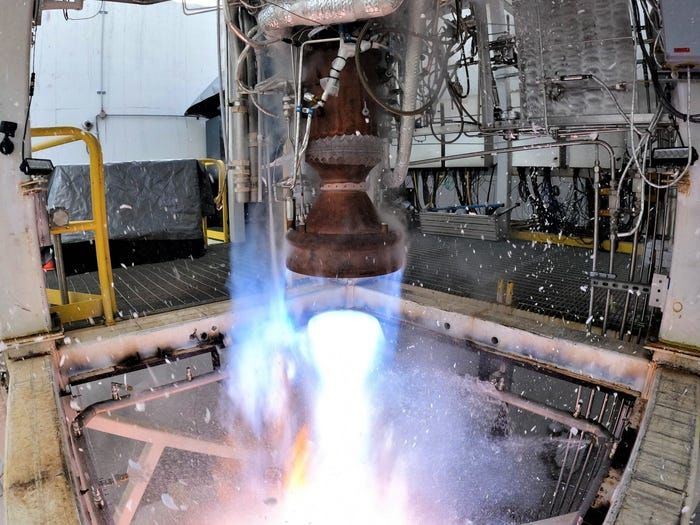 Relativity Space also designed rocket engines that are entirely 3D printed.

These engines are called AEON 1 and AEON R, AEON VAC. They all use a mix of liquid oxygen and liquid methane to propel themselves forward.

Terran 1 has nine AEON 1 engines powering its second stage. You can see the engines being fired here:
Relativity Space wants to be for rockets what Tesla was for electric cars, says Ellis.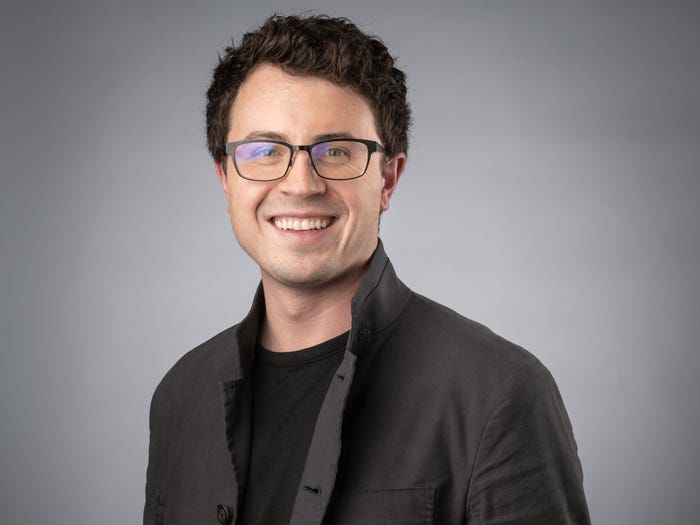 Ellis, CEO and co-founder of Relativity Space, said his eureka moment came while working at Jeff Bezos' Blue Origin.

Then an executive for Blue Origin, Ellis said looking around the factory floor, he realized that the company was upheaving the rocket business, but one thing hadn't substantially changed: the assembly line.

"I saw that we had this giant factory full of fixed tooling, building a whole rocket one at a time by hand with hundreds of thousands to millions of individual piece parts," Ellis told Insider.

"That's really why I started the company to 3D print a whole rocket," he said.

Ellis decided he would disrupt the rocket business by putting metal 3D printers at the core of the manufacturing process.

"The way you have to design for a nearly entirely 3D printed rocket is very different," he said.

"For us, starting from scratch and keeping true to this vision of part count reduction, designing from the beginning for 3D printing, has led us really leapfrog a lot of other people in this space," he said.

The idea quickly gained a lot of support, of at least $1.3 billion dollars, not least from Mark Cuban, who reportedly responded within five minutes to Ellis' pitch email with $500,000 of the company's seed round.

Ellis says he's revolutionizing the rocket-making industry with his approach.

"It's more similar to what Tesla did with the shift from gas internal combustion engines to electrification, where they realized that you can't just take batteries in electric motors and shove them into a Ford or a Nissan on a traditional manufacturing line," he said.

Many have expressed skepticism at whether the company can achieve its lofty ambitions, Ellis is ready to put his printing technology to the test in Wednesday's launch.

"It's a little bit surreal for me. When I left Blue Origin to start this company seven years ago, I never imagined that I would start in a WeWork office, our team would invent a brand new manufacturing technology, and we'd have our first orbital rocket ready to go on the launchpad before my prior company did," Ellis told Insider.

The Terran R, which will dwarf Terran 1, will be the biggest-ever 3D printed rocket.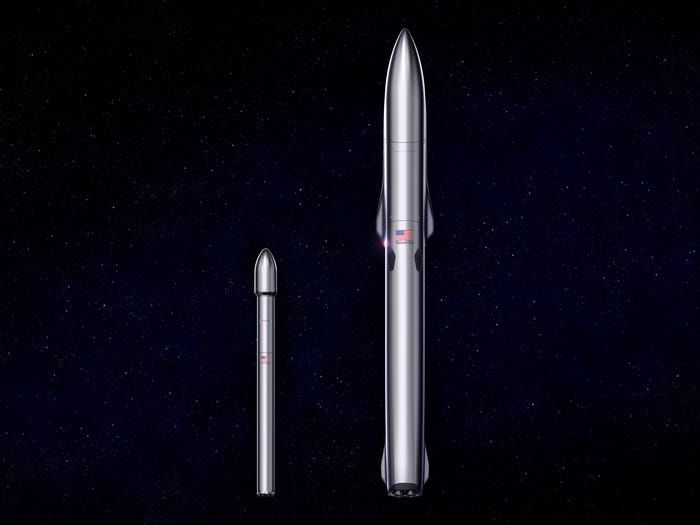 Though Terran 1 is Relativity's biggest rocket to date, it's a relatively small rocket compared to SpaceX's Starship, for instance. Starship aims to carry 150 metric tons into orbit, then return to Earth to be reused for more.

But for Ellis, the Terran 1 launch is just a step toward his real goal, to build a much bigger rocket called Terran R.

Terran R should be entirely reusable and should carry 20,000 kilograms of payload. That's about the same as SpaceX's Falcon 9.

It should also be almost entirely — at least 95% — 3D-printed.

The company is planning to launch this rocket in 2024. This is the rocket Ellis wants to send to Mars.

Though it's still being developed, Ellis is confident it will be put together quickly. AEON R, the engine that will propel the second stage of the rocket forward, has already been tested, he said.

"That was a blank sheet of paper about a year and a half ago," he said.

"So to go from a blank sheet to build the first full of the engine, which we just completed, and then already doing engine component testing at full scale is quite incredibly fast," he said.

Relativity wants to beat Musk's SpaceX to Mars.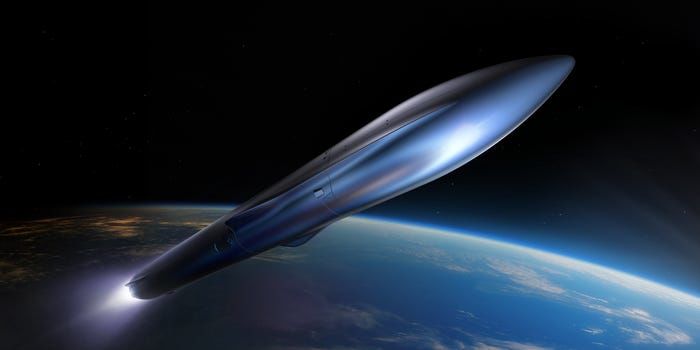 Relativity has teamed up with Impulse Space, founded by former SpaceX propulsion CTO and co-founder Tom Mueller, to set an ambitious timeline for its products: it aims to send TerranR to Mars by 2024.

If so, Ellis would beat Elon Musk's company to the red planet, and the mission would be the first-ever commercial mission to go to Mars.

"2024 is a hyper-aggressive date, there's no question," said Ellis.

"But our pace of execution on TerranR has been quite rapid," he said, adding: "I think that is gonna be key to our ability to execute as fast of a timeline as we can."

Under their agreement with Impulse Space, the payload, a Mars rover, must be delivered by 2029 at the latest, said Ellis.

"I think a big sign that we're committed to this mission and definitely going to make it happen," he said.

The company has recently launched its Stargate 4, its most advanced printer yet.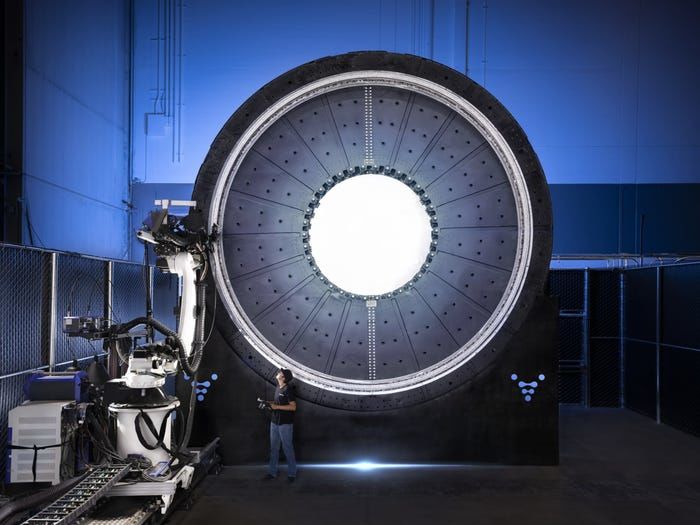 To scale up their production, Relativity Space recently released the latest iteration of their printer, called Stargate 4.

"That is brand new, or at least publicly brand new — it's been in development for a while now," said Ellis.

The difference is that this printer prints horizontally. "That will let us build significantly longer and larger single-piece sections with fewer joints," he said.

It should be able to print objects up to 120 feet long and 24 feet wide. It's also much faster — about 7 to 12 times faster than its predecessors.

The printer is a big part of being able to print Terran R, said Ellis.

Asked if the main goal is to print a rocket in one piece, Ellis said it could be possible, but probably would be impractical.

"Once you get to Terran R scale, you're talking about a vehicle that's well over 200 feet tall. You actually gain iteration speed and build speed by having multiple printers working in parallel," he said.

Ellis sees his race to Mars as more of a collaboration than a competition.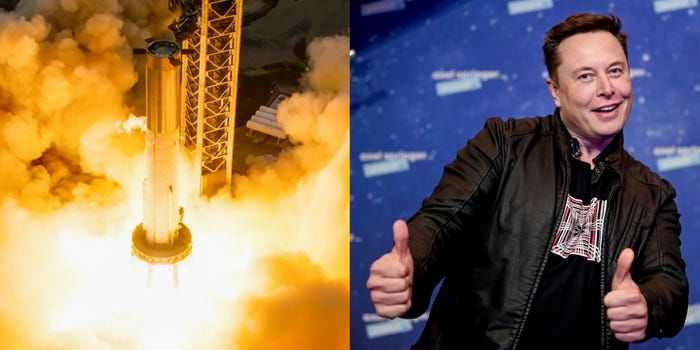 Though Ellis is keen to keep to his competitive deadline to get to Mars, he sees the competition as more of an opportunity for collaboration than a hindrance.

"As far as SpaceX goes I'm absolutely a fan of what they're doing. In fact, them landing rockets and docking at the International Space Station seven years ago when they were a 13-year-old company is one of the things that inspired me to start Relativity," he said.

SpaceX's upcoming planned Starship launch is a big part of NASA's plan to return to the moon, and ultimately Mars.

"It's really important they'll succeed and I do think they will succeed," said Ellis.

Building rockets is only one product that Relativity wants to build. Once they can demonstrate they can bring a payload to Mars, the next step is to bring their printers there.

"It was very clear somebody had to be the second company to join this mission, and that somebody also would need to build an industrial base on Mars. And I think that's gonna be built with 3D printers," he said.

"At first that may be spare parts and other small replacement components for things that break down once you're there. But I think it'll also start to really build out a lot of the food storage, water storage, other industrial equipment that you need initially to sustain kind of the early seeds of people there," he said.

Still, the company has a lot to prove, as evidenced by its latest valuation, which like many other tech companies dropped by 28% from $4.2 billion dollars in mutual fund giant Fidelity's estimation in July.

Relativity Space's first launch will be a series of firsts — if it works.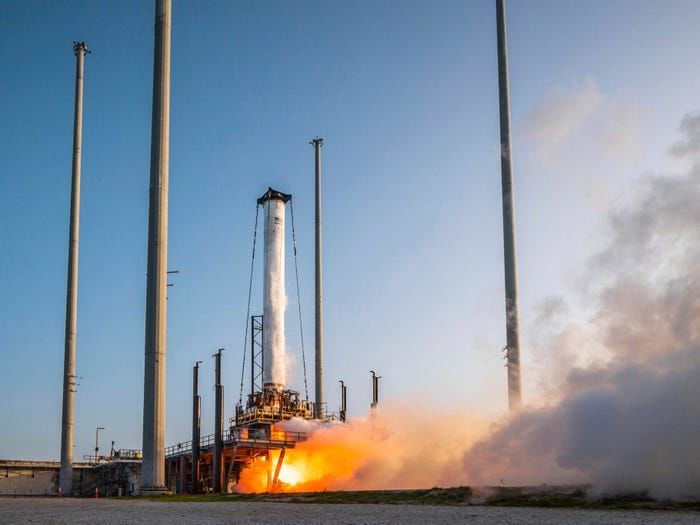 Ellis, now in his early thirties, is ready to see his first rocket launch.

"I don't think anyone's chilling right now, it's long hours and people are working hard, but I can say we're not scrambling to fly. We've been ready now for some time," said Ellis.

"People are quite pumped, especially given this is such a unique launch with so many firsts, for not just Relativity, but for the industry," he said.

Among the firsts tested in this launch, dubbed "Good Luck, Have Fun" (GLHF for short), is the first launch of a 3D printed rocket, and the first flight test of methane-oxygen fueled engines.

Ellis, however, said he was quite conscious things could go wrong.

"There's always a chance for surprises, especially with parts, you just can't test on the ground," he said.

"I believe if anyone has the chance to do it, we certainly have the shot. Whatever the outcome is, with this lesson learned, we're going to really have very strong momentum going into Terran R," he said.