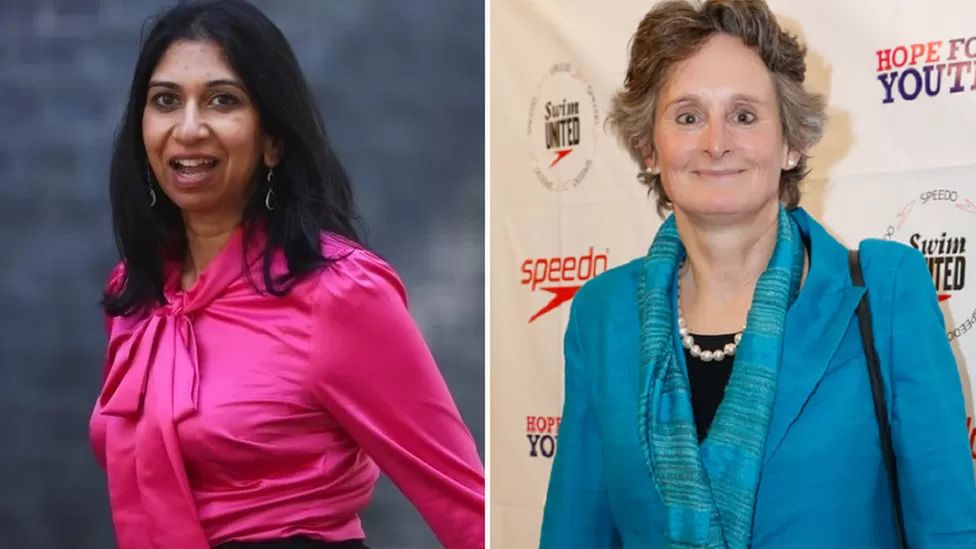 Suella Braverman defeats fellow Tory MP in selection vote for new seat
Home Secretary Suella Braverman has defeated fellow Conservative MP Flick Drummond in a contest to select the candidate for a proposed new seat.
Local party members voted to pick Mrs Braverman for the new constituency of Fareham and Waterlooville.

The constituencies Mrs Braverman and Mrs Drummond currently represent are due to be scrapped under boundary changes in England.

The changes mean some MPs have been forced to hunt for new seats.

The home secretary, who is currently the MP for Fareham, beat Mrs Drummond, the MP for Meon Valley, in a vote of eligible local Tory members on Wednesday.

A qualified barrister and a prominent supporter of Brexit, Mrs Braverman has had a swift rise to the top of politics since her election in Fareham in 2015.

As home secretary, she has attracted controversy for her handling of migration issues, including the government's plans to send some asylum seekers to Rwanda.

Mrs Drummond represented Portsmouth South between 2015 and 2017 and has been the MP for Meon Valley since 2019.

There will be other opportunities for Mrs Drummond to put herself forward for selection to represent a different constituency before the next election, expected next year.

Ms Drummond said: "I am disappointed and will have to think about what I do in the future, but as I have lived in this area for the last 37 years, I will not be moving far.

"I am looking forward to representing Meon Valley constituents until the next election and will continue to work hard on their behalf."

The Boundary Commission is due to present final recommendations by 1 July, with changes expected to be put in place before the next general election.

Conservative Party chairman Greg Hands congratulated Mrs Braverman on her selection and said Mrs Drummond "has the party's support for the future".

"Boundary changes are important, but some complicated selections are inevitable," he tweeted.