Sir Keir Starmer has accused Boris Johnson of breaking Covid laws with parties held in Downing Street during lockdown.
The Labour leader said the prime minister had "lied" about "industrial scale partying" in No 10.

Six Tory MPs have now called on the PM to resign over gatherings held during restrictions.

But Tory party chairman Oliver Dowden said the PM would take action over the "underlying culture" in Downing Street.

Mr Dowden told the BBC the PM was "committed" to doing this when he responds to an official inquiry on events in government buildings.

The internal investigation, led by senior civil servant Sue Gray, is expected to be published as soon as the coming week.

The Metropolitan Police said it had "ongoing contact with the Cabinet Office" over Ms Gray's inquiry.

However, Sir Keir told the BBC's Sunday Morning programme he did not need to wait for the report to conclude that Mr Johnson broke the rules.

"The facts speak for themselves, and the country has made up its mind," he said, adding it was "blindingly obvious what's happened".

"I think he broke the law, I think he's as good as admitted that he broke the law," he added.

Speaking on the same programme, Mr Dowden said he shared the public's anger, but it was right to wait for Ms Gray to "establish the full facts".

"The task for us now is how we address the underlying culture in Downing Street," he said.

"We need to up our game, and that needs to be addressed, and I know the prime minister is committed to addressing that."


Sue Gray's report is a fact-finding mission but within government it is expected she will say whether various gatherings were appropriate or not.

She will not say whether gatherings or parties broke the law - or what any punishments should be.

There is no date scheduled for its publication yet. The hope is it can be published as soon as possible - possibly by the end of the week.

However, I understand because some allegations have just come to light, it is possible it could be published the week after.

Mr Dowden also appeared on Sky's Trevor Phillips On Sunday where the presenter held back tears recalling his daughter's death during the pandemic.

Phillips said his daughter, who he said was very ill and had isolated for months, collapsed and later died on a weekend in April 2021 when it has emerged parties took place in Downing Street on the eve of Prince Phillip's funeral.

"She had stuck to the spirit and letter of the rules, and there are going to be thousands of people who have that story in their background," he said. "And, if I may say so, you are in here telling me about a civil servant's inquiry, that will not answer that anger.

"Does the prime minister really understand why people are angry?"

Meanwhile, former minister Tim Loughton has become the sixth Tory MP to call on Mr Johnson to resign, calling his position "untenable".

In a Facebook post, he added the public deserved "clarity, honesty and contrition" instead of "obfuscation, prevarication and evasion".

Pressure on Mr Johnson has been growing since he admitted he attended a gathering in the Downing Street garden on 20 May 2020, during the first Covid lockdown.

As many as 100 people were invited to "socially distanced drinks in the No 10 garden" in an email on behalf of the prime minister's principal private secretary, Martin Reynolds.

On Wednesday, Mr Johnson told MPs he had "believed implicitly" it was a work event, but admitted: "With hindsight, I should have sent everyone back inside".

But Labour has accused Mr Johnson of "holding the British public in contempt", after the Sunday Times reported he had been warned to cancel the event after the email went out.

In response to the report, a No 10 spokesperson said: "It is untrue that the prime minister was warned about the event in advance."

On Friday, Downing Street apologised to the Queen after it emerged two staff parties were held at No 10 on the night before Prince Philip's funeral in April 2021.

Mr Johnson was not at either event but his spokesman said it was "deeply regrettable that this took place at a time of national mourning".

The parties have been added to a growing list of events in government buildings currently being investigated by Ms Gray.

Speaking on Times Radio on Sunday, former Labour PM Tony Blair said he understood why people would feel "enraged" at the party revelations.

"I can also, from the perspective of Downing Street, understand how these things happen," he said. But he added: "You can explain it, but not really excuse it."

During his BBC interview, Sir Keir also said a picture of him drinking beer in an office last spring did not show a breach of Covid rules in place at the time.

The Labour leader said the picture, which first emerged last year, showed him in a constituency office in the run-up to the Hartlepool by-election.

"We were very busy. We were working in the office," he told presenter Sophie Raworth when challenged about the image.

"We stopped for something to eat and then we carried on working. No party, no breach of the rules and absolutely no comparison with the prime minister."


Timeline: The alleged government gatherings

The government is facing mounting pressure over several events that are alleged to have been held during lockdowns. Here is what we know about them and the restrictions in place at the time:

10 May 2020
Boris Johnson announced a plan to take the "first careful steps" out of the lockdown that began in March 2020. But he said people should continue to "obey the rules on social distancing and to enforce those rules we will increase the fines for the small minority who break them".

Legal restrictions at the time said you could not leave your house without a reasonable excuse and government guidance was that you could meet one person outside of your household in an outdoor setting while exercising.

15 May 2020
A photo from May 2020 showed the prime minister and his staff with bottles of wine and a cheeseboard in the Downing Street garden. When asked about it, Boris Johnson said, "those people were at work talking about work".

20 May 2020
About 100 people were invited by email to "socially distanced drinks in the No 10 garden" on behalf of the prime minister's principal private secretary, Martin Reynolds.

Witnesses told the BBC the PM and his wife were among about 30 people who attended.

Boris Johnson has confirmed he attended the event, saying he was there for 25 minutes and "believed implicitly that this was a work event".

17 July 2020
Boris Johnson announced plans for a "significant return to normality" in England by Christmas "through targeted, local action" instead of national lockdowns.

But he added that the timetable relied on "every one of us staying alert and acting responsibly".

5 November 2020
With cases of coronavirus rising again, the prime minister told people in England that "we are once again asking you to stay at home" as a new national lockdown began.

He said people should only leave their homes "for work if you can't work from home, for education, and for essential activities and emergencies". Indoor gatherings with other households were banned, unless they were for work purposes.

13 November 2020
Sources told the BBC that Downing Street staff members attended a gathering with Carrie Johnson in the flat where she and the prime minister live. A spokesman for Mrs Johnson denies the party took place.

27 November 2020
A leaving event was held for No 10 aide, Cleo Watson, where people were drinking, and Mr Johnson made a speech, according to sources.

2 December 2020
The second national lockdown ended after four weeks but Boris Johnson replaced those restrictions with "tough tiers to keep this virus down".

London was placed in tier two, which banned two or more people from different households from meeting indoors, unless "reasonably necessary" for work purposes.

10 December 2020
The Department for Education has confirmed it had an office gathering to thank staff for their work during the pandemic. It says drinks and snacks were brought by those who attended and no outside guests or support staff were invited.

14 December 2020
The Conservative Party has admitted that an "unauthorised gathering" took place at its HQ in Westminster. It was held by the team of the party's London-mayoral candidate, Shaun Bailey, who has since stepped down as chair of the London Assembly police and crime committee. The Metropolitan Police is to speak to two people who attended the party.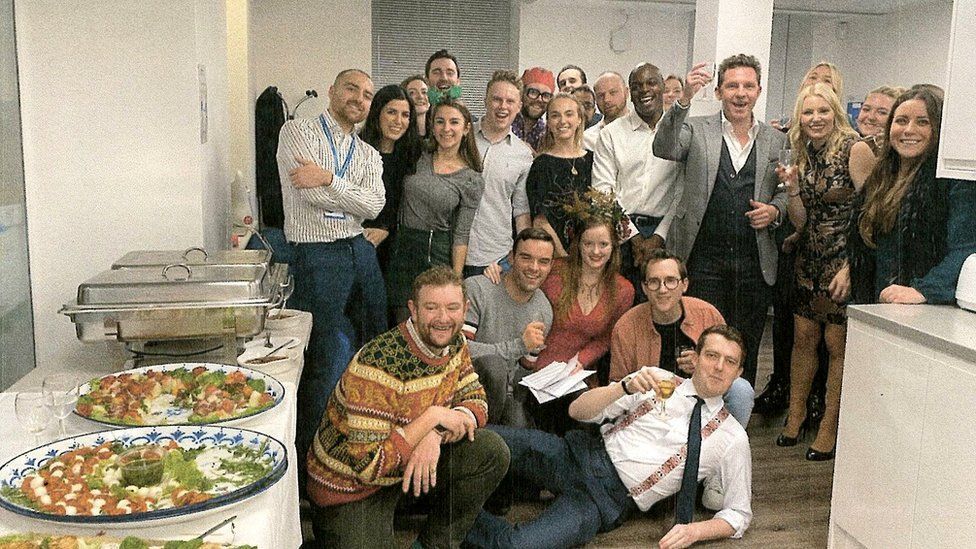 15 December 2020
Multiple sources have told the BBC there was a Christmas quiz for No 10 staff last year. A photo - published by the Sunday Mirror - showed Boris Johnson taking part and sitting between two colleagues in No 10. Mr Johnson has denied any wrongdoing.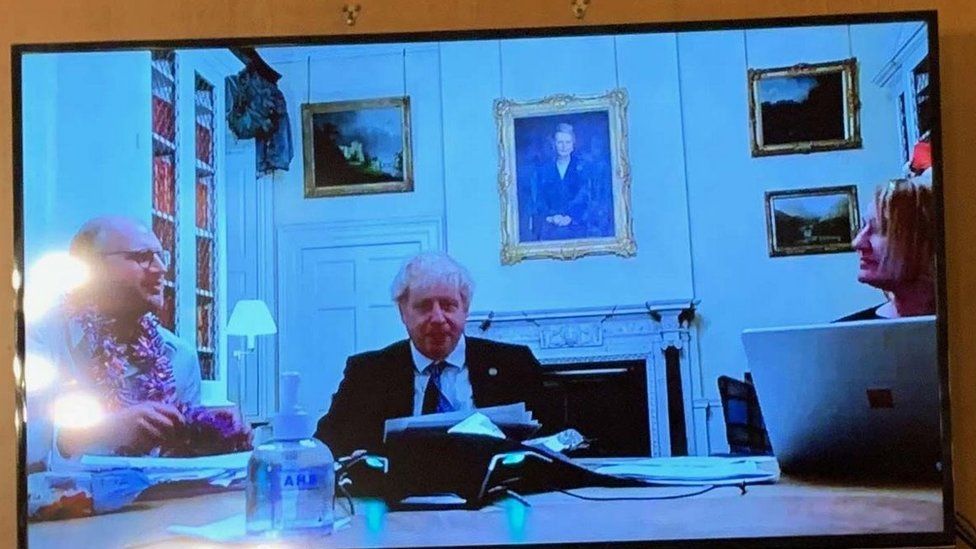 Mr Johnson was pictured in the No 10 library under a portrait of Margaret Thatcher

16 December 2020
London moved into the highest tier of restrictions and Matt Hancock, who was health secretary at the time, said it was important "everyone is cautious" ahead of the festive period.

The Department for Transport apologised after confirming reports of a party in its offices that day, calling it "inappropriate" and an "error of judgment" by staff.

17 December 2020
A leaving party was held at the Cabinet Office for the outgoing head of the civil service Covid taskforce - the team responsible for drawing up coronavirus restrictions.

Kate Josephs, now chief executive of Sheffield City Council, apologised for the event, saying she was "truly sorry that I did this and for the anger that people will feel as a result".

18 December 2020
Downing Street originally denied a report by the Daily Mirror that a party took place in Downing Street.

However, a video obtained by ITV News showed the prime minister's then-press secretary Allegra Stratton, joking about reports of an event, saying: "This fictional party was a business meeting and it was not socially distanced."

12 April 2021
Lockdown restrictions were eased in England, with pubs and restaurants allowed to reopen with outdoor service only.

However, working from home continued to be recommended and socialising indoors with people from other households was not allowed. Meeting others outdoors was limited to groups of six people or two households.

16 April 2021
Two parties were held by Downing Street staff at No 10, the night before Prince Philip's funeral.

One of the events was a leaving party for the PM's then director of communications James Slack, who has apologised for the event and acknowledged it "should not have happened at the time that it did".

Boris Johnson was not at either party.
Sir Keir Starmer: There has been "industrial scale partying" at Downing Street
Foreign Secretary Liz Truss says she understands why "people across the country are angry"