Sarah Ferguson quoted the late Queen as she spoke movingly at her friend Lisa Marie Presley's funeral on Sunday.

Thousands of fans have flocked to Ms Presley's childhood home in Graceland to pay tribute to the late singer-songwriter.

The mother-of-four, died of cardiac arrest aged 54 earlier this month.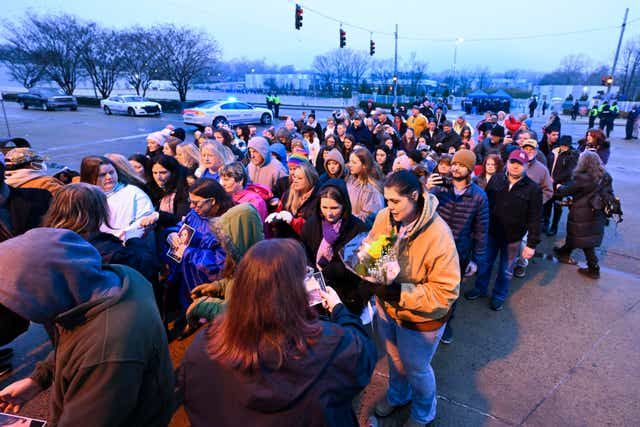 Fans line up to enter Graceland for a memorial service for Lisa Marie Presley
Ms Presley's body was on display to the public during the livestreamed memorial at the family esate where she grew up with her father Elvis.
The service began with the singing of "Amazing Grace" by Jason Clark & The Tennessee Mass Choir.
Priscilla Presley thanked everyone for coming before reading a potem written by her granddaughter, Lisa Marie's daughter, which said: "I have no idea how to put my mother into words, the truth is there are too many.
"Lisa Marie Presley was an icon, a role model, a superhero to many people all over the world.
"But mama was my icon, my role model, my superhero, and much more ways than one."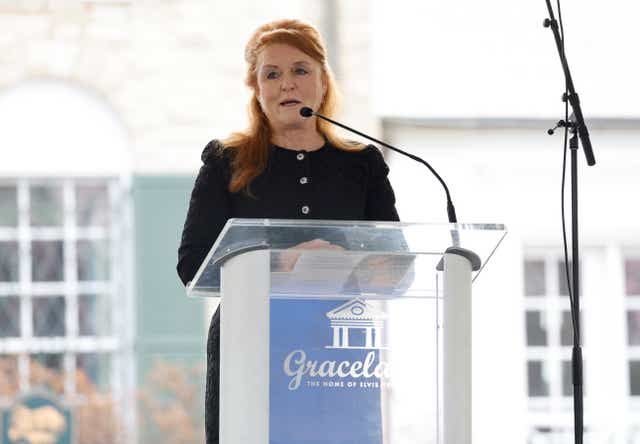 Sarah Ferguson, Duchess of York, speaks at the public memorial for Lisa Marie Presley

Ms Ferguson also paid tribute to Ms Presley.

The pair became firm friends after meeting in the US in 2009 and called each other "Sissie".

Speaking during the celebration of Ms Presley's life, Ms Ferguson said: "Sissie, this is for you with affection.

"My late mother-in-law [the Queen] used to say that nothing can be said, can begin to take away the anguish and the pain of these moments, because grief is the price we pay for love, and how right she was.

"Today we talk about Lisa Marie. We look at Priscilla, as a mother to Lisa Marie. We look to Lisa Marie and say you lost a son. Mothers losing children, there are no words for it.

"So, today we talk about action and action is the way we can go forward, we can light the flame, so for Riley, Harper and Finley, and for the entire family, we march forward in support of you, all of us are with you and we will help you as best we can. If you just put out your hand, we will be there."

Pastor Dwayne Hunt delivered two prayers in which he said Lisa Marie leaves her "light to her children and her mother so that they can rise above the darkness of this grief".
The former mayor of Memphis recalled the "hard times" the city faced when Lisa Marie was born in 1968, and how important her birth was at the time.

He said: "I don't know much about Hollywood, I can't speak for New York or any other city where Lisa may have spent time, but I can tell you that Lisa Marie was this city's precious jewel."

Also paying tribute were singers Alanis Morissette, who performed an emotional rendition of her song Rest, and former Guns N Roses lead, Axl Rose.

He spoke about his friend before launching into a rendition of the band's hit November Rain.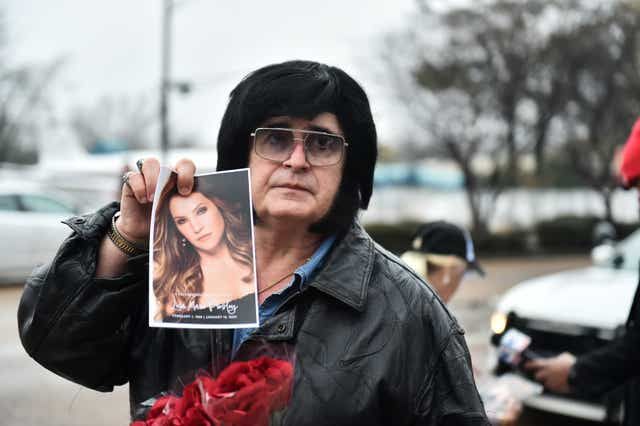 A fan gathers to pay respects at the memorial for Lisa Marie Presley
The Blackwood Brothers Quartet also performed the gospel song How Great Thou Art followed by Sweet, Sweet Spirit.

Between the two, one of the singers recalled that his father had sung as part of the quartet for Elvis's funeral and that him performing today for Lisa Marie felt like a "full circle" moment.

The mansion, which Lisa Marie Presley owned, has been turned into a museum and tourist attraction that hundreds of thousands of fans visit each year to celebrate the life and music of Elvis, who died in 1977.

Elvis died from heart failure aged 42 when Lisa Marie was aged just nine. She was four when Elvis and Priscilla Presley were divorced in 1972.

The star was married four times, including to Michael Jackson and actor Nicolas Cage.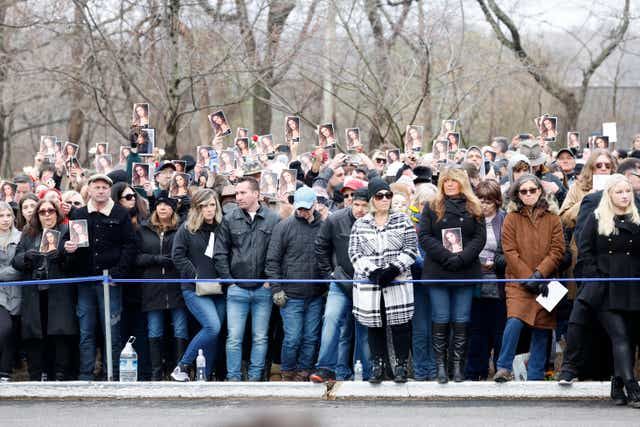 Fans queue to pay tribute

She wed musician Danny Keough in 1988, with whom she had a daughter, Riley Keough, and son Benjamin Storm Keough.

The pair divorced in May 1994, and Lisa Marie married Michael Jackson less than a month later.

Two years later, she wed Cage after meeting him at a party, but only stayed married to him for three months, from August to November of 2002, with the couple divorcing in 2004.

Her fourth marriage came in 2006, for ten years, to guitarist Michael Lockwood.

The pair welcomed a set of twins together in 2007.

Her children are to inherit the Graceland estate, as she inherited it from Elvis following his death.

Lisa Marie will be buried at Graceland next to her son, Benjamin Keough, who died in 2020 aged 27.

Elvis and other members of the Presley family are also buried at Graceland.