Sinn Féin is now the largest party in both local government and Stormont for the first time after making huge gains in council elections.
With all seats counted, the party has won 144, up from the 105 councillors returned in 2019.

Its vice-president Michelle O'Neill called for the Democratic Unionist Party (DUP) to end its boycott of power sharing at Stormont.

The DUP has 122 seats, with the centre-ground Alliance Party in third place.

Stormont's assembly and governing executive is not functioning because of the DUP's protest against post-Brexit trading rules.

In last year's assembly election, Sinn Féin became the largest party at Stormont.

Ms O'Neill described the council election result as "historic".

She said Sinn Féin's campaign, which has seen it make breakthroughs in areas such as Coleraine, Ballymena and Lisburn, was about "positive leadership, it was about a restoration of the executive, it was about making politics work".

'Consolidate vote'

DUP leader Sir Jeffrey Donaldson said his party wanted to consolidate its vote to have a mandate to seek changes to the post-Brexit rules so it could return to Stormont.

"That's about ensuring that Northern Ireland's ability to trade with the rest of the United Kingdom is not only respected but protected in law, and that our place in the union is restored," he said.

The Alliance Party, which also came third in the 2022 assembly election, has increased its number of councillors from 52 to 67.

This includes its first ever council seats in Ballyclare, Fermanagh and Limavady.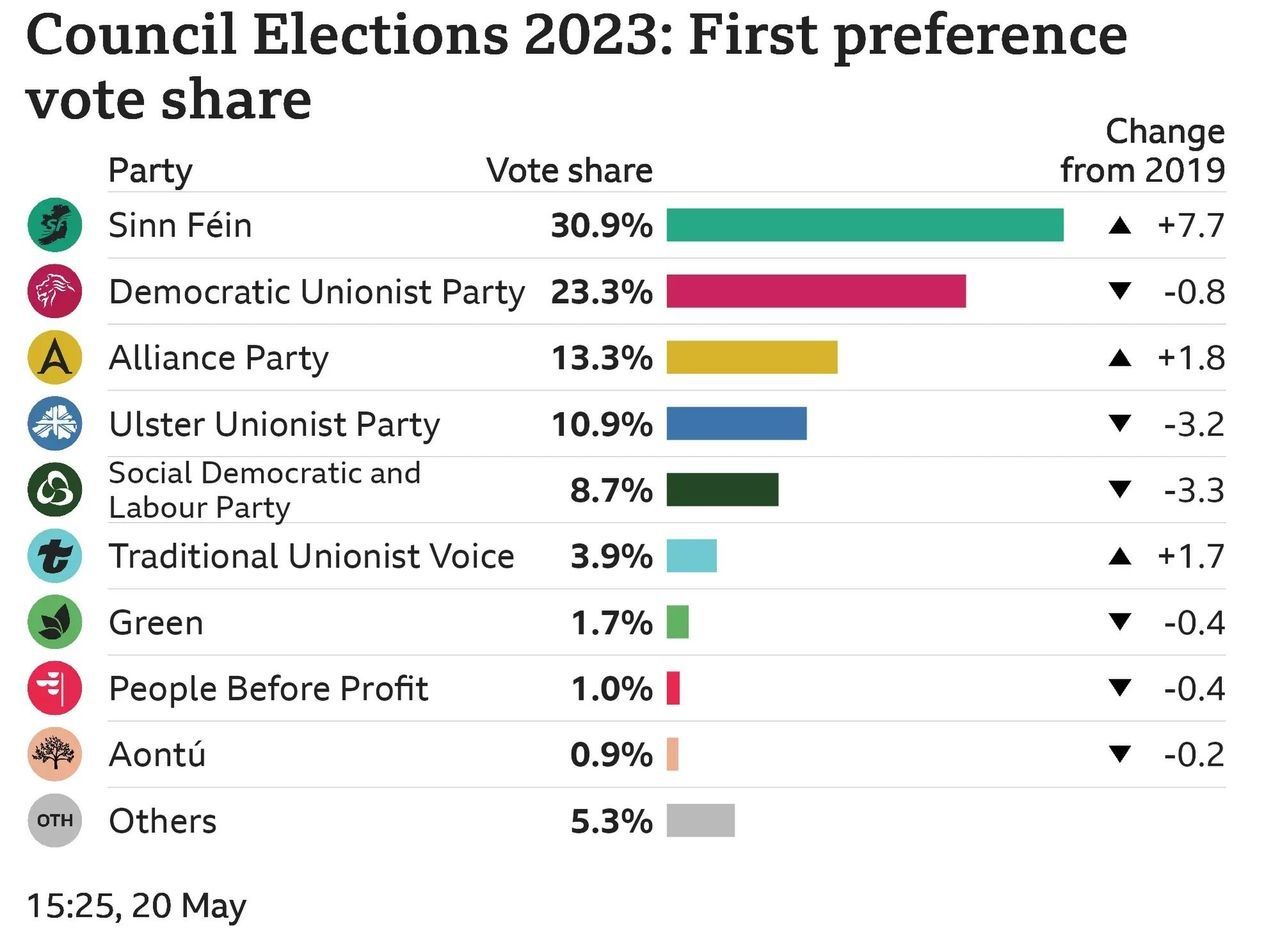 In terms of first preference votes, Sinn Féin, Alliance and Traditional Unionist Voice (TUV) increased their share from the 2019 council election.

Sinn Féin returned a 30.9% share, an increase of 7.7%.

The DUP dropped by 0.8% to 23.3%, with falls in first preference vote share also for the Ulster Unionist Party (UUP) and Social Democratic and Labour Party (SDLP).
Sir Jeffrey Donaldson said his party's vote had held up well
'Reassertion of Assembly election'

It has been a disappointing election so far for the UUP and the SDLP, which have losses in their overall seat tallies.

UUP leader Doug Beattie said his party's message is clear but not resonating.

"It's clear also that many unionists and people who are pro-union are simply not getting out to vote so we have a real issue getting people out of their doors," he added.

The SDLP leader, Colum Eastwood, said the election had been a "reassertion of the assembly election last year", adding he did not believe he should stand down.

"I have no interest in titles or positions, but if I thought the right course of action was to step down, I would do it in a heartbeat," he said.

In all, 807 candidates competed for seats in Northern Ireland's 11 local councils.

There were 1,380,372 people registered to vote and turnout was 54%.

Speaking to BBC News NI, Alliance Party deputy leader Stephen Farry said the results so far could "marginally increase" the chances of the executive returning.

"The TUV have not landed blows on the DUP; I think the DUP have perhaps more room for manoeuvre," he said.

"From our perspective there should not be a boycott of the assembly - we should be back in."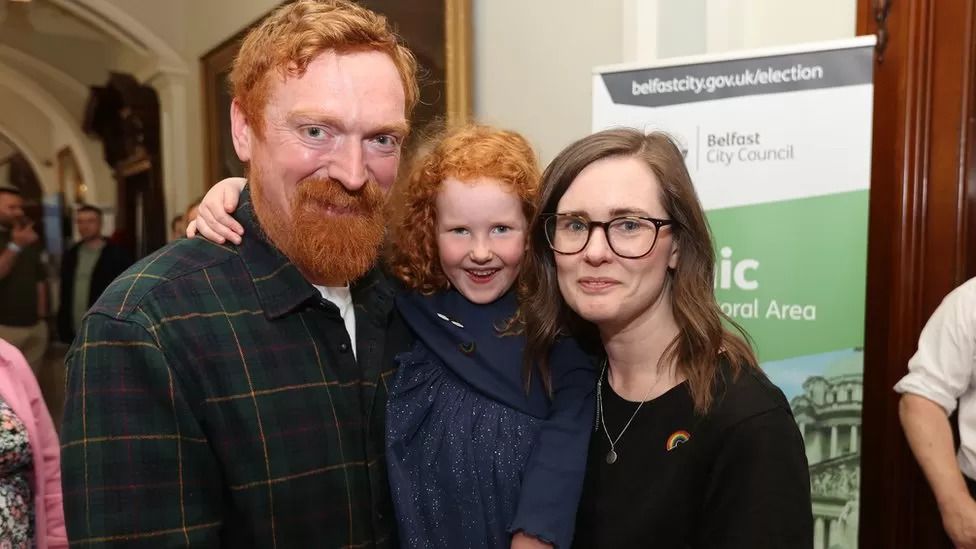 Fiona McAteer, elected for the Alliance Party in Belfast, celebrated with her husband Richard and daughter Emmie

It has been a mixed picture for other smaller parties in the 2023 council election.

PUP leader Billy Hutchinson, first elected as a Belfast councillor in 1997, lost his seat, with Russell Watton in Causeway Coast and Glens left as the party's only elected representative.

He said there will be a meeting of the party in the coming weeks to determine its future.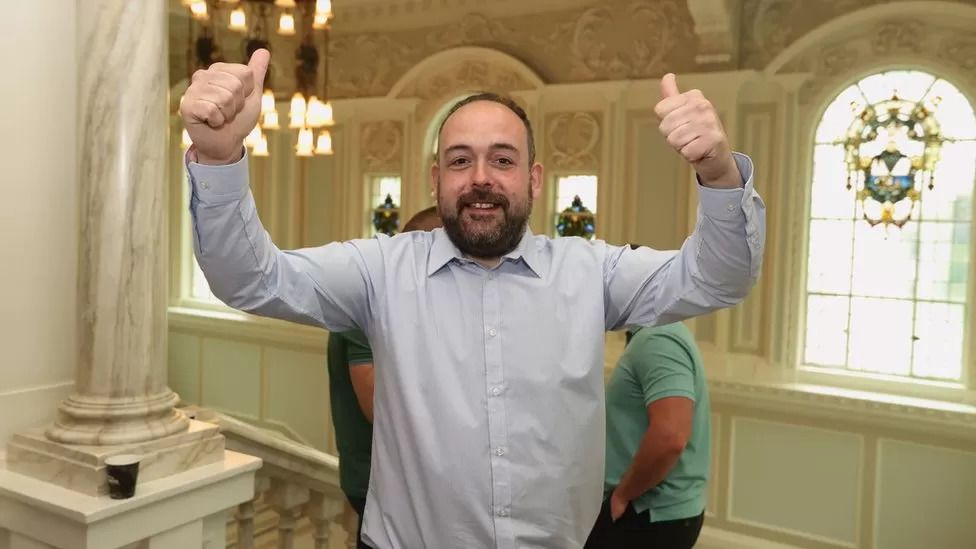 Paul McCusker, who left the SDLP in March, was elected as an independent in Belfast

Independent Paul McCusker, who left the SDLP in March, was elected in the Oldpark ward in Belfast.

In the same council, Mal O'Hara, leader of the Green Party in Northern Ireland, missed out.