The NHS in England will get an extra £5.4bn over the next six months to respond to Covid-19 and tackle the backlog caused by the pandemic, the government has announced.
Prime Minister Boris Johnson said the money would go "straight to the front line" and provide treatments people were not getting quickly enough.

More than 5 million people are waiting for NHS hospital treatment in England.

The rest of the UK will get an extra £1bn in total, ministers said.

The £5.4bn, which is for England only, is broken down into:

*  £2.8bn for Covid-19 costs including infection control measures
*  £600m for day-to-day costs
*  £478m to help hospitals free up beds by discharging patients quickly and safely with community support
*  £1.5bn to help hospitals recover scheduled surgery, including £500m of capital funding


Backlogs

The prime minister said: "The NHS was there for us during the pandemic but treating Covid patients has created huge backlogs."

Health Secretary Sajid Javid said the way the health service dealt with "one of the biggest challenges in its history" had been "phenomenal".

He said the extra £5.4bn in England was critical to ensure the health service had what it needed to manage the ongoing pandemic and help tackle waiting lists.

But he warned waiting lists would get worse before they got better as people came forward for help, adding: "I want to reassure you the NHS is open, and we are doing what we can to support the NHS to deliver routine operations and treatment to patients across the country."

"Huge increase in demand"

The NHS is under sustained pressure as it grapples with a huge backlog of procedures put on hold due to Covid, with hundreds of thousands of people waiting more than a year.

Staff shortages combined with infection-control measures that mean hospitals have fewer beds at their disposal have led to calls for a long-term funding settlement.

Last month, Mr Javid predicted "a huge increase in demand" with patients who had stayed away during lockdown returning to the health service for overdue treatment.

In a report in August, the Institute for Fiscal Studies estimated up to 14 million people could be on waiting lists in England by next autumn.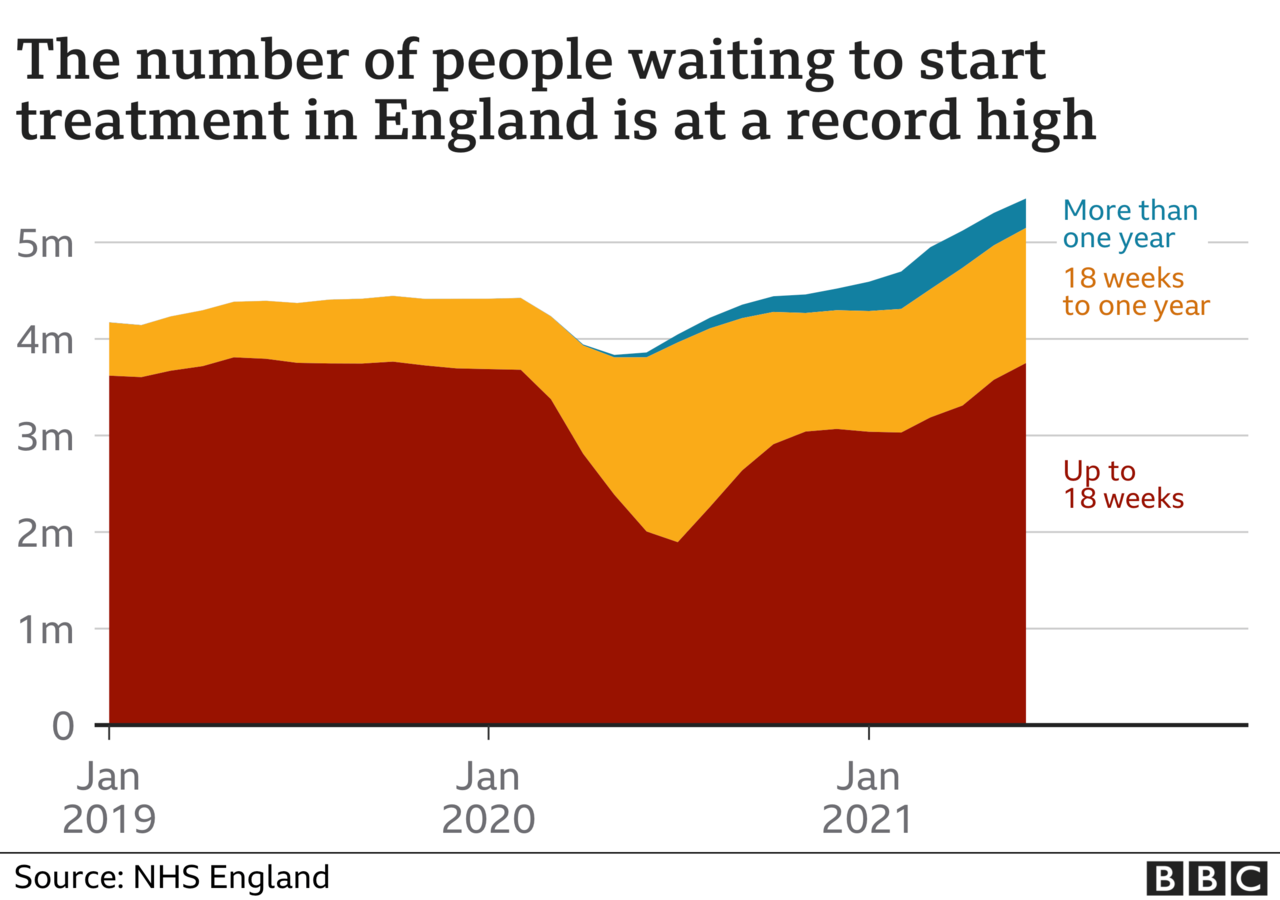 The cash boost once again illustrates just what impact Covid has had. The NHS has already had close to an extra £10bn this year on top of the £136bn it was due to get.

Ministers hope this will help the NHS get through what promises to be a difficult winter.

Not only are hospitals having to cope with Covid, there are signs that the normal winter viruses will return with a bang.

Last winter there was very little flu, while other viruses such as RSV, which hospitalises thousands of young children every year, were kept largely at bay by lockdowns and social distancing.

The result is that people's immunity to these viruses will have waned - or for the very young not had a chance to develop at all.

There is also the need to tackle the growing backlog in non-emergency care, such as knee and hip operations. The waiting list is already at record levels and the NHS still has not been able to get back to pre-pandemic levels of treatment.

It is why the extra money is being welcomed but some in the NHS are still wondering whether it will be enough.

NHS chief executive Amanda Pritchard said the money provided welcome certainty for the NHS, which had "pulled out all the stops" to restore services, while caring for thousands of seriously ill Covid patients requiring hospital treatment during the toughest summer on record.

"This additional investment will enable the NHS to deliver more checks, scans and procedures as well as helping to deal with the ongoing costs and pressures of the pandemic as the NHS heads in to winter," she said.