"Smiling" nurse Lucy Letby offered to take photographs of a baby girl soon after she allegedly murdered her at the fourth attempt, a court has heard.
The 33-year-old is charged with murdering seven babies and attempting to murder 10 others at the Countess of Chester Hospital in 2015 and 2016.

Ms Letby offered to take photos as the parents of Child I, who cannot be named for legal reasons, bathed her after she died, Manchester Crown Court heard.

Ms Letby has denied all of the charges.

The court was told Child I was born prematurely in August 2015 at Liverpool Women's Hospital at the gestational age of 27 weeks and weighed 2Ibs 2oz (970g).

She was transferred to the Countess of Chester Hospital later that month.

'Appeared reserved'

It is alleged that before murdering Child I, Ms Letby attempted to kill the infant on 30 September and during night shifts on 12 and 13 October.

The prosecution said she harmed the premature infant by injecting air into her feeding tube and bloodstream before she eventually died in the early hours of 23 October 2015.

In a statement read to the court, Child I's mother said her daughter was about six weeks old when she thought she might be well enough to go home.

"I started to notice that she was looking different," she said.

"She was looking around the room now, taking it all in.

"I was able to sit her on my knee. I remember looking at her and thinking 'We are going home'.

"She looked like a full-term baby, she didn't look frail or small."

She recalled that around this time she was allowed to bathe her daughter for the first time and that Letby helped prepare it.

She said she was "so pleased to be able to bathe her" and her daughter was "obviously enjoying it because she was smiling".

"Lucy even offered to take some photos using my mobile, which I agreed to," she said.

"I didn't have too much to do with Lucy. She always appeared reserved compared to other nurses. She didn't really interact with parents."

'Just stop talking'

The prosecution said Ms Letby, originally from Hereford, went on to make her first attempt to kill Child I during a day shift on 30 September and tried again during night shifts on 12 and 13 October.

Child I's mother said she was called at home in the early hours of 23 October and told she and her partner needed to go to the hospital immediately.

On their arrival, she saw Ms Letby with another nurse, Ashleigh Hudson, and consultant Dr John Gibbs, who she said were "working to try to resuscitate" her daughter.

"I heard them all counting times," she said.

"I asked Dr Gibbs how long had they been doing this, to which he said 20 minutes.

"I remember thinking they can't keep doing it.

"I said to Dr Gibbs 'You can't do any more'."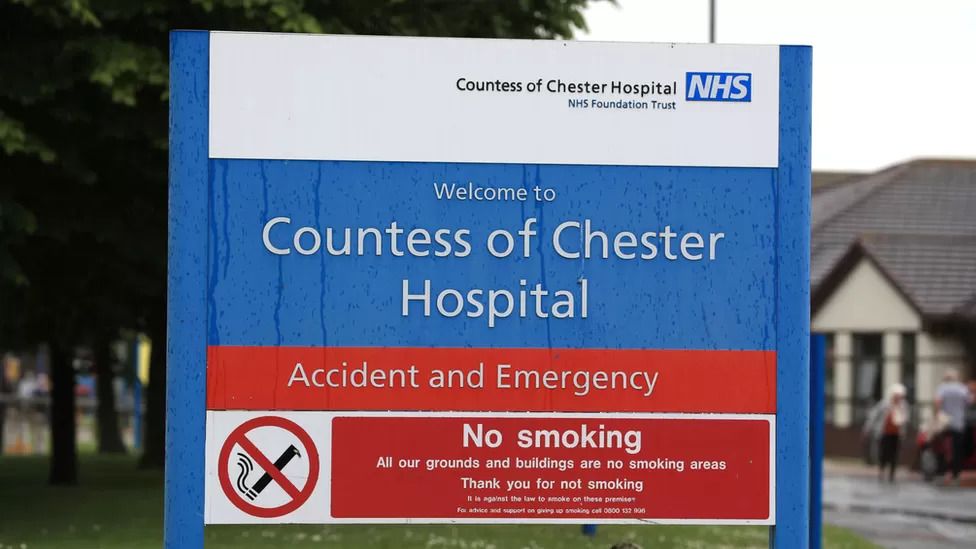 Child I was being cared for on the neonatal ward at Countess of Chester Hospital

She said her and her partner were then moved to a private room, where Ms Hudson and Ms Letby asked her if she wanted to bathe Child I's body.

"I didn't want to look back and regret not doing it so I said yes," she said.

"Lucy brought the bath in. She said she could come in and take some photos which we could keep.

"While we were bathing her, Lucy came back in.

"She was smiling and kept going on about how she was present at the first bath and how [Child I] had loved it."

She said she had "wished she would just stop talking".

"Eventually she realised and stopped. It was not something we wanted to hear," she said.

"I remember it was Lucy who packaged up [Child I's] belongings to go home."

She added that Dr Gibbs had "mentioned about having an autopsy", but she told him she did not want one "because I wanted her leaving alone".

"He said I didn't have a say because her death was unexpected and the results would be needed to clear the hospital," she said.

The court also heard how Ms Letby had searched for Child I's mother on Facebook.

The jury was told searches were carried out at about 01:15 GMT on 5 October 2015, at about 23:45 on 5 November 2015 and at about 23:00 on 29 May 2016.

The trial continues.