King Charles's first state visit abroad will be to Paris, French government sources said on Tuesday.

Aides to President Emmanuel Macron said the King and Queen Consort, Camilla, will travel to France at the end of March.

"Everything is ready for a visit by King Charles III to Paris,' they told Le Parisien newspaper on Tuesday.

"Behind the scenes, French diplomats are busy preparing for the state visit – the most important possible between two countries – of the eldest son of Elizabeth II.'

The invitation to Charles was made by Mr Macron at the time of the funeral of the Queen.

Mr Macron said on September 16: "I had the opportunity to invite King Charles to come to France when it is appropriate for him."

The visit is now set to take place in the week beginning March 27, said the sources.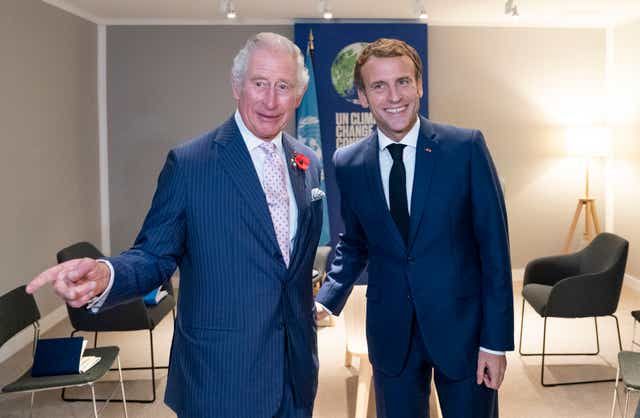 Charles and French President Emmanuel Macron in 2018
A state dinner is planned at the Elysee Palace, where French first lady Brigitte Macron will have a meeting with the Queen Consort, according to the reports.
The Paris National Assembly – the equivalent of the House of Commons – will also welcome the Royal couple, as will Paris mayor, Anne Hidalgo.
An aide to Mr Macron said: "The visit will send out a strong message because it will be the first official visit of Charles III.
"It will happen when the King is not yet crowned, which shows that France is a priority for him."
King Charles's Coronation is on May 6 this year.
The aide continued: "This visit is an opportunity to show the age-old attachment of his country to ours, beyond Brexit, and to be part of the family continuity, because Elizabeth II was Francophile and French-speaking."
During his visit to London for the Queen's funeral, Mr Macron gave Charles a photo album of Queen Elizabeth visit to Versailles in 1957.
The state visit is set to be accompanied by a Franco-British summit between government ministers from the two countries.
Queen Elizabeth II was a huge Francophile who made six state visits to France during her reign – five to Paris and one to Calais.
The first took place in April 1957, four years after her coronation, when Her Majesty the Palace of Versailles, the Paris Opera, and the Louvre.
She also enjoyed a cruise on the River Seine with Prince Philip, and visited Lille, to lay a wreath on a World War I memorial.
Buckingham Palace declined to comment on the reports.