Tory MPs are competing to be the next Conservative Party leader - and prime minister - after the dramatic resignation of Boris Johnson.
Who chooses his successor and when will we know the result?

How do the Conservatives elect a new leader?

Candidates could only enter the race if they had the backing of 20 Tory MPs.

Eight candidates secured enough support.

They include former equalities minister Kemi Badenoch, Attorney General Suella Braverman, former health secretary Jeremy Hunt, and Trade Minister Penny Mordaunt.

Former chancellor Rishi Sunak, Foreign Secretary Liz Truss, Foreign Affairs Committee chair Tom Tugendhat and Chancellor Nadhim Zahawi are also nominated.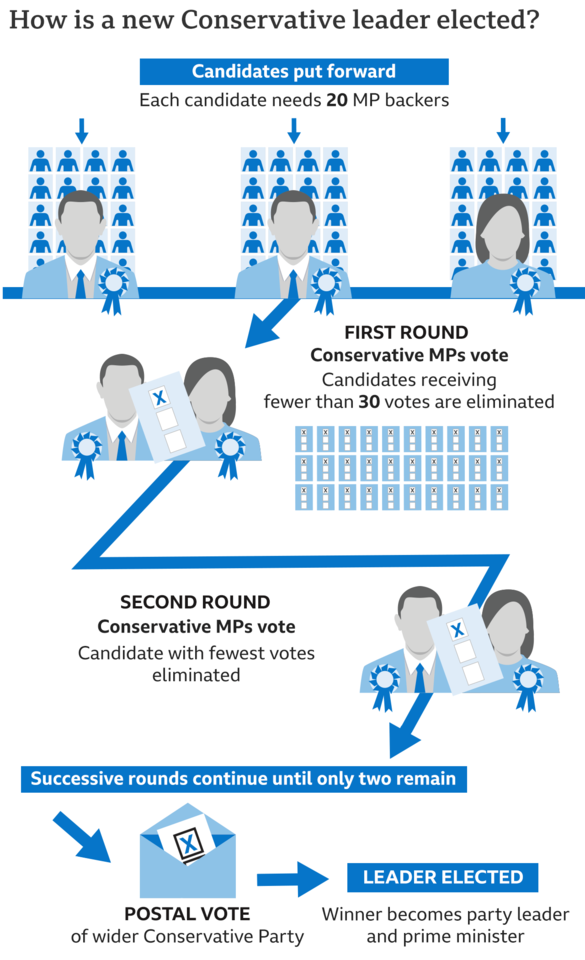 The 358 Tory MPs will now hold a series of votes until only two candidates remain:

*  in the first round, any candidate receiving fewer than 30 votes is eliminated
*  if all candidates reach that number, the one with the fewest votes is eliminated
*  rounds of voting continue until two candidates remain

The first ballot will take place on Wednesday 13 July, from 13:30 to 15:30, with the result announced later that day.

The final two candidates should be known by the end of next week.

After a series of hustings events around the country - when the candidates set out their plans - party members will pick the winner in a postal vote.

Political parties don't have to say how many members they have. However, about 160,000 people were eligible to vote during the last Tory leadership election. The party says that number has since grown.

When will we know the new PM?

Under the current rules, we will know by 5 September at the latest.

The result will be announced by 1922 Committee chairman Sir Graham Brady.

We could know the new prime minister sooner if one of the final two candidates drops out and isn't replaced.

This happened in 2016 when Dame Andrea Leadsom pulled out of the race, leaving Theresa May as the only candidate.

However, Sir Graham says he is "keen" that party members get to vote this time.

Will there be a general election?

Not necessarily. When a prime minister resigns, there isn't automatically a general election.

However, Labour wants to force a no-confidence vote in the government, which is likely to happen in Parliament on Wednesday. If a simple majority of MPs votes in favour of it, then there could be a general election.

This scenario is unlikely to happen, though, because it would require the support of dozens of Conservative MPs.

The latest an election can be held is January 2025, but the new prime minister could choose to call an election before then.


Yes. Despite standing down as leader of the Conservative Party, Mr Johnson is still the prime minister.

Constitutionally, there needs to be a prime minister at all times. So Mr Johnson remains in post until his successor takes over.

That will happen when a new Tory leader has been appointed.

Once Mr Johnson has officially resigned, the newly-elected leader will be invited to Buckingham Palace to meet the Queen who - on the advice of the ruling party - appoints a new prime minister.

What powers does Boris Johnson still have?

Until he goes to the Queen and formally resigns, in theory Mr Johnson keeps all his powers.

However, in reality, he lacks the authority to introduce any substantial new policies, and has promised his cabinet he will not make any "major changes of direction".

He will still represent the UK abroad, and can continue to make public appointments or changes to his team of ministers.

One of his final acts in office is likely to be awarding knighthoods and appointments to the House of Lords in his resignation honours list.