Many families in Bedfordshire have been urged to leave their homes immediately on Christmas Day as the UK braces for Storm Bella.
Bedfordshire Police have 'strongly' advised residents living near the River Great Ouse in north Bedfordshire to seek alternative accommodation amid fears of flooding tonight.

Officers said the request 'overrides' tier four coronavirus restrictions in place, with people 'permitted to go to other people's homes'.

Bedford International Athletic Stadium and Bromham Village Hall are both to be used as emergency Covid-safe assistance centres.

The Met Office has issued a Yellow warning for wind for the whole of England and Wales as well as the far south of Scotland from 3pm on 26 December to 12pm on 27 December.

An Amber national severe weather warning has also been issued for parts of south Wales and across southern England, with gusts expected to reach up to 60-70mph in exposed coastal locations.

Bedford Borough Council has warned of 'significant levels of floodwater expected to impact Bedford and other parts of the borough'.

Superintendent Steve Ashdown said officers had visited just over 1,300 homes in the area on Thursday evening.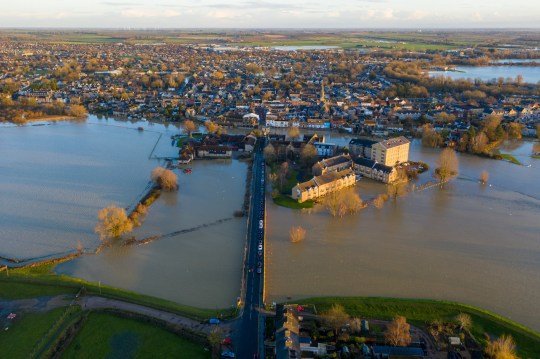 Local areas flooded after the River Great Ouse burst its banks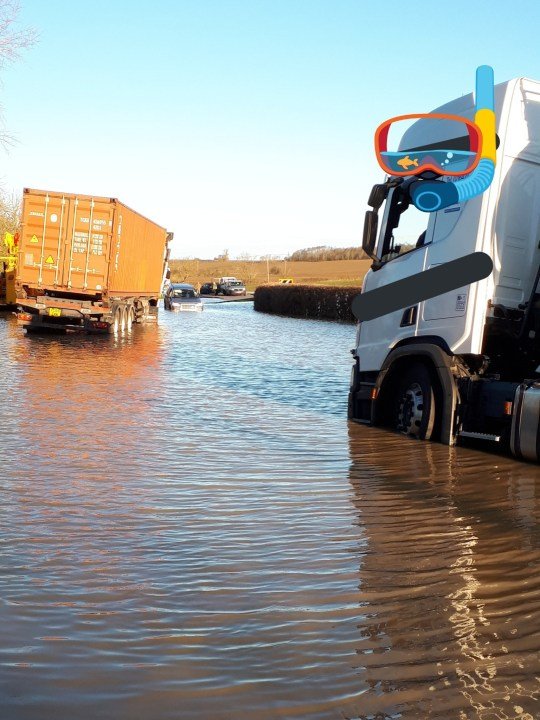 Flooding on the B645 road in Stonely, Cambridgeshire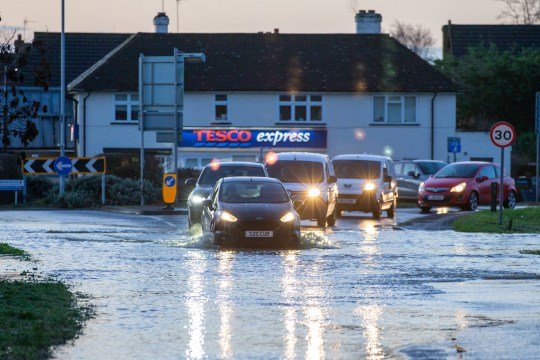 St Ives in Cambridgeshire on Christmas Eve morning


He said: 'The river is currently at heightened levels and we're predicting a significant flooding event by 8pm this evening.

'If you received one of those notices last night, you are in one of those properties that are most at risk from this flood.

'We would encourage you to leave if it is safe for you to do so, as soon as you are able to do so.

'Appreciate the timing of this at Christmas Day is not great, but the risk to you and your family and wellbeing is significant.'

Mayor Dave Hodgson said The Environment Agency was expecting 'the highest level of flooding seen in Bedford Borough in a number of years'.

He added: 'Working with partners we are strongly encouraging people who are at risk of flooding and have been contacted to leave if they can do so safely.

'If your property is at risk of flooding and there is threat to life, please call 999 and ask for Bedfordshire Fire & Rescue.

'If you need assistance, there is support and advice available via the Council's floodline on 01234 718007.

'For this to strike over the Christmas period is really hard, especially after the changes to plans that so many of us have already had to adjust to. But this is a very serious situation- if you can and you've been advised to, please take action to keep yourselves and your families safe.'

People are advised to turn off gas, water and electricity and move any valuables upstairs before evacuating.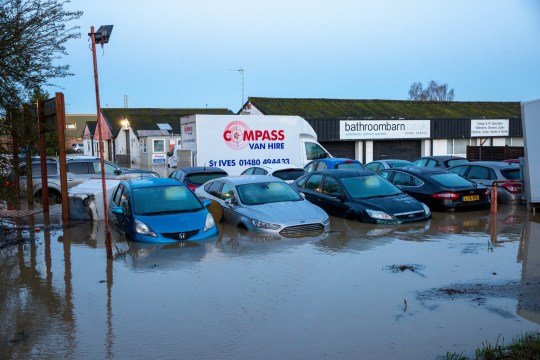 Storm Bella is expected to bring heavy rain and winds of up to 70mph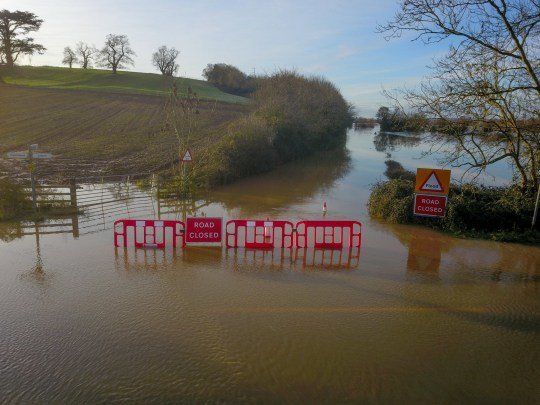 Flooding at Haw Bridge in Tirley, Gloucestershire on Christmas Day after the River Severn burst its banks
It comes after homes and businesses were flooded and dozens of people were rescued from vehicles after heavy rain fell this week.

The A40 dual carriageway at Highnam in Gloucester was almost impassable on Wednesday night (Gloucestershire Police/PA)

A weather warning for rain stretched from East Anglia, across Leicester, parts of Birmingham and north London, and through to mid-Wales and Cornwall, and remained in place until 2am on Thursday.

Across the country, more than 108 flood warnings and 159 flood alerts were still in force at 10am on Thursday as huge amounts of water worked its way through river catchments.

There were 16 warnings for the Severn and on the Welsh border, and 14 across Northamptonshire.

Herefordshire and Worcestershire Fire and Rescue Service said it was 'deluged' with calls from 3pm on Wednesday, and rescued 44 people from stranded vehicles.

The brigade said it also helped homeowners after 'serious flooding' across the two county area.

Drivers were stuck for several hours on a stretch of the M50 motorway near Ledbury, Herefordshire, posting images taken from their car seats showing running water flooding the carriageway.

Properties in various parts of the country, including East Anglia and Gloucester, were also flooded as there was up to 2 inches of rainfall in some areas.

Patrick Lloyd, 27, from Peterborough, Cambridgeshire, said he woke up to find much of his home had been submerged in water, causing thousands of pounds worth of damage.

He added that he had to help rescue an elderly neighbour who had become trapped without power.

Mr Lloyd said the woman, 86, had eventually been taken to hospital after spending around 50 minutes in the 'freezing' floodwater.

He said: 'Luckily a bloke driving by saw her and got out and helped us with her. We had to get the fire service out to get her on to a board and we lifted her out for an ambulance.'