Netanyahu's proposed judicial shake-up has resulted in mass protests for over two months, and now the IDF's top reserve pilots are joining them.
Most reservists in a top Israeli air force squadron are boycotting training in protest of the government's controversial judicial overhaul.

Prime Minister Benjamin Netanyahu is planning to overhaul the legal system and is pushing forward despite mass protests claiming the move undermines liberal democracy.

Thirty-seven of the 40 reserve pilots in Israeli Air Force's 69th Squadron joined the protests by refusing to attend pre-scheduled training this week, the Jerusalem Post reports.

The 69th Squadron is one of Israel's most prestigious air force units, according to Haaretz. It flies F-15 Thunderbird aircraft that have conducted long-range missions targeting Iranian positions in Syria in recent years, said the Israeli outlet.

This move follows the reservists in the elite IDF 8200 intelligence unit, who are also striking in protest of government actions, the Post said, by not attending certain aspects of training.

The Israel reserve is 465,00-strong, and the mandatory service is part of the national ethos.

"Calls for insubordination hurts the Israeli military's ability to function and carry out its missions," said Defense Minister Yoav Gallant, per The Post.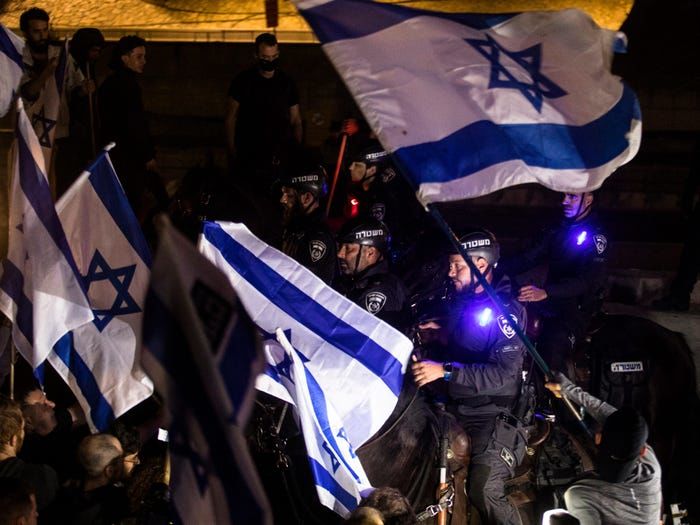 According to Reuters, tens of thousands of people across Israel rallied against the law reform last night for the ninth week in a row, which would reduce the Supreme Court's abilities to contest to the legislature and the executive while simultaneously allowing lawmakers to appoint judges without contest.

Critics of this plan by Netanyahu's right-wing government say that this will weaken Israel's courts, and reduce civil liberties, per Reuters.

"There's a great danger that Israel will turn into a dictatorship. We came here to demonstrate over and over again until we win," School teacher Ophir Kubitsky, 68, said on Saturday, per Reuters.

Police attacked protesters on Wednesday, firing stun grenades and water cannons, according to Reuters.

Protesters responded by screaming "shame" and chanting: "We are the majority, and we are out on the streets."