In a rare media briefing at the foreign ministry's local office, deputy commissioner Pan Yundong also defended Beijing's overhaul of the city's electoral system.
A senior Chinese diplomat in Hong Kong has ramped up warnings against foreign countries with "ulterior motives" interfering in Sunday's Legislative Council election, a day after Beijing rebuked the United Kingdom for allegedly attempting to do just that.

In a rare media briefing on Wednesday, Pan Yundong, the deputy commissioner of the Chinese foreign ministry's Hong Kong office, also defended the city's new electoral system, which has drawn criticism from the West since it was overhauled by Beijing earlier this year to ensure only "patriots" held office.

"Whether Hong Kong's democratic electoral system is good or not depends on whether it helps the city maintain long-term stability," Pan told reporters at the ministry's offices on Kennedy Road.

"Hong Kong's Legco election is China's internal affair; we will not allow any foreign forces to make irresponsible remarks with their ulterior motives."

The ministry had used similar language in lashing out at a report issued by British foreign minister Liz Truss on Tuesday suggesting that Hong Kong's judicial independence hung in the balance amid what she termed "politicised prosecution decisions" under the Beijing-imposed national security law.

Releasing the report so close to the Legco poll, the ministry said, was an attempt to "disrupt the election order" of Hong Kong.

Sunday's election will be the first major poll since Beijing's patriots-only overhaul, which, among other measures, expanded Legco's membership from 70 to 90, while simultaneously slashing the number of directly elected seats from 35 to just 20.

Earlier this month, The Wall Street Journal came under fire for an op-ed critical of the electoral overhaul, with Hong Kong constitutional affairs chief Erick Tsang Kwok-wai warning the paper that inciting anyone to boycott an election or cast an invalid ballot was against the law. A Sunday Times editorial last week suggesting Hongkongers boycott the election drew a similar warning from the head of the Hong Kong government's office in London.

Asked to comment on the criticism, Pan on Wednesday maintained the Legco election was still politically inclusive, competitive and fair, and that the candidates were broadly representative of society.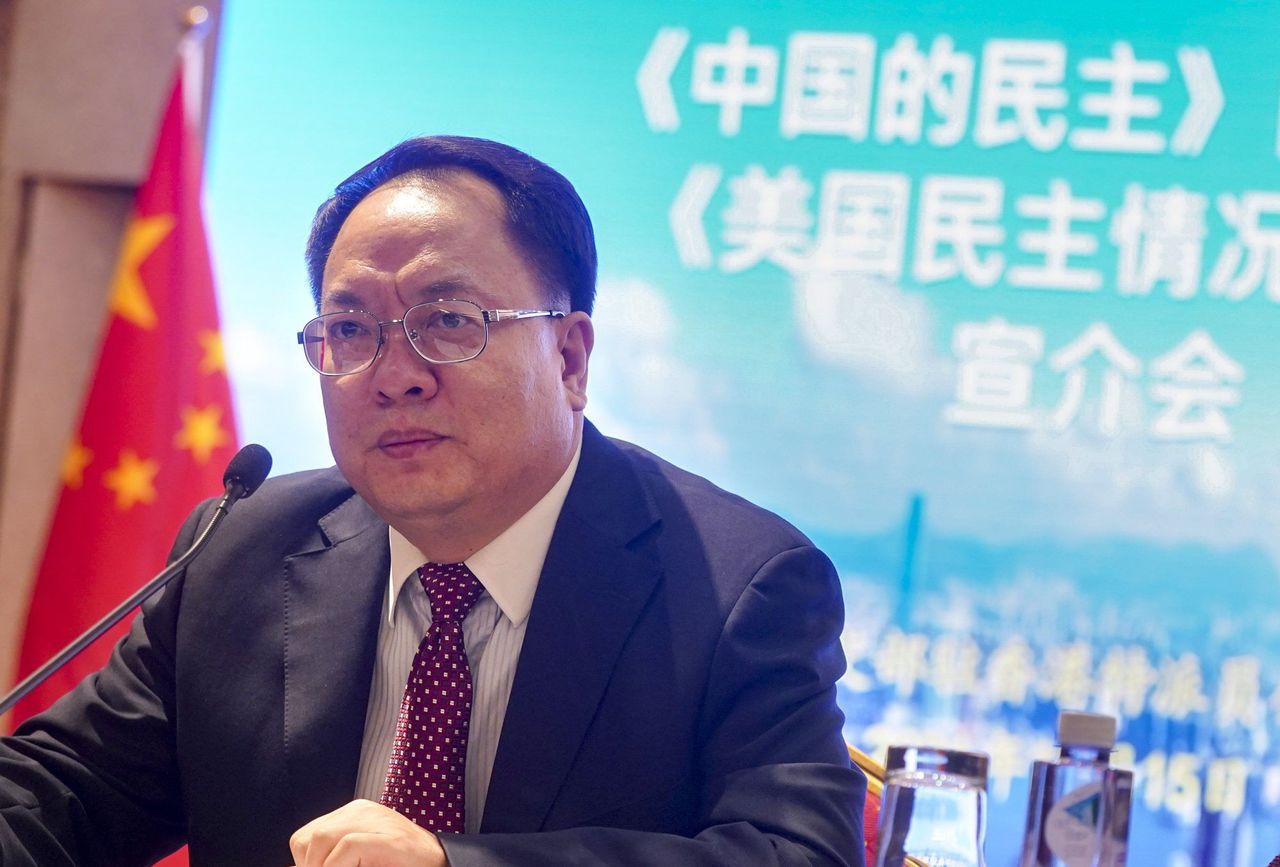 Pan Yundong, deputy commissioner of Chinese foreign ministry's Hong Kong office, speaks to the press on Wednesday.

"A fair election of the members of the new legislature will help to implement the principle of 'patriots administering Hong Kong', and improve people's livelihoods and governance," he said.

"Prejudice and bias must be set aside. Stop smearing Hong Kong's democratic development and stop interfering and disrupting the city's election."

The city's mainstream opposition has shunned Sunday's poll entirely, and only a fraction of candidates do not identify with the city's pro-establishment camp. Under new rules, all candidates were vetted by a government-appointed body before being approved to run, and were required to secure nominations from the newly empowered Election Committee, stacked with Beijing loyalists.

The committee, previously tasked only with selecting the city's chief executive, will also hand-pick 40 members of the revamped legislature. The remaining 30 seats will be returned by largely trade-based functional constituencies.

Wednesday's media briefing came less than a week after the foreign ministry's Hong Kong office hosted a symposium on "strengthening confidence in true democracy".

Addressing about 100 representatives of the city's pro-establishment camp, the office's commissioner, Liu Guangyuan, warned that Beijing would not allow any country to meddle in the Legco election.

Wednesday's event was organised as a briefing on two new documents unveiled by Beijing earlier this month: a white paper called "China: Democracy that Works" and a foreign ministry report titled "The State of Democracy in the United States".

In the report, issued on December 5, the ministry urged Washington to "improve its own system and practices of democracy and change its way of interacting with other countries".