The Home Office is blighted by delays in dealing with asylum claims, as inexperienced and low-paid staff are hired to handle applications, several insiders have told BBC Two's Newsnight.
Staff said this was slowing down decisions, leading to long, expensive hotel stays for asylum seekers.

More than 127,000 people are waiting for a decision, latest official figures for June 2022 show.

The Home Office said it was boosting the number of claims processed.

It comes as Home Secretary Suella Braverman is set to appear before the Home Affairs Select Committee later, where she will answer questions from MPs on asylum and immigration.

Three people who work in the department have spoken to Newsnight to warn about the impact on Home Office decisions being made about asylum seekers.

One person with several years of experience working in the department said: "To make and write decisions is more difficult than people think.

"They're hiring large numbers of inexperienced staff who need to be trained to do this and that takes time, so the backlog grows.

"And it's young staff facing these harrowing stories and earning low wages - so what's the incentive to stay?

"There isn't one… so they leave and then they hire someone else and so it continues."

According to the latest Home Office figures, by the end of June this year there were 103,083 cases - relating to 127,026 people - in the asylum backlog.

That is more than three times the number of cases that were awaiting for an initial decision in December 2017, when 29.522 were in the backlog.

Another Home Office employee said they were working "long and gruelling" hours.

"People work desperate hours every day. They're hiring more decision-makers but some haven't worked in this area before, so it's taking them longer to learn and that slows it all down," they said.

"It takes a while to get them up to speed and my worry is that the wrong decisions could be made affecting the lives of vulnerable people."

The "low civil service" pay grade for the role can also "turn [staff] off" the role too, according to some with knowledge of how the Home Office works.

The Institute for Government think tank said there were hundreds more caseworkers in the Home Office working on asylum applications than there were a decade ago - but they were making fewer decisions.

It said in 2021-22, there were 614 caseworkers who made an average of five asylum decisions per month per staff member, compared to 380 caseworkers with a productivity rate of 13.7 decisions in 2011-12.

There are more than 37,000 asylum seekers currently living in UK hotels, costing the taxpayer almost £7m per day. The speed at which the backlog is dealt with dictates the duration of stay in hotels and the cost to the taxpayer.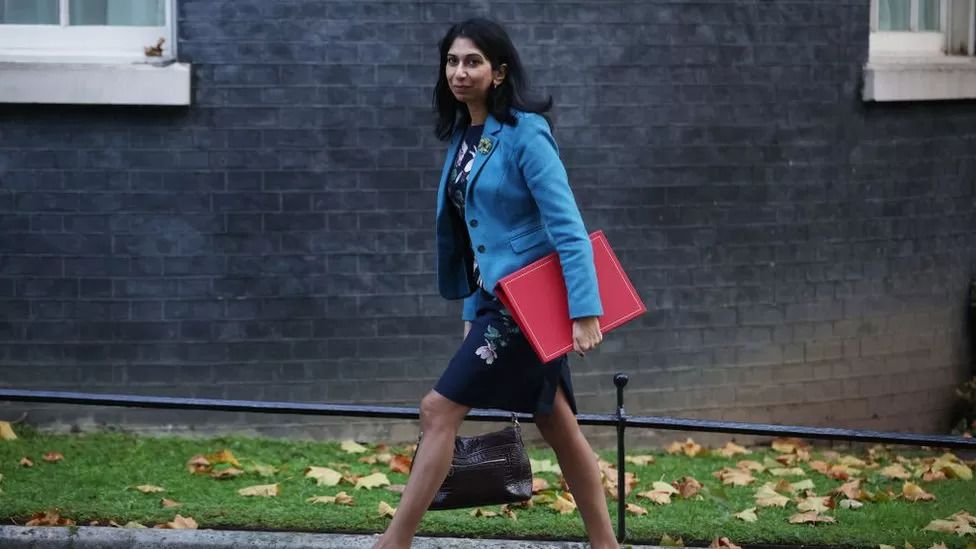 Home Secretary Suella Braverman is set to face questions from MPs later
The Home Office said it was a "short-term solution" while it was working hard with local authorities to find suitable accommodation for them.
It added it was doing what it could to address the situation, and had "increased asylum caseworkers by 80% to more than 1,000". It said "a successful pilot scheme to boost the number of claims processed is now being rolled out across the country".
It said there was a "comprehensive training and mentoring programme" to support the people making the decisions.
Labour's Yvette Cooper said the process was "a mess" and "decision-making has collapsed".
The shadow home secretary said there had been "repeated warnings" about the shortage of specialists and poor training and supervision had led to the backlog in cases.
The Nationality and Borders Bill had added "an additional six-month delay on thousands of cases", she told BBC Radio 4's Today programme.
Decisions were not being made and the Home Office's "own legislation has added to bureaucracy and to the costs", said Ms Cooper.
More than 40,000 migrants have crossed the English Channel in small boats this year.
Meanwhile, on Tuesday, the Home Office said it had cleared the Manston migrant processing centre in Kent, a holding site for people who arrive in the UK on small boats.
It had been criticised over the conditions at the centre - where thousands of migrants were placed in tents during the autumn.
A man who was staying at Manston died in hospital after becoming unwell on Saturday, and an investigation has been launched into his death.