Suella Braverman has played down the prospect she could resign over new post-Brexit rules for Northern Ireland.
However, the home secretary told GB News she could not support any renegotiated deal that allows the EU a "foothold" in the region.

It comes amid pressure on Rishi Sunak from his backbenchers over the future role of the EU's top court.

Earlier, the PM declined to say what role it might have, telling MPs that talks were still ongoing.

He added that any new set of rules would need to guarantee "sovereignty" for Northern Ireland, without giving further details.

The current rules, known as the Northern Ireland Protocol, were negotiated by Boris Johnson and came into force in 2021.

It has seen Northern Ireland continue to follow some EU laws, to get round the need for checks at the UK's border with the Republic of Ireland.

The extent to which this will continue under any new arrangement has emerged as a key flashpoint for Brexit-backing Tory MPs, as well as the DUP, the region's largest unionist party.

Some Tory MPs have also expressed concern about allowing the European Court of Justice (ECJ) to have the final say on what EU laws mean - a red line for the 27-country bloc.

'Take back control'

Ms Braverman, a staunch Brexiteer, previously resigned from Theresa May's government over her "backstop" proposals to prevent checks, which was ultimately abandoned.

Asked during an interview with GB News whether she could do the same over a new protocol deal, she replied: "I don't think we need to be talking about resignation.

"I've taken a very forthright position in the past because I've found the terms of previous agreements intolerable."

However, she warned she would not support a deal "selling out on Northern Ireland, and allowing the EU a foothold in the United Kingdom".

It was vital, she added, to "safeguard what we've gained from the Brexit vote" and "properly take back control".

"I know the prime minister shares that objective," she added.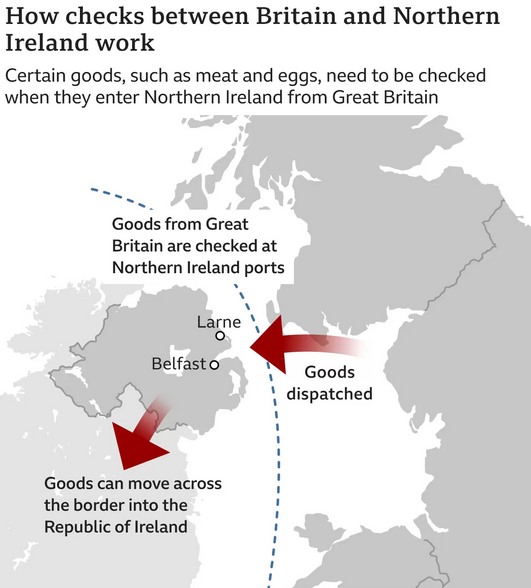 Ms Braverman previously chaired the European Research Group (ERG) of Eurosceptic Tory MPs, some of whom have expressed concern about where the current EU talks might end up.

In her GB News interview, she appeared to echo a view expressed by some ERG members that any new agreement will need to have the support of the DUP.

The party is preventing a devolved government being formed in Northern Ireland in protest until its concerns have been addressed.

"Ultimately, Stormont will only function if the DUP supports any proposal," she added.

At Prime Minister's Questions earlier, DUP leader Sir Jeffrey Donaldson said any new deal would have to address the "fundamental constitutional issues" of how EU law applies in the region.

It was unacceptable, he added, that "EU laws are imposed on Northern Ireland with no democratic scrutiny or consent".

Mr Sunak said he had heard the demands "loud and clear", adding that "addressing the democratic deficit is an essential part of the negotiations".