Striking rail workers need to accept reforms to see their pay increase, the transport secretary has said.
RMT union members are holding a series of strikes over the festive period while trying to negotiate more money to match rising inflation.

But Mark Harper said workplace reforms were the only way to "free up" funding to do this.

The RMT called on Mr Harper to "facilitate" negotiations on a new pay deal between the union and rail bosses.
Speaking on the

Sunday with Laura Kuenssberg show, Mr Harper said: "It is the reforms that free up the savings that then unlock the ability for the companies to make an offer to the trade unions on pay.

"Both of those things have to happen in parallel.

"I do not have a bottomless pit of taxpayers' money to throw at this problem."

Any money saved through reforms would have to be split "fairly between the taxpayer and the people who work in the industry", Mr Harper added.

The government used £16bn of taxpayers' money to keep services running as passenger numbers plummeted during the Covid-19 lockdowns, at one point reaching a 150-year low.

Latest figures show rail travel in November 20% lower than over the the same period before the pandemic hit the UK.

Mr Harper said there had been "quite a lot of progress" in negations between the trade unions and train operating companies and Network Rail.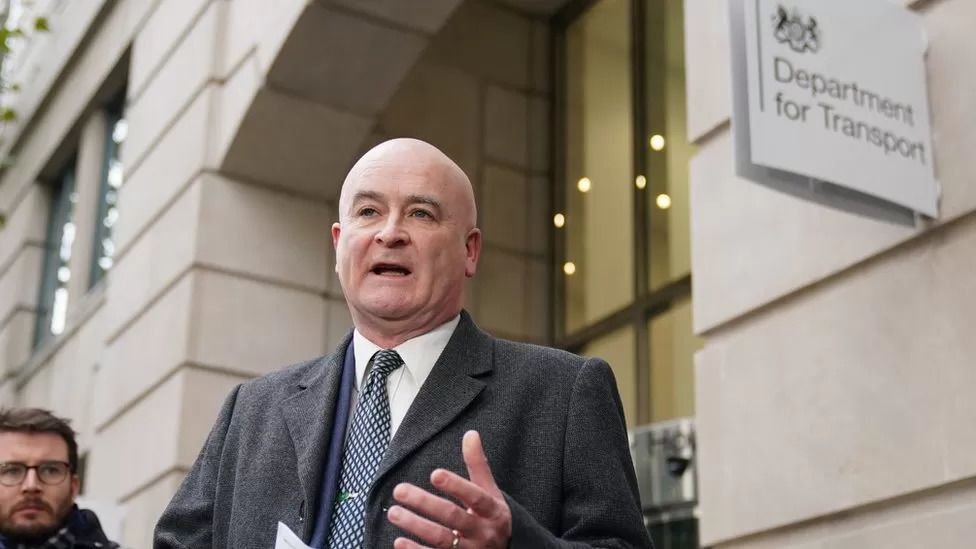 Mick Lynch met with Mark Harper last week

RMT general secretary Mick Lynch said: "We have heard all of this before from other ministers

"We need Mr Harper to make his role as facilitator tangible and real."

He called on him to give rail companies "mandates that enable them to make an offer that will create a settlement".

RMT, which represents workers such as guards and signalling staff, has already held eight days of strikes since June which have caused widespread disruption.

Along with other rail unions, its members want pay rises in line with the surging cost of living. Inflation - the rate at which prices rise - hit 11.1% last month.

RMT says members working for train companies have been subject to "pay freezes, threats to jobs and attacks on their terms and conditions".

Network Rail plans to shed 1,900 maintenance jobs as it tries to make £2bn of savings over the next two years. The body, which manages all of Great Britain's railway infrastructure, said it hoped to cut the jobs through voluntary means.

The rail industry say reforms are also needed to modernise the railway and make pay rises affordable.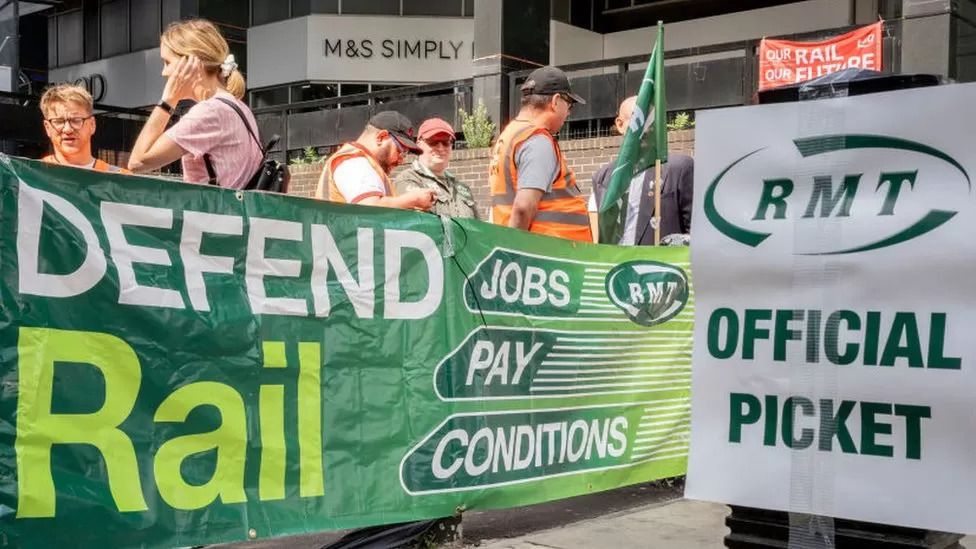 Strikes will be staged across four 48-hour periods on 13-14 and 16-17 December, and 3-4 and 6-7 January.
Some 40,000 workers will walk out and there is likely to be disruption in the days around the strikes due to trains not being in the right places.
British Trades Union Congress general secretary Frances O'Grady told the BBC there was "a deal to be done" between the unions and rail bosses.
A deal "takes goodwill, good faith and people around the table, but it also takes clarity," Ms O'Grady said.
She added that there had been a recent "change in tone" from the government after Grant Shapps was removed as transport secretary in September.
Mr Shapps, who is now business secretary, publicly clashed with rail unions earlier in the year when he refused to get involved in negotiations. Both of Mr Shapps successors, Anne-Marie Trevelyan and Mr Harper, have met with union leaders.
Transport Secretary Mark Harper says the UK does not have "a proper seven-day railway"