DUP leader Sir Jeffrey Donaldson has branded P&O Ferries "a disgrace" for the way it sacked 800 workers.
Many workers were told without warning by video message on Thursday that it would be "their final day of employment".

P&O sailings between Larne and Cairnryan have been disrupted since then.

It could be another week before the company's ferries can operate from the County Antrim port.

"I think that the way that these workers were treated by P&O is an absolute disgrace," Sir Jeffrey said.

"We will do everything in our power at Stormont and at Westminster to ensure that they [the workers] get support and that we help Larne Port recover from this situation, so that ferry services - the vital links between Northern Ireland and the rest of the United Kingdom are sustained going forward."

Meanwhile, the Consumer Council has said customers who have had sailings cancelled or re-routed should be entitled to compensation as well as reimbursement.

The council's Richard Williams said if a ferry is cancelled the company has to offer a full reimbursement or a re-routing on the same route

"As P&O had been unable to arrange a re-routing they have asked customers to book through Stena as an alternative," he said.

"In doing that, P&0 will treat them as they've re-routed them themselves as if they're actually using the P&O ticket in which case they'll be entitled to make an application for compensation for delay and any expenses."

P&O sailings between Larne and Cairnryan have been disrupted since Thursday when 800 staff were sacked without notice.

Alternative routes have been offered elsewhere in the UK.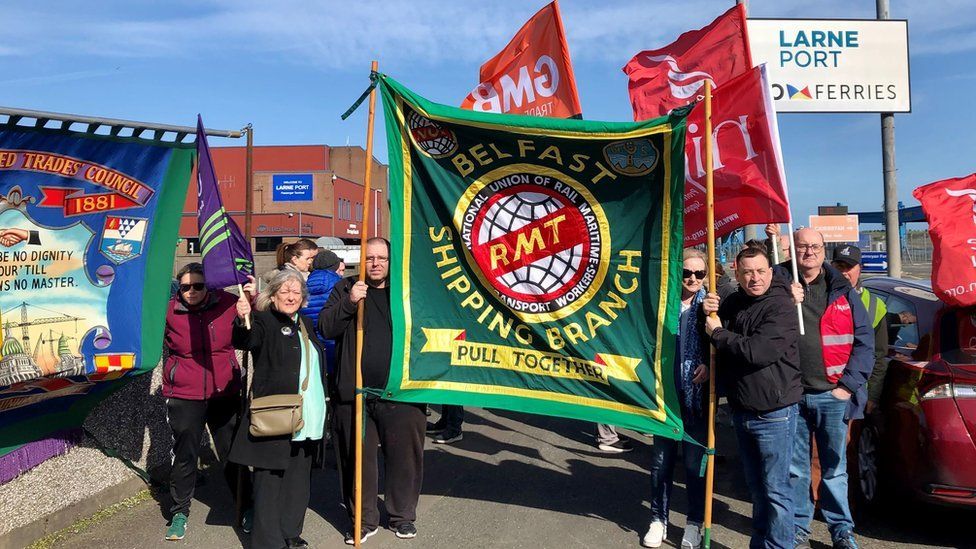 Nearly a quarter of P&O Ferries' UK staff were told about the job cuts via a pre-recorded video message on Thursday
Government review

In a statement, a spokesperson for P&O said: "To try to minimise disruption for our customers, we contacted everyone we could reach.

"If any passengers have any queries about travelling with us, we encourage them to get in touch with our customer services team.

"Our aim is to have the first of our services running again in the next day or two as we lose £1m a day for each day they are not moving."

All P&O Ferries contracts across government will be reviewed in response to the way it sacked 800 workers.

A Department for Transport spokesperson could not provide details on the current value of government contracts awarded to P&O Ferries.

However, Labour Party analysis of the public sector contracts database Trussle found the company had received £38.3m in taxpayer-funded contracts since December 2018.