Unions say 'no resolution is in sight' after 'bitterly disappointing' meetings with Government
Planned strikes by healthcare workers are set to go ahead after negotiations between the Government and health unions broke down.

Unite negotiator Onay Kasab said the Government told the union they would need to "justify" a payment through productivity, branding the talks on Monday an "insult".

Earlier, Prime Minister Rishi Sunak said he was "happy to talk about pay" with unions as ministers held a series of meetings aimed at ending a wave of industrial unrest in the NHS and on the rail network.

But both the Royal College of Nursing (RCN) and Unite criticised the meeting with Health Secretary Steve Barclay, accusing ministers of "intransigence".

Asked outside the Department of Health and Social Care (DHSC) whether there had been mention of a one-off payment during the talks, Mr Kasab said: "No, no, all the Government are interested in is saying that in order to justify a payment we need to … come up with productivity in the NHS.

"That is absolutely ludicrous. This isn't a factory we're talking about, we're talking about people who are working well beyond their contracted hours anyway just to get the job done because … they care so much.

"So, for the Government to be talking about productivity in exchange for a (payment) is an insult to every single one of our members."

The Royal College of Nursing (RCN) described the talks as "bitterly disappointing".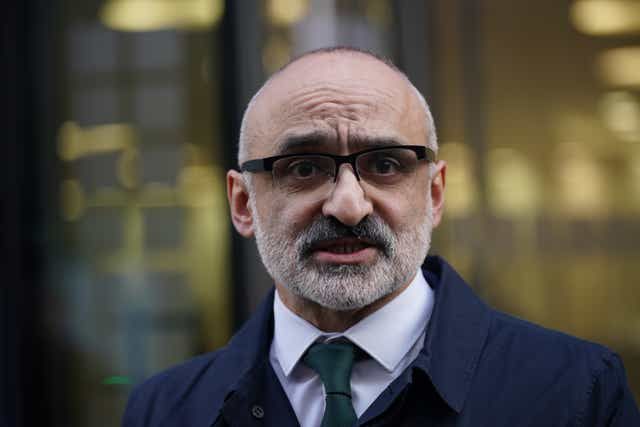 Unite negotiator Onay Kasab
Joanne Galbraith-Marten, director of employment relations and legal services at the RCN, said in a statement: "There is no resolution to our dispute yet in sight."
The lack of progress means that ambulance strikes pencilled in for Wednesday will go ahead. More than 10,000 GMB members are expected by the trade union to take to picket lines on Wednesday along with members of Unite and Unison.
Nurses will stage industrial action on January 18 and 19 in hospitals across the country, including seven London NHS employers.
Whitehall sources said Mr Kasab was not in the room for the meeting with Mr Barclay.
One described it as a "constructive" meeting, with the Health Secretary stressing the "common ground" between those attending in their wish to improve the NHS and make it a "more attractive" place to work.
Mr Barclay saw the talks as the start of a conversation about improving productivity and efficiency within the health service which could increase what was "affordable" for pay negotiations for 2023/24.
The unions are understood to have raised the idea of a one-off payment for this financial year.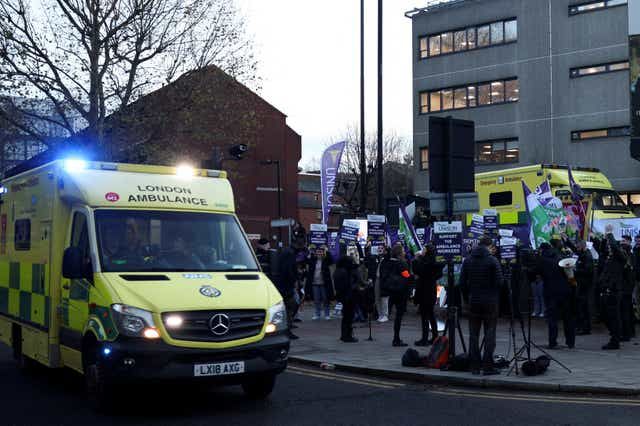 An ambulance on emergency call drives past ambulance workers' strike

The Health Secretary is believed to have agreed to take away the suggestion from union leaders.

Sara Gorton, head of health at Unison, struck a more positive tone following the talks and said that "progress" had been made in the talks .

But she said that no "tangible" concessions had been made.

She went on: "It was a very civil meeting. We did actually manage to talk about pay – we didn't get the tangible concessions that we might have hoped for that would enable us to call off the strikes later this week.

"But it was definitely progress when you're in a room with the Secretary of State talking about pay, I think.

"He's asked for our help to help with the Treasury to make the case for investment. We'll certainly do that."

It comes as a fresh blow to the Government after suggestions that Prime Minister Rishi Sunak could be open to giving a one-off payment to health workers to avert future strikes.

A Downing Street spokesperson said: "We would always encourage the unions to call off strike action. We think having these sorts of discussions is the right way to resolve these sorts of issues."

Junior doctors have also threatened to strike for 72 hours in March amid more stark warnings over the crisis facing health services this winter.

The British Medical Association said the junior medics would stage a "full walkout" if Mr Barclay does not meet with the union to negotiate a solution.