King Charles and Queen Camilla, crowned in a lavish, historic ceremony on Saturday, were "deeply touched" by the day's events, Buckingham Palace said.
The royal couple were "profoundly grateful" to all who helped to make it "such a glorious occasion" and the "very many" who turned out to show their support, the palace said.

Meanwhile, the Prince and Princess of Wales made a surprise trip to Windsor.

Crowds cheered as the couple chatted to people taking part in the Big Lunch.

A day earlier at Westminster Abbey, more than 2,000 guests including world leaders, fellow kings and queens, celebrities and community champions packed the pews to witness the crowning of a king.

Outside, thousands lined the Mall despite the rain to cheer the king as his horse-drawn carriage passed from Buckingham Palace to Westminster Abbey.

Later, the couple, still in their crowns, appeared on the palace balcony to wave to the rain-soaked public, keen to be part of a moment in Britain's history.

Millions around the world watched the Coronation, the first in 70 years.

In the UK alone, at least 18 million viewers tuned in, provisional figures suggest.

Celebrations are continuing on Sunday with thousands of street parties and lunches ahead of a star-studded concert.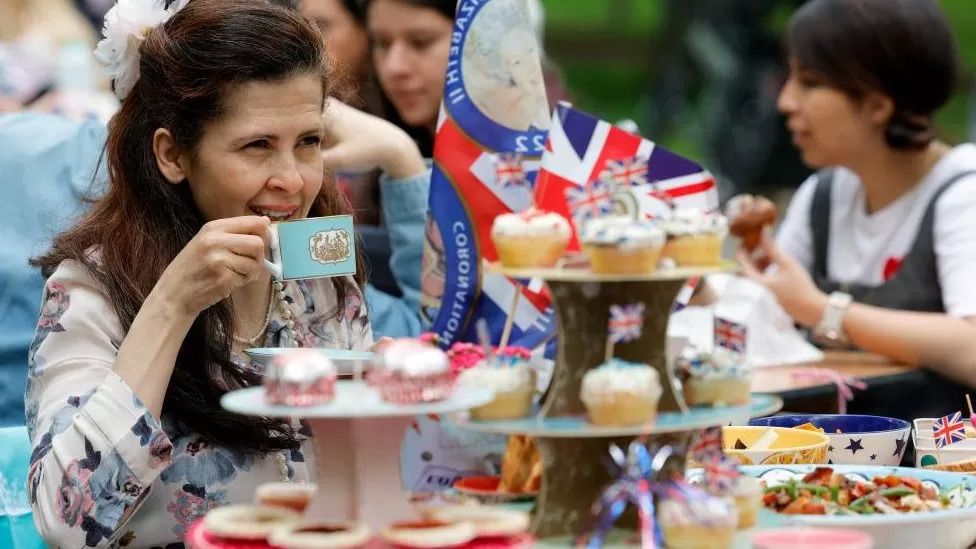 Tea, cake and union jacks in London's Regent's Park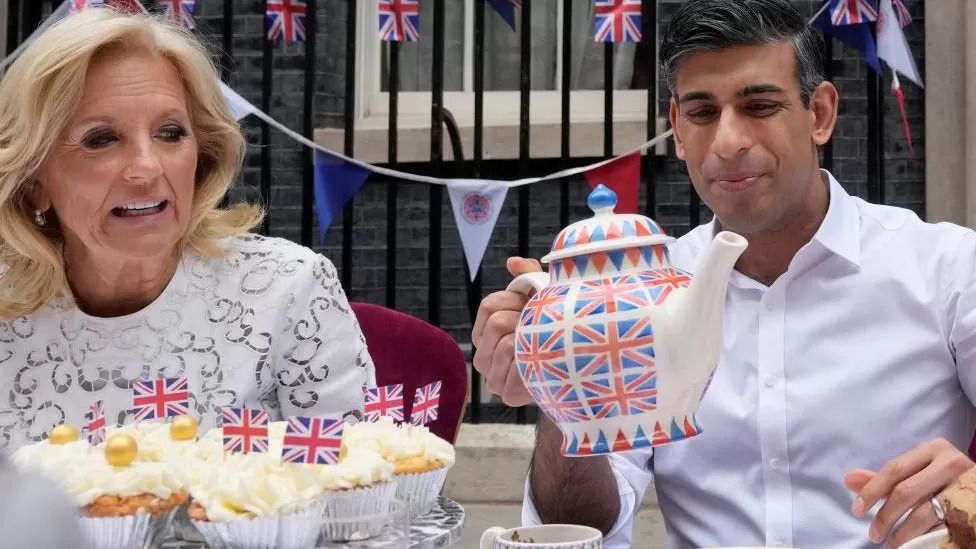 Anyone for tea? Rishi Sunak sits alongside US First Lady Jill Biden at the Downing Street lunch

In Windsor, the Prince and Princess of Wales, William and Catherine, chatted and shook hands with people picnicking along The Long Walk which leads to Windsor Castle. Many will be gearing up for Sunday night's Coronation Concert.

The lunchtime crowds shouted "hip hip hooray" as the royals sipped a homemade gin cocktail, christened Purple Reign, from union jack paper cups while talking to a group of women in foam crowns.

Catherine, dressed in a pale blue blazer, smiled for a selfie with one woman and crouched down to console a tearful little girl who was overwhelmed by the occasion.

Speaking to another wellwisher, William revealed that his eldest son Prince George - one of the King's pages of honour at the Coronation - is a fan of classic rock music.

Caroline Mulvihill, from the Rock Choir in Windsor and Maidenhead, said: "Will was telling us in their household they have a very diverse music taste and George is very much into AC/DC and Led Zeppelin."

Another choir member, Sam Leckenby, said the royal couple had revealed they were "quite pleased" Saturday's ceremony had been shortened and was not the traditional five hours long.

The Duke and Duchess of Edinburgh joined a Coronation Big Lunch in Cranleigh, Surrey, while the Princess Royal and her husband Vice Admiral Sir Tim Laurence were at a community street party in Swindon.

The Duke of York's daughters, Princess Beatrice and Princess Eugenie, were attending a lunch in Chalfont St Giles, Buckinghamshire.

At Downing Street, the prime minister and his wife hosted their own lunch for community figures, Ukrainian families, youth groups - and US First Lady Jill Biden, who represented President Biden at Saturday's Coronation ceremony.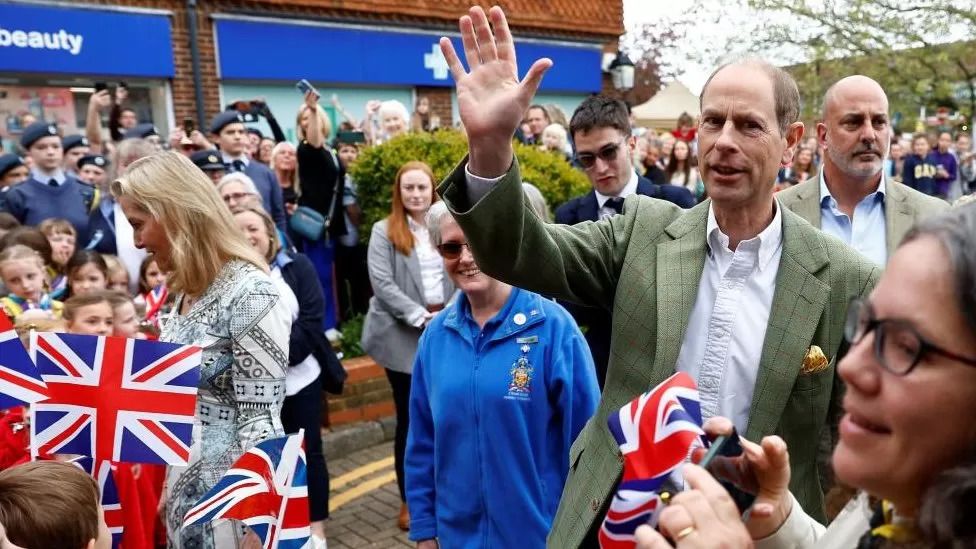 The Duke and Duchess of Edinburgh mingled with crowds in Cranleigh, Surrey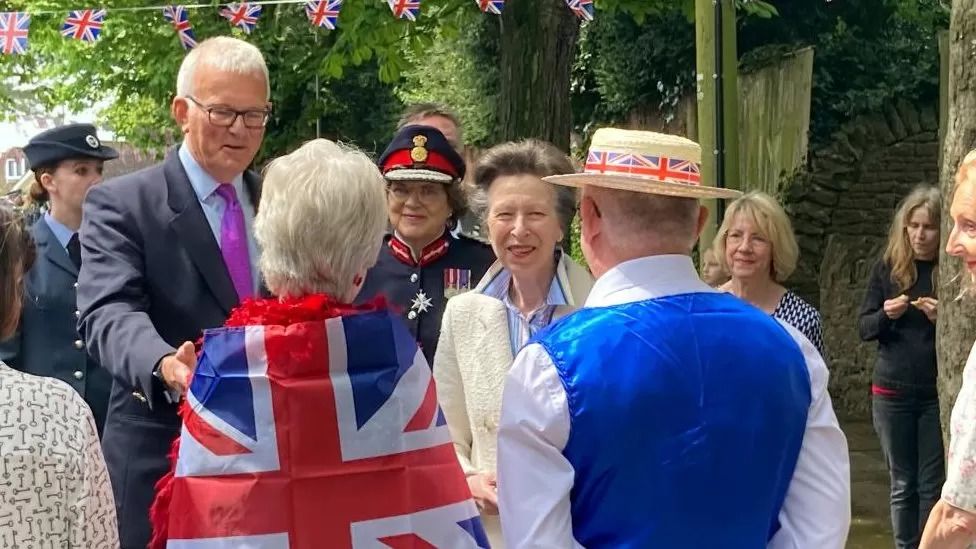 The Princess Royal visits a street party in Swindon

In all, some 50,000 Coronation lunches are expected to take place in the UK and across the world.

The King and Queen said they hoped the events would be "truly enjoyable", in a message posted on the Royal Family's official Instagram account.

Later at 20:00 BST, the Coronation Concert takes place at Windsor Castle and will be broadcast live on BBC One and BBC Radio 2.

Big names include Katy Perry and Lionel Richie, who were at Saturday's Coronation, as well as Take That, Olly Murs and Paloma Faith.

There will also be musical favourites from a world-class orchestra and a joint performance from The Royal Ballet, The Royal Opera House, the Royal Shakespeare Company, The Royal College of Music and The Royal College of Art.