The UK government's push to revive imperial measurements is "utter nonsense" and will cost businesses, a leading retail boss has said.
The government has launched a review of how traders can use the UK's traditional weighing system for goods.

British shops had to use metric measurements under EU rules, with the option to show imperial equivalents - pounds and ounces - alongside.

But critics say the review is nostalgic and could burden businesses.

Asda chairman and Tory peer Lord Rose said promoting the use of imperial measurements post-Brexit would only please a "small minority who hark for the past".

"It's complete and utter nonsense and it will add cost to those people who have to put it into place," Lord Rose told Times Radio.

He added: "We have got serious problems in the world and we're now saying let's go backwards. Does anybody in this country below the age of about 40 know how many ounces there are in a pound?"

Lord Rose headed the anti-Brexit Stronger in Europe campaign ahead of the 2016 referendum.

Under EU rules from 2000 copied over after Brexit, traders can use imperial measurements alongside metric, but they cannot be more prominent.

In September, the government said it would review these rules as part of broader plans to reshape UK law after Brexit, and legislate "in due course".

On Friday - the second day of the Queen's Platinum Jubilee celebrations - the government launched a consultation on "how to implement a change to the law on weights and measures".

The consultation would help ministers consider whether goods should be "sold in pounds only, or in pounds with a less prominent metric equivalent", the government said.

"There is no intention to require businesses to change their existing practices and so this will not place greater costs on businesses", the government said.

The government said the announcement was "not just about pounds and ounces, but about where the UK's laws are made".

Crown symbol

As part of the announcement, the government also published guidance for businesses who want to put a crown symbol on pint glasses.

The symbol used to show that a glass accurately measured a pint in the UK. In 2006, EU legislation implemented the CE mark as the symbol of an accurate measure on pint glasses.

Business Minister Paul Scully said restoring the crown symbol to pint glasses would be a "fitting tribute" to the Queen.

But in new guidance, the government admitted the crown symbol would only be a "decorative measure", with glasses still required to have legal conformity markings.

It is also the case that pint glasses were allowed to have "stylised" crowns in addition to the CE legal marking when the UK was a member of the EU.

Liberal Democrat Treasury Spokesperson Christine Jardine said the renewed focus on imperial measurements was a "deflection tactic".

"Businesses are really struggling to cope with soaring energy bills and staff shortages after a tough couple of years during the pandemic," Ms Jardine said. "They need real targeted support to stay afloat, not a push towards imperial measurements or a different symbol on a glass."

A Labour spokesperson said the party would cut costs for businesses and consumers, instead of making changes to measurement rules.

"Labour backs British firms and will make Brexit work for them and consumers," the spokesperson said.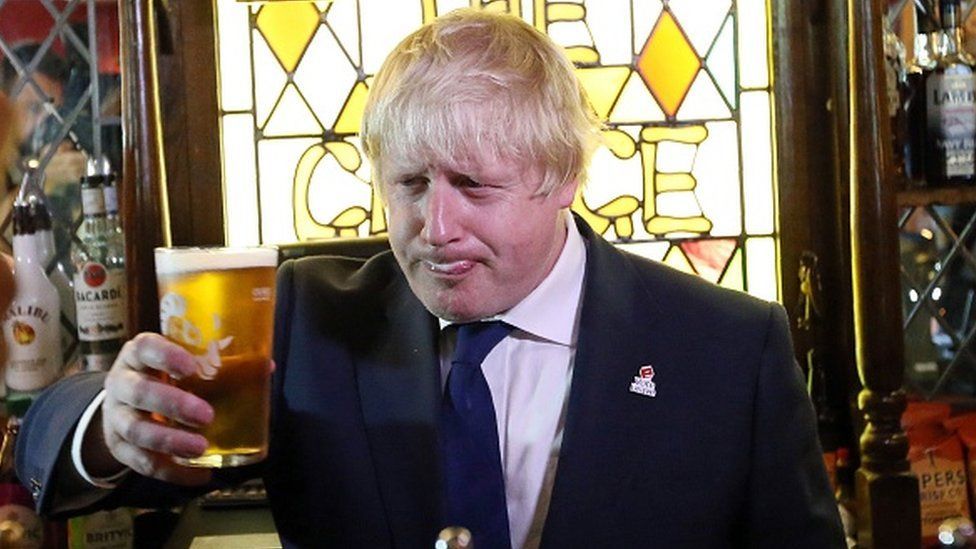 Prime Minister Boris Johnson has expressed support for reviving imperial units

Prime Minister Boris Johnson, who won a landslide election victory in 2019 after campaigning for Brexit, has long backed a revival of imperial units.

His leadership has come under pressure in recent days since the publication of a highly critical report about lockdown parties in Downing Street during the Covid-19 pandemic.

The report, by senior civil servant Sue Gray, criticised "failures of leadership" and examined parties attended by Mr Johnson, who was fined by the police for attending one event in June 2020.

Twelve Conservative MPs have publicly called on Mr Johnson to quit since the release of the report, bringing the total to almost 30.

On Friday, the prime minister received a mixed reception of boos and cheers from crowds outside St Paul's Cathedral, where he attended a thanksgiving service for the Jubilee.
Watch: Boos and cheers for the PM as he arrives with wife Carrie