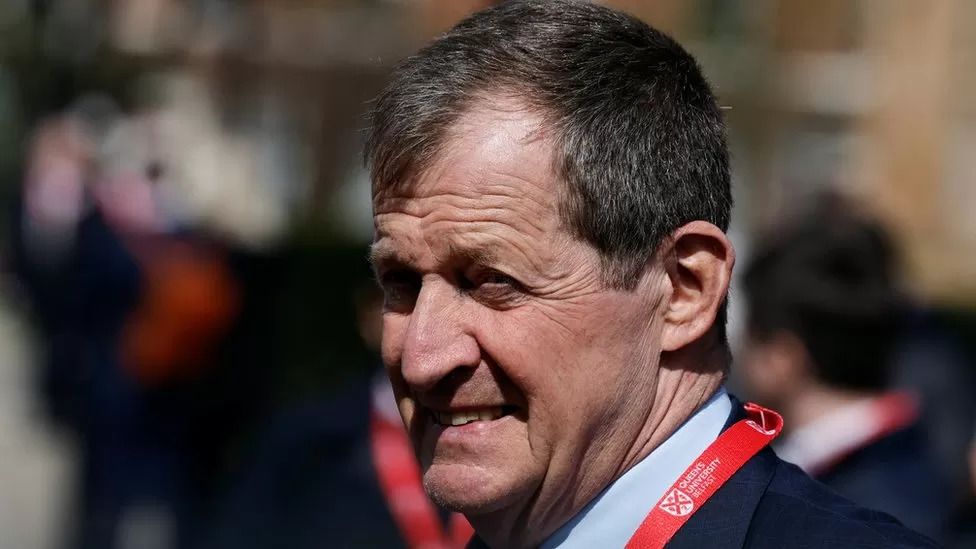 I was targeted by Mirror investigators - Campbell
Alastair Campbell has told the High Court he and his partner were targeted by private investigators working for the publisher of the Daily Mirror.
In his evidence on Tuesday, he accused the newspaper's former editor Piers Morgan of "two-faced conduct".

Tony Blair's former spin doctor was giving evidence in London on Tuesday as part of a trial brought against Mirror Group Newspapers (MGN).

MGN contests claims it gathered information through unlawful means.

The High Court is hearing "representative" cases brought by the Duke of Sussex and others and concerns stories dating back, in some cases, more than 20 years.

The claimants allege information was gathered via unlawful methods including phone hacking, securing information through deception, and journalists using private investigators to trick others into handing over confidential information about the targets.

The claimants believe their private and confidential information was obtained by journalists from the Daily Mirror, Sunday Mirror and The People newspapers.

Prior to 1994, Mr Campbell had been a journalist for the Daily Mirror and Sunday Mirror.

In a written witness statement, he said he had been shown three documents by the claimants' legal team, dating from when he was chief press secretary in Downing Street, a role he held between 1997 and 2000.

Two of the documents were from invoices by private investigation firm Southern Investigations, both addressed to then-Daily Mirror investigations editor Gary Jones, and the third was a confidential hand-written note which contained numbers for financial accounts held by Mr Campbell and his partner Fiona Millar, he said.

In his statement he said the "fact that MGN unlawfully obtained such private and personal financial information" about himself and his partner was "extremely troubling".

"The fact that they did not publish the information they obtained in no way minimises this view," he said.

Mr Campbell said he believed the inquiries into his affairs related to a story involving the finances of Labour grandee Peter Mandelson, published on Christmas Eve in 1998.

He said he had also seen documents which indicated that a "blagger" sent Lord Mandelson's private banking and mortgage details to Southern Investigations, who sent them on to Gary Jones, now editor of the Daily Express, on December 23 of that year.

"As a result, I believe that the Daily Mirror decided, at the time of the Mandelson story, to fish into my bank and mortgage affairs in the hope that they too would reveal something they considered newsworthy," he said.

In his witness statement, he said he believed Mr Morgan was aware of such conduct.

"I have read the section of Piers Morgan's memoirs, The Insider, dealing with late December 1998 and I can now see that Mr Morgan does not set out truthfully how he obtained the information on Mr Mandelson," he said.

He said that Mr Morgan purported "to be a real ally of the prime minister and the Labour government, while all the time he and his senior team were using illegal means to find stories designed to destabilise that government".

Mr Campbell said this "compounds the anger I feel about this", as did "the fact that this conduct has been emphatically denied, by Mr Morgan and his colleagues, for so long".

"Fiona and I are shocked and, frankly, appalled at this intrusion into our privacy by the Daily Mirror," the statement said.

"I find it very hard to believe that any editor, especially one as hands-on as Mr Morgan, would not have known and demanded to know where the big stories were coming from.

"Nor do I believe that people in senior positions in government with access to highly sensitive information and with obvious security concerns would have been targeted in this way without the editor knowing and sanctioning such methods."