City's largest chamber of commerce expresses hope new rules will convince central government in a way that near-zero local infection rate has not.
As Hong Kong further tightened what were already some of the world's strictest Covid-19 policies, the city's business sector expressed one clear hope – that it would be the final criteria needed to convince Beijing to reopen the border.

Foreign business groups, meanwhile, broadly praised the government's anti-pandemic efforts, but also urged it to place equal importance on re-establishing global travel to avoid risking the city's status as an international financial hub.

On Tuesday, health authorities confirmed two imported, fully vaccinated coronavirus infections, bringing the local tally to 12,349, with 213 related deaths.

The new cases involved an arrival from the Philippines, and another who have travelled through Europe, visiting Spain, Greece, Portugal and Turkey. Fewer than five cases tested preliminary positive.

Chief Secretary John Lee Ka-chiu on Monday revealed that from November 12 most diplomatic personnel and top business executives would no longer enjoy the ability to skip compulsory quarantine upon arriving in Hong Kong.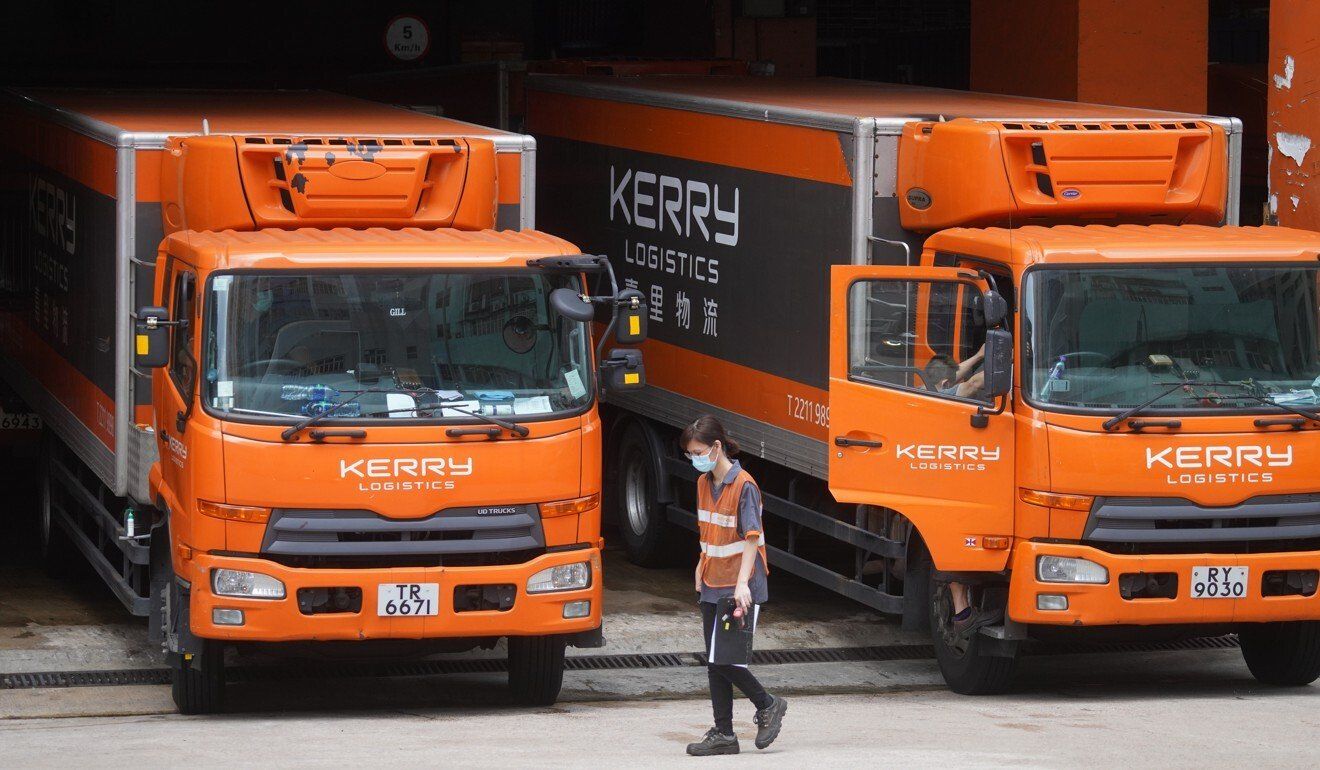 Truck drivers bringing necessary goods across the border will be among the few groups who still qualify for quarantine exemptions.

Only a handful of groups, including cross-border truck drivers, air and cargo ship crew, and government officials, will be allowed to continue entering the city without mandatory hotel isolation.

That policy shift will be worth it if it changes how Beijing views the city's approach, according to some.

"We hope this measure will be the last criteria needed to allow the reopening of the border," said George Leung Siu-kay, CEO of the 4,000-member Hong Kong General Chamber of Commerce.

Leung said he hoped the latest move would be able to accomplish what a recent streak of 51 days without a community infection had not.

"The Hong Kong community has worked very hard to raise vaccination rates, and we have achieved basically zero infections for a significantly long period," he said.

The European Union Office to Hong Kong and Macau, meanwhile, said it agreed with steps the government was taking to reopen the border, but wanted more predictability and transparency when it came to how countries were assigned the Covid-19 risk levels that determined quarantine lengths.

It also called for the government to increase the number of hotels designated for handling mandatory isolation for returning residents.

"The EU Office appreciates the ongoing efforts of the Hong Kong authorities in preventing the spread of Covid-19 and welcomes steps to open up the border with mainland China to facilitate cross-border activities," it said.

"However, aiming to reopen the border for international travel is equally essential in upholding Hong Kong's status as an international financial hub. This is important not least for maintaining the business ties between Europe and Hong Kong."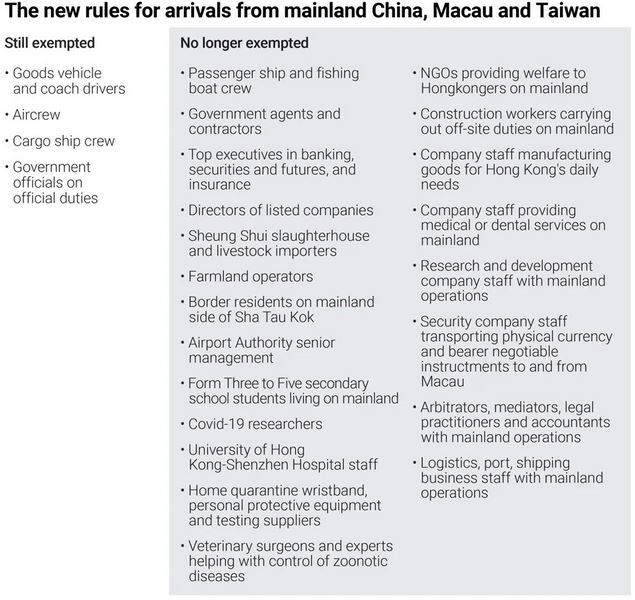 The plea echoed recent calls from foreign business chambers fast running out of patience with the city's zero-Covid policy. Both the European Chamber of Commerce in Hong Kong and its US counterpart have publicly warned the strategy was threatening the city's financial hub status.

On Tuesday, the US Consulate General urged the government to come up with a road map or offer signposts for reopening Hong Kong to global travellers, in a way that addressed public health concerns and provided more certainty for businesses.

"The US Consulate General hopes for greater dialogue and transparency regarding testing and quarantine measures that affect Hong Kong as a place to live and do business," a spokesperson said while marking its appreciation of the government's efforts in combating the pandemic.

The Philippine consulate said the new measure was tough, but it would have minimal effect on its operation, while Japan's consulate acknowledged the Hong Kong government's move and said it was "closely communicating" with local officials.

Monday's latest policy change means top executives in banking, securities and futures, and insurance will serve the same mandatory quarantine – at a government-approved hotel for up to 21 days – as everyone else when re-entering the city.

"We are doing this to ensure that the risk is reduced to the minimum, because as you can see, the cases that occurred in Hong Kong [these days] are imported cases, and we have to ensure that the risk of the whole society being affected by such infected cases is kept to the minimum," Chief Secretary Lee said.

The government has publicly conceded the move, and with a controversial decision to mandate a 14-day quarantine for recovered Covid-19 patients, are bargaining chips aimed at convincing Beijing to reopen the border, closed since February 2020.


Simon Lee Siu-po, co-director of the international business and Chinese enterprise programme at the Chinese University of Hong Kong, said the latest policy shift was being made without knowing how it would be received in advance.

"It's a political move to show [Beijing] the city is making an effort," he said. "It's like a gamble or experiment."

Hong Kong, in sticking with its zero-Covid strategy, has in recent months appeared to be going in the opposite direction of overseas locations such as the European Union, Britain, Thailand and Singapore, all of which have been gradually opening their doors under a policy of living with the virus.

But Simon Lee predicted the city would not suffer a significant economic loss or an exodus of foreign companies as long as the financial sector could still trade electronically.

"It's just more inconvenient to come to Hong Kong," he said.

The Post has contacted the Chamber of Hong Kong Listed Companies and the consulates general of Canada, Britain, and Australia for comment. The Russian consulate declined to comment.