The estranged wife of ex-Derry senior football manager Rory Gallagher has claimed the GAA was aware of domestic abuse allegations "but did nothing".
Mr Gallagher stepped aside from his role earlier this week, following a post on social media by Nicola Gallagher.

It detailed serious allegations of domestic abuse over a 24 year period.

Ms Gallagher told the Sunday Independent her father emailed Derry management last year with the claims.

The newspaper said it had seen the email sent by Gerry Rooney on 25 May 2022.

The family said they did not receive a response to the email.

"The GAA knew about all of this, 100%, and the county boards of Fermanagh and Derry knew - because we told them," Ms Gallagher told the newspaper.

"There were senior members of the GAA who knew what was going on, there are incidents that took place at GAA events. It was a well known fact."

She went on to say she felt let down by "all these institutions", including the Police Service of Northern Ireland (PSNI) and the Public Prosecution Service (PPS).

Derry GAA said it was seeking clarification on the email Ms Gallagher said her father sent to its management.

BBC News NI has contacted the GAA and Fermanagh GAA in response to her comments in the Sunday Independent.

Ulster final

On Thursday, Mr Gallagher, who previously managed Donegal and Fermanagh, said that allegations against him had been "investigated and dealt with by the relevant authorities".

He said: "Those closest to our family are well aware of the reasons for the breakdown of our marriage and the continued issues we have faced since that time."

He was due to lead Derry into the Ulster Senior Championship Final on Sunday against Armagh.

On Friday, he stepped aside from his position.

In a statement, he said: "This decision is borne out of a desire to protect my children from the ongoing turmoil."

"They will always be my priority," he added.

Ciaran Meenagh, who took charge as Derry defeated Armagh on penalties, said after the match that it had been a "challenging week for everybody" but his main focus was on football.

On Thursday, Ulster GAA addressed the issue of domestic abuse "in light of recent events".

It said: "While we cannot comment or make judgement on any specific allegation or allegations, Ulster GAA does not condone any form of domestic violence."

In a brief statement, the Derry GAA county board said: "Derry GAA condemns all forms of domestic violence.

"We encourage anyone who had experienced domestic violence to report it to the relevant authorities immediately."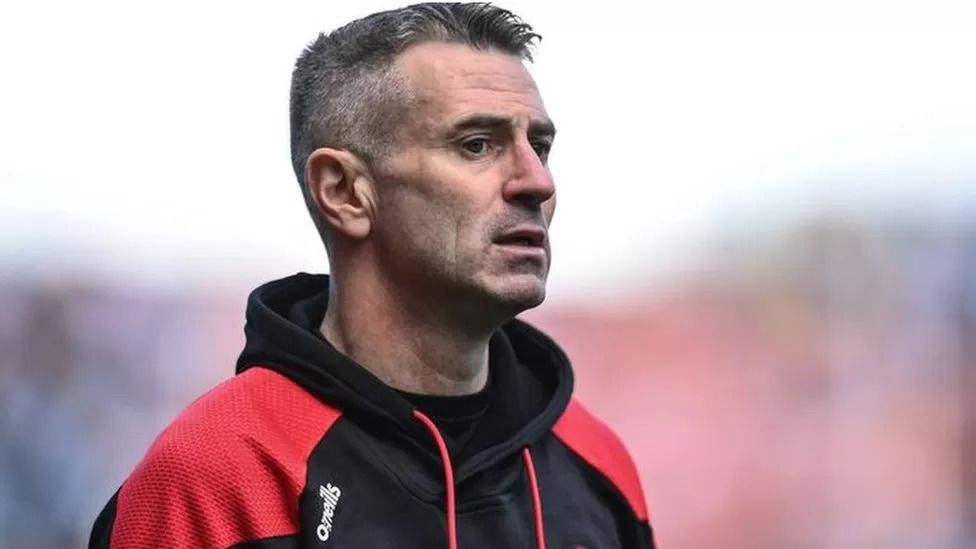 Rory Gallagher said the allegations had been investigated and dealt with by the relevant authorities


No charges after investigation

Ms Gallagher's interview criticised the PSNI for her treatment at a police station in Enniskillen after she made her initial complaint.

"I asked for a female officer and I got a male. I was already nervous enough. Then when the PPS rejected by case, I felt hopeless."

On Sunday, the PSNI said it investigated a number of reported incidents and files were submitted to the PPS.

Ch Insp Heather Campbell, from the Public Protection Branch (PPB), said police "takes all allegations of violence and harassment against women seriously and we work alongside partners to help keep all women safe".

She added that PPB has specially trained domestic abuse officers "who strive to protect victims, prosecute offenders and prevent re-offending".

The PPS has said it received two investigation files from the PSNI in January and June 2022, and that all available evidence was considered in line with the PPS code for prosecution.

It added it was determined there was insufficient evidence to provide a reasonable prospect of conviction for any offence in relation to any individual.

The PPS said the decisions not to prosecute were issued in January and September last year.

A spokesperson said on Sunday: "The PPS takes cases of domestic violence and abuse extremely seriously, and we are committed to prosecuting all such cases where the evidence allows us to do so, in strict accordance with the PPS Code for Prosecutors.

"We are aware of comments made by Mrs Gallagher in the media. We will contact Mrs Gallagher to discuss her concerns."

'I got really afraid'

In a lengthy social media post, Nicola Gallagher claimed that domestic abuse occurred before and during her marriage.

"Blocking it out was easier than admitting what was happening," she wrote.

After outlining a catalogue of alleged beatings, Ms Gallagher, who is from Belleek, County Fermanagh, concluded: "Silence nearly killed me."

Nicola Gallagher told the Sunday Independent her decision to post the allegations on social media was difficult.

"I sat for ages looking at it on my computer. I kept thinking, 'Will I do it or will I not?' What impact will this have on my children? I had a tightness in my chest, I got really afraid…and then I hit 'post.'"

Asked about what would have happened had she not posted on social media she said, "I would be dead, one hundred per cent. I needed to do it - it was my last resort."

She told the newspaper she also felt let down by the Western Health and Social Care Trust.

The Trust told BBC News NI it would not provide comment on an individual for confidentiality and privacy reasons, but added issues can be raised through its complaints system, the Patients' Advocate Office.

Ms Gallagher also alleged some of the incidents had happened in the Republic of Ireland and the gardai (Irish police) were aware.

The gardai said they would not comment on individual cases.