Tube passengers may be able to stream the World Cup Final on their smartphones while deep underground, it can be revealed.

The roll-out of 4G wifi on the London Underground is due to hit a major landmark by the end of next month, when a number of stations and tunnels on the Northern and Central lines will be the first in central London to be connected.

The exact launch date is being kept under wraps but it is understood it could be ready in time for the final on December 18. Stations previously earmarked as being the first to benefit include Euston, Bank and Oxford Circus.

The Standard has been given behind-the-scenes access to the work being done to install super-fast wifi to the subterranean sections of the Underground.

The £1bn-plus investment is being carried out by BAI Communications under a 20-year deal that will deliver an annual income to Transport for London. Passengers will be able to make voice calls, text, browse the web and stream movies and TV throughout their journey, at no additional cost under their mobile contract.

Ken Ranger, chief operating office of BAI UK, said: "You will be able to use your phone exactly as you use it above ground, below ground.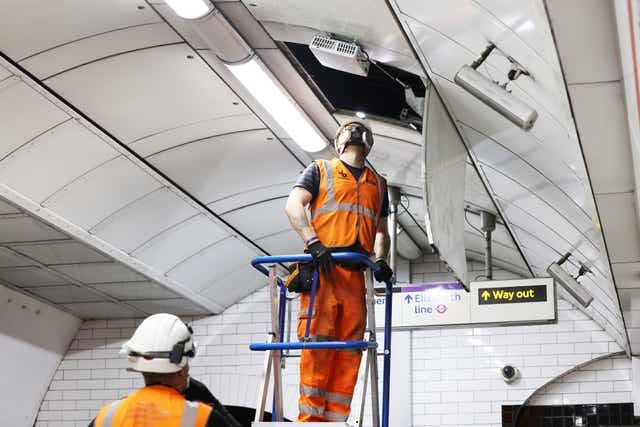 The work is ongoing
"You will be able to talk to your loved ones, to stay connected, for entertainment, if you are running late from the office and you can't get hold of your partner or child and know you can communicate with somebody."
BAI began work last year and will complete all 137 below-ground stations and their interlinking tunnels – plus those on the Elizabeth line – by the end of next year.
More than 500 people are working each night to install more than 1,200 miles of cabling, antennae and radio receivers. All phone operators will be able to connect into the "neutral" network being laid by BAI.
Skiparrow
Sponsored Ad
Up next
Capital city quiz
Apester Logo
Skiparrow
Sponsored Ad
Up next
Capital city quiz
Apester Logo
Much of the equipment has to be fitted into the tightest of spaces, or hidden behind panelling in passenger tunnel walkways. Engineers have no more than 3.5 hours a night, between the last trains running around 1am and the Tube restarting after 5am.
The technology, which links with 10 "data centres" at secret locations around the capital, is future-proofed to enable later upgrades to 5G. A network of cables is also being laid to create a "full-fibre spine for London".
The roll-out follows the 2020 trial of 4G on the eastern end of the Jubilee line.
BAI already operates 4G networks on the New York, Toronto and Hong Kong subways.
Matthew Griffin, head of commercial telecoms at TfL, said 4G would provide a "seamless" connection for passengers.
"You can be connected as you walk into a station, walk through the station, take a Tube, change Tubes and then walk out of the station into the street, and your call will be connected at all times," he said.
"Our plan is to start rolling it out very soon - hopefully some stations by the end of the year, and a really big roll-out in 2023, when a lot of people's journeys will be covered. We will finish the whole thing off by the end of 2024 - the very hard to reach areas."
He doubted many passengers would make calls between stations – due to the noise levels from the speed of the Tube.
"My personal view is that it is quite noisy and difficult," he said. "I would be uncomfortable doing it.
"There will be some people that do it but I think it's mainly going to be a data and entertainment use - streaming videos, WhatsApp messages. That mirrors how people use their phones above ground. The use of data is increasing a lot, whereas voice is declining."