Thousands of teachers have joined rallies in Scottish cities as part of the country's first national schools strike in over a decade.
It has led to the closure of nearly every primary and secondary school in the country, and many council nurseries.

A revised pay offer put to unions on Tuesday was rejected as "insulting".

But Education Secretary Shirley-Anne Somerville said their demands for a 10% pay rise were "unaffordable".

A new pay offer from employer Cosla - which would see rises of up to 6.85% for the lowest paid - was fair, Ms Somerville said.

Members of Scotland's largest teachers' union, the Educational Institute of Scotland (EIS), and the Association of Head Teachers and Deputes Scotland (ADHS) picketed outside schools on Thursday morning.

They joined colleagues at rallies in Aberdeen, Dundee, Glasgow, Inverness and outside the Scottish Parliament in Edinburgh in the afternoon.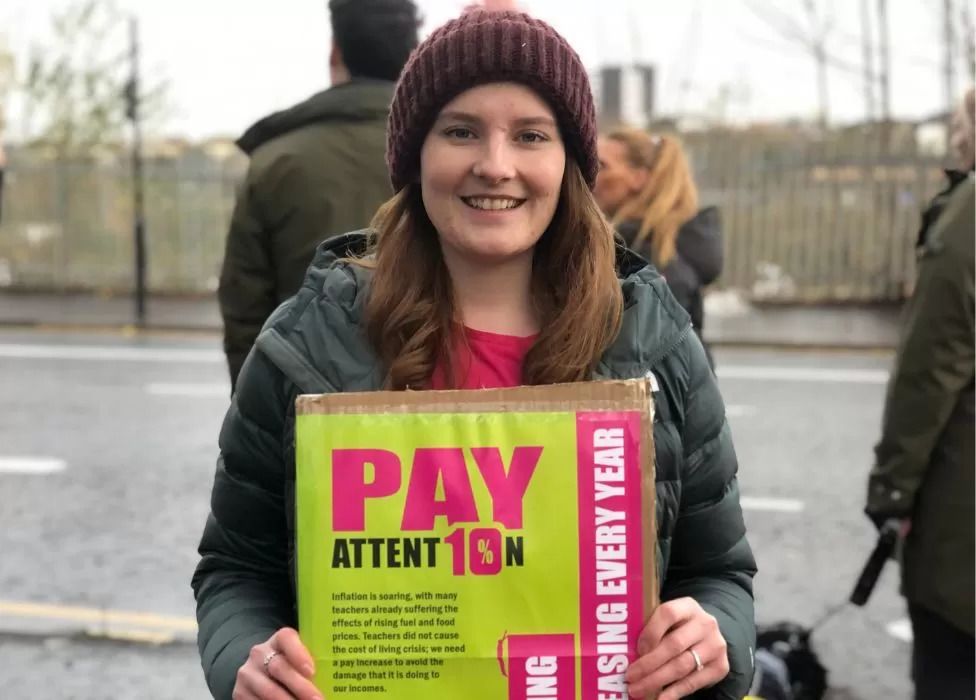 Roisin McArthur has been on the picket line in Glasgow
EIS representative Roisin McArthur, who works as a teacher at Govan Gaelic Primary School, told BBC Scotland the strike was a last resort.
"We're sorry that the Scottish government and Cosla have forced us to do this. We really don't want to be doing this," she said.
"If people really want to really invest in children and Scotland's future, that means investing in education and that means investing in teachers."
She said teachers on the picket line had received "great" support from the public.
"We've had loads of cars honking their horns," she said. "We've had people giving us a wave and it's really motivating and encouraging to see the amount of support that we're getting out here today."
What is the pay dispute about?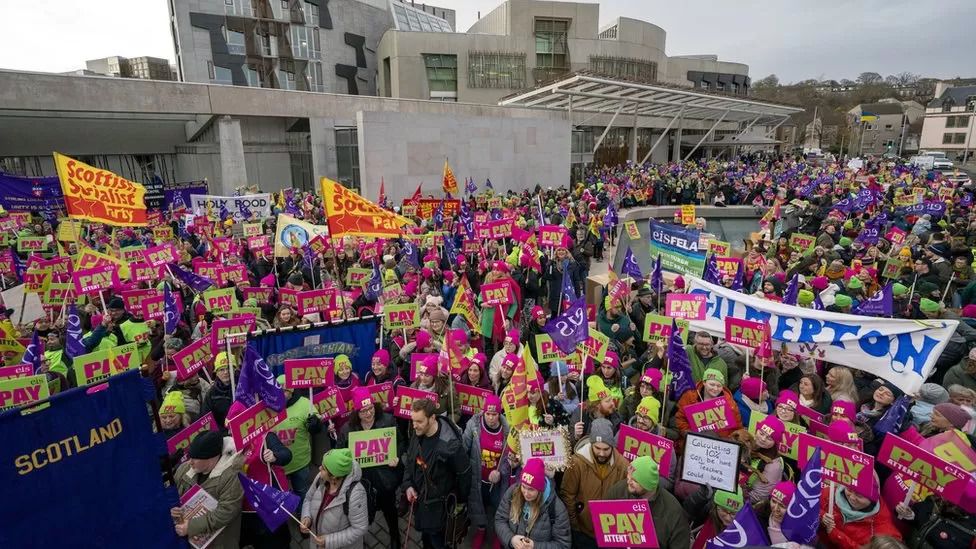 Hundreds of teachers joined a rally outside the Scottish Parliament as part of the national strike over pay

Unions had rejected earlier pay offers of 5% before employer Cosla made its new offer on Tuesday in a last-ditch attempt to delay the strike.

It offered all teachers on the main pay scales either a 5% pay rise or a £1,926 increase in their salary - whichever resulted in the greatest increase in their annual salary.

However the uplift was capped at £3,000 for those earning more than £60,000.

The EIS said this was unfair on people earning higher salaries who would receive a pay rise worth less than 5%.

Only the 20% of teachers earning less than about £40,107 would see their salary increase by more than 5%, they added.

Andrea Bradley, the union's general secretary, said teachers had reacted with "great anger" to the latest offer.

"Our members do not want to be on strike, but they have been angered by the repeated foot-dragging of Cosla and the Scottish government over pay," she said.

"The final straw for many teachers was the charade of the 'revised' offer that came from the employers earlier this week," she said. "This offer was simply a repackaging of the same 5% offer that our members overwhelmingly rejected in a ballot three months ago."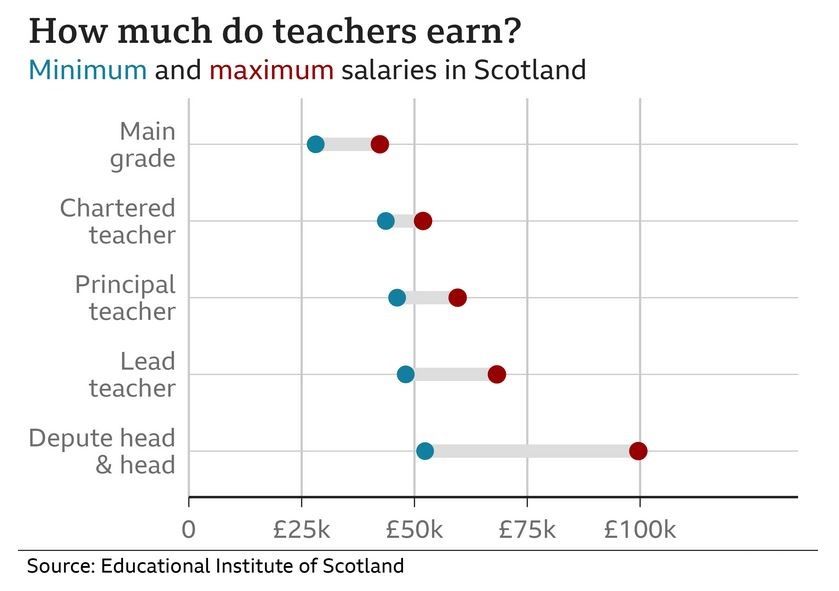 The Scottish Secondary Teachers' Association (SSTA) and the NASUWT plan to strike on 7 and 8 December.

Seamus Season, SSTA general secretary, said the offer was "insulting" and "penalised senior teachers to the benefit of a very small number of new entrants".

"How they think this is a sensible offer is beyond belief," he added.

But Cosla resource spokeswoman Katie Hagmann said the latest offer was "fair and affordable" and "recognised the cost-of-living crisis as the priority by focusing on higher increases for staff on lower pay points".

She added: "The offer we have made is in line with the offers made to all other parts of the public sector, including the wider local government workforce."

Pupils and parents

Leanne McGuire, from Glasgow City Parent's Group, said school closures would be particularly difficult for single working parents, those without a support network and children with additional support needs.

Speaking to BBC Radio's Good Morning Scotland, she said: "The majority of parents understand why teachers are striking and obviously we would support anybody's right to strike for better conditions but that obviously doesn't take away the concerns of how some families are going to cope today.

"There are different aspects we need to take into consideration and it's not just about looking for a babysitter."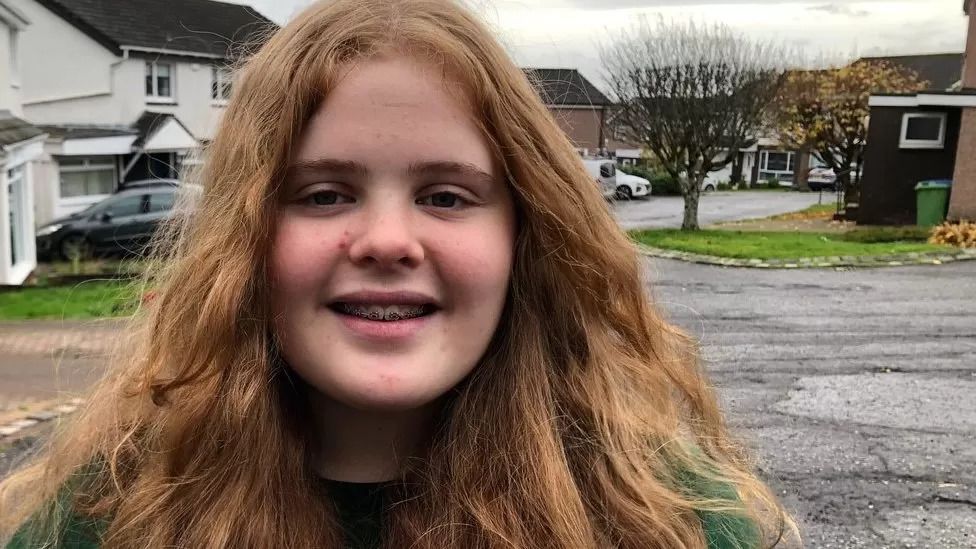 Erica is worried about missing a day of school

Erica, who is in S4, told the programme the strike had been explained to senior pupils who take subjects such as Modern Studies, but she was concerned that the strike had not been explained to younger pupils.

She added: "I'm definitely worried about missing a day of school because I really want to do well in my exams. But nobody wants to go on strike - if my teachers feel like this is a last resort then I fully support them in that."

Education Secretary Shirley-Anne Somerville said she was "very disappointed" that strike action would disrupt children and their families and pointed out there had been a 21.8% cumulative increase in teacher salaries that since 2018, including the latest offer.

She told BBC Scotland's The Nine that a 10% pay increase was "unaffordable for the Scottish government".

"We have a fixed budget that is already fully utilised for this year, so to do anything that would increase the resolution that we have on this would mean that money would have to come from elsewhere."

The Scottish school strikes come on the same day as strikes at 150 UK universities and Royal Mail.

EIS has not ruled out further strikes in December and it plans further action on 10 and 11 January.

The Scottish Conservative's education spokesman Stephen Kerr said pupils had already suffered enough disrupted learning and "missing out on classroom time is the last thing they need".

He added: "With the threat of more teacher strikes looming, the Education Secretary [Shirley-Anne Somerville] needs to up her game and pull out all the stops to avoid any further disruption."