The blood-donation service has been inundated with offers of help after putting out an alert, on Wednesday, warning NHS stocks were running critically low in England.
More than 10,000 appointments to donate blood over the next few weeks have been booked in the past 24 hours.

People can check how and where to donate, at blood.co.uk, but should be prepared for online queues, NHS Blood and Transplant says.

Phone lines also saw a spike in calls.

The NHS usually has six days' worth of blood to use for operations and transfusions but levels are currently due to fall below two.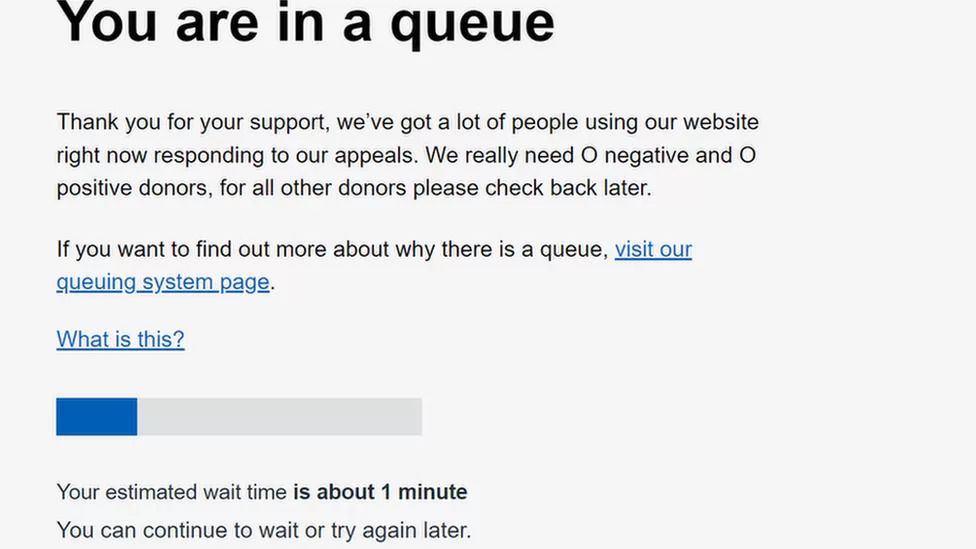 Type-O blood is in particular demand. O positive is the most common and anyone can receive O negative in an emergency or if their blood type is unknown.

Blood supplies have been challenging since the Covid pandemic, because of staff shortages and sickness, and a change in people's behaviour means they are less likely to visit donation centres in towns and cities, according to NHSBT.

Individual hospitals must decide how to manage the shortage - for example, by postponing some non-urgent operations.

On Wednesday, more than:

*  166,000 people visited the blood-donor website, the most since the pandemic began

*  7,500 people registered as new donors, the most in the past 20 years

"This is an amazing response from the public and we have been reminded in the last 24 hours of the incredible goodwill and spirit of the public towards helping patients in times of great difficulty," an NHSBT official said.

"While the amber alert isn't a widespread donor appeal, we want to say a huge thank you to existing donors and those who came forward in their thousands yesterday to register for the first time.

"We'd like to extend a special thanks to those donors who called us to express their empathy and offering to do anything they could to help."

But the amber alert will remain in place for at least the next four weeks, with limited available appointments.

"We know this can be frustrating for donors who want book an appointment right now to help," NHSBT said.

"Please be assured that we are doing our utmost to prioritise appointments for blood types most in demand right now and in the near future - but we only have so many appointments available in the short term, so it's a fine balancing act."

NHSBT said it was quickly developing a "register your interest" form so it can work with new donors who tried to sign up.

"If you are an O-neg group blood donor, please call our customer-contact centre to book a priority appointment - we are asking all other blood donors to help by filling the appointments available in the coming few weeks at our permanent donor centres.

"If you can't make an appointment now, please come back to us in a few weeks - we need to supply hospitals with blood every day of the year," says NHSBT.