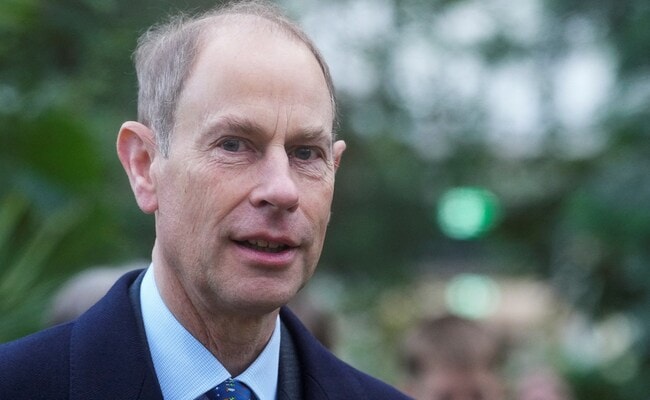 Prince Edward, King Charles' Younger Brother, Gets Duke Of Edinburgh Title
The Duke of Edinburgh title was last held by King Charle's father Prince Philip.
Britain's King Charles III on Friday awarded his younger brother Prince Edward the title Duke of Edinburgh, in line with the wishes of the late Queen Elizabeth II and her husband Prince Philip.

Prince Philip, who was the last holder of the title, had always wanted it to be inherited by Prince Edward.

King Charles conferred the title on Prince Edward, currently known as the Earl of Wessex, on his 59th birthday.

"His Majesty The King has been pleased to confer the Dukedom of Edinburgh upon the Prince Edward," Buckingham Palace said in a statement.

The title will not however be inherited by Prince Edward's teenage son James. The 15-year-old will instead become the new Earl of Wessex.

Prince Edward's wife Sophie who was particularly close to Elizabeth, who died last September, will now be known as the Duchess of Edinburgh.

The new duke and duchess will be in Edinburgh later on Friday at a reception to mark the first year of the conflict in Ukraine.

The dukedom was created for Prince Philip in 1947 after his marriage to the then Princess Elizabeth.

Prince Philip, who died in April 2021, had favoured Prince Edward inheriting his title, but the decision ultimately had to be made by Charles as King.

Earlier this week Buckingham Palace also updated its website's list of succession in relation to the two children of Prince Harry and his wife Meghan.

The children are now listed as Prince Archie Mountbatten-Windsor and Princess Lilibet Mountbatten-Windsor.

Although they automatically became a prince and princess when Harry's father King Charles acceded to the throne last year, they had remained listed as plain "master" and "miss" on the website.

The titles had emerged as a contentious issue after Harry and Meghan quit royal life and moved to California in 2020.