Almost 400,000 have exited jobs market with long-term health problems since early 2020, ONS says
The number of workers experiencing long-term sickness reached a record high of 2.5 million in July, even as unemployment dropped to levels last seen in 1974.

Official figures giving an overview of the jobs market showed more than 150,000 workers joined the list of people with persistent ill-health in just two months to the end of July.

Almost 400,000 have exited the jobs market owing to long-term health problems since early 2020, as Covid-19 took its toll and other illnesses went untreated, but they are not classed as unemployed.

An exodus by workers aged between 50 and 64 accounted for the largest losses since March 2020, according to the Office for National Statistics (ONS), which said the pandemic ended a 20-year run of improvements in the health of people eligible for work.

Analysts said a drop in unemployment to from 3.8% to 3.6% – its lowest level since 1974 – could partly be explained by a rise in the number of workers classified as long-term sick.

James Smith, an economist at ING, said people looking for work had registered as inactive rather than unemployed and given ill-health as their reason for stepping back.

"It's hard to escape the conclusion that this is linked to the pressures in the NHS," he said.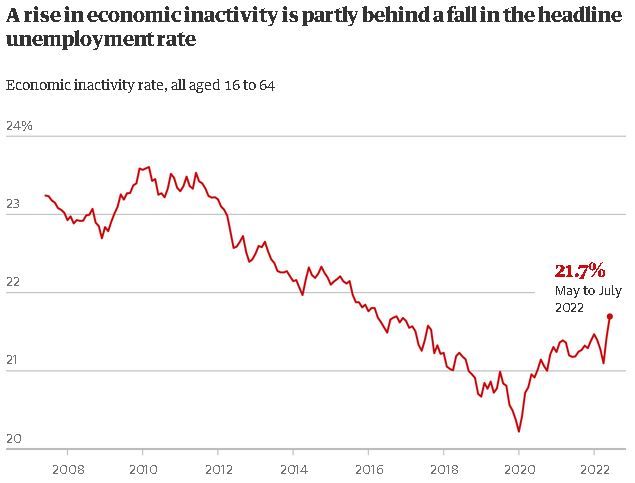 Source: ONS Labour Force Survey

A rise in the number of students was another factor pushing the number of those classed as economically inactive – measuring the share of the population who are not in work and not looking for work – up by 194,000 during the quarter to 9 million.

"We are starting to see signs of a labour market losing its momentum," said Jack Kennedy, a UK economist at the global job site Indeed.

The Bank of England is worried tightness in the labour market could spark a round of inflation-linked pay claims, adding to the recent increase in price pressures.

The central bank raised interest rates the most since 1995 last month, and is expected to increase them again on 22 September.

Sterling jumped against the US dollar after Tuesday's data, and investors were pricing in an 83% chance of a three-quarters of a percentage-point Bank rate rise next week, which would be its biggest since 1989, excluding an attempt to shore up the pound in 1992 that was quickly reversed.

The ONS said the employment rate also fell as the number of part-time staff declined at a faster rate than full-timers were added to the figures.

The cost of living crisis continued to affect millions of households throughout the summer after pay growth failed to keep pace with rising prices in July despite a rise in average wages.

Average pay including bonuses increased by 5.5% in the three months to July, while regular pay (excluding bonuses) climbed by 5.2%, up from 4.7% in June.

Workers continued to be hardest hit in the public sector, where regular pay grew by 2%, compared with 6% in the private sector. Annual inflation was 10.1% in July, the highest level in 40 years.

According to the ONS, wages adjusted for inflation fell by 2.6% including bonuses and by 2.8% excluding bonuses.

Samuel Tombs, the chief UK economist at the consultancy Pantheon Macroeconomics, said the business surveys chimed with the official data to show that "labour demand is barely rising".

He said: "Alas, the workforce contracted by 36,000 in the three months to July, led by a further sharp rise in long-term sickness among working-age adults."

Tombs added that unemployment would rise as the economic situation worsened over the coming months and unemployment would increase to about 4% by the end of the year and 4.5% by mid-2023.

Jane Gratton, the head of people policy at the British Chambers of Commerce, said the mismatch between the high level of vacancies and the number of people looking for work was harming thousands of businesses.

"With firms doing their best to keep afloat during a period of spiralling costs, they are also facing an extremely tight labour market which is further impacting their ability to invest and grow," she added.

"Despite a second month of a decrease in job vacancies, the overall number of vacancies in the labour market remains high. With more than 1.2 million unfilled jobs across the country, labour shortages have reached crisis levels for businesses across many sectors and regions.

"During a period of increasing inflation, and a stagnant economy, we cannot afford to let recruitment problems further dampen growth."