The UK's largest opencast coalmine must close after an extension to keep it running was rejected.
It means production at Ffos-y-Fran, near Merthyr Tydfil, must now stop after 16 years of excavation.

The operators asked for an extension until 2024, arguing coal from the mine was needed by the steel industry.

But planning officials advised that the proposed extension did not fit with Welsh government policies on tackling climate change.

The Ffos-y-Fran land reclamation scheme won planning permission in 2005 and work began two years later to excavate 11 million tonnes of coal across a site the size of 400 football pitches.

The other aim was to restore the land - riddled with the remains of old industries - back to green hillside for the community's benefit as work progressed.

But there was stiff opposition due to the mine's proximity to homes and businesses.

The closest houses were initially less than 40m (132ft) away, and residents led a long campaign, saying their lives were being blighted by coal dust and noise.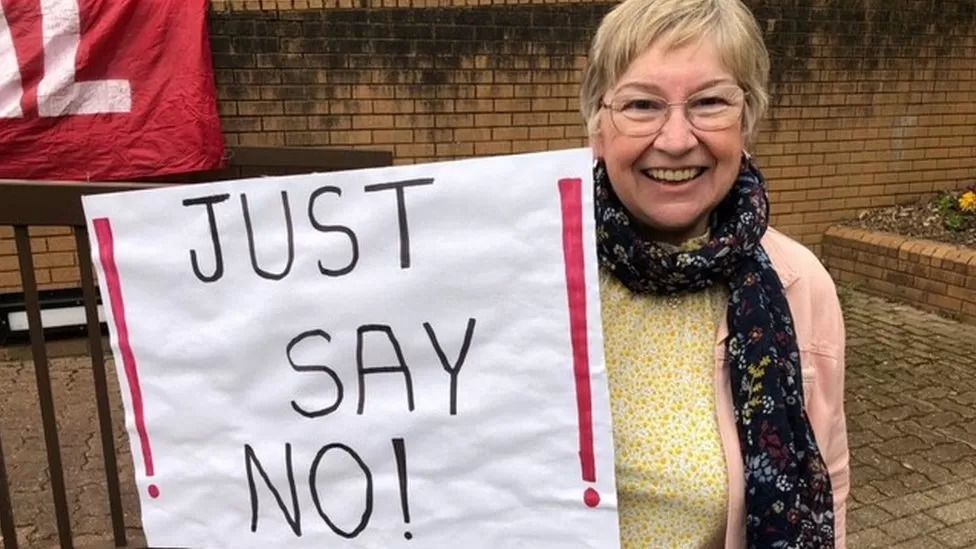 Campaigners outside the public meeting, including Alyson Austin, were thrilled with the result

Book keeper Alyson Austin, 59, of Bradley Gardens, Merthyr Tydfil, said: "I'm ecstatic and I am furious with the local authority for wasting all this time.

"They have had the powers to take enforcement action and they haven't used them.

"I'm not confident about it being restored. That is another fight.

"But today we won. Today the message has gone out: No more coal in Wales."

Ms Austin's husband Chris said he was "over the moon" but the 67-year-old is now concerned about the future of the site, which he called "a scar on the mountain side".

The retired software worker was worried about the cost of repairing the land, estimated at £75m-£125m, and feared the company would "walk away".

He said: "That cost would bankrupt this authority."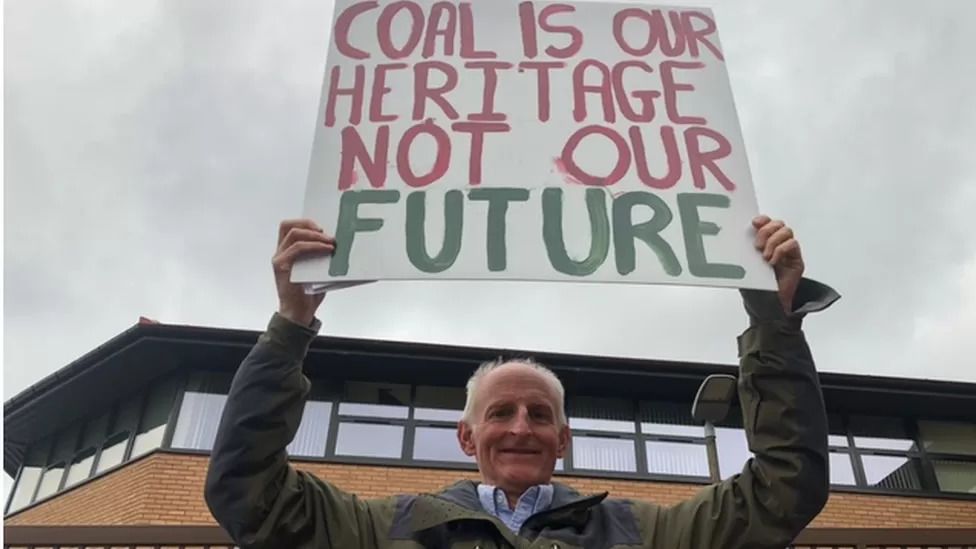 Philip Hughes says coal has no place in Wales' future

Retired retailer Philip Hughes, 59, of Carmarthen, said: "It's excellent news. Coal mining has got to stop.

"Climate change is such a massive issue for the planet. [The mine] has to close as soon as possible and action should be taken to close it."

Friends of the Earth Cymru director Haf Elgar said she felt a "big sense of relief".

She added: "This sets a strong precedent about any more coal coming from Wales."

Coal Action Network campaigner Anne Harris, 38, travelled from Lancaster to be at the meeting.

She compared standing at the bottom of Ffos y Ffran to "standing in the belly of a slaughtered beast".

She said she was unsurprised by the apparent gap in the restoration fund, but was "ecstatic" with the result of the meeting, saying: "This community has suffered for too long."

Protests held in this long-running saga even attracted the support of the United Nations' top legal expert on the human rights of communities affected by pollution in 2017.

The mine itself always rejected the claims, arguing that it was heavily regulated and provides well-paid jobs in an area that badly needed them.

After 15 years, planning permission ran out in September 2022 - but the company in charge applied for an extension.

Merthyr (South Wales) Ltd wanted to be allowed to keep coal mining until the end of March 2024 and push back the date for final restoration of the site to June 2026.

Welsh government coal policy prevents the development of new mines or extensions to existing ones apart from in "wholly exceptional circumstances".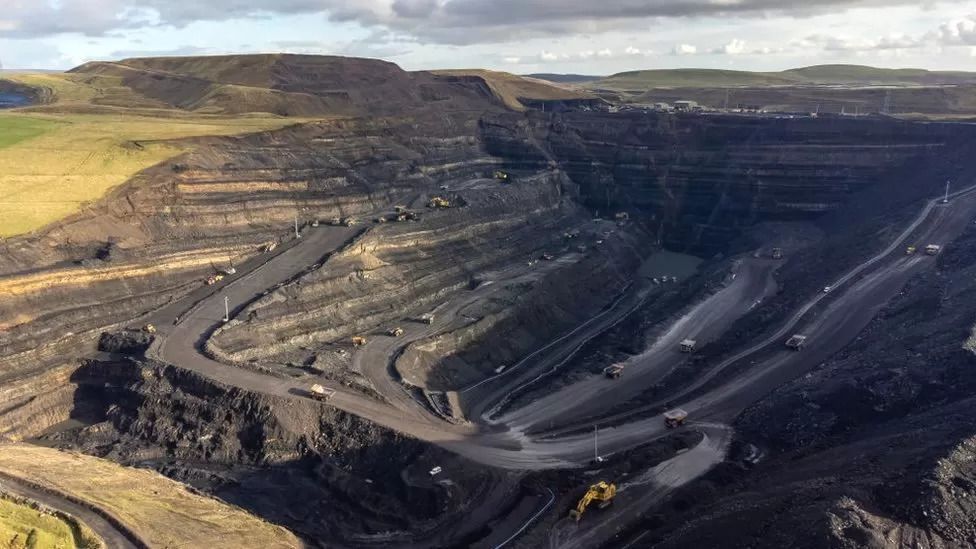 An aerial view of Ffos-y-Fran opencast coal mine in November 2021

The company argued it qualified, claiming to have a role of "national importance" in supplying the Port Talbot steelworks.

But it also admitted that "insufficient funds" had been set aside to complete the restoration of the land as envisaged back in 2005, and time was needed to put forward and consult on a revised plan.

Planning consultant Huw Towns told the hearing "there is a very real risk that one of the substantial benefits of the scheme will not be delivered".

Councillor after councillor made speeches saying they rejected the proposals, to applause and cheers from the packed public gallery.

Councillor Declan Salmon said residents were left "with more questions than answers - what a mess this has been from the very beginning".

These arguments were dismissed by planning officials at Merthyr Tydfil council in their report ahead of Wednesday's planning committee meeting.

Head of planning Judith Jones concluded "no local or community benefits would be provided that clearly outweigh the disadvantages of the lasting environmental harm of the development".

Climate campaigners said they were contemplating legal action against the council and Welsh government to demand enforcement action over ongoing coal-mining at Ffos-y-Fran while the company awaited the outcome of its request for an extension.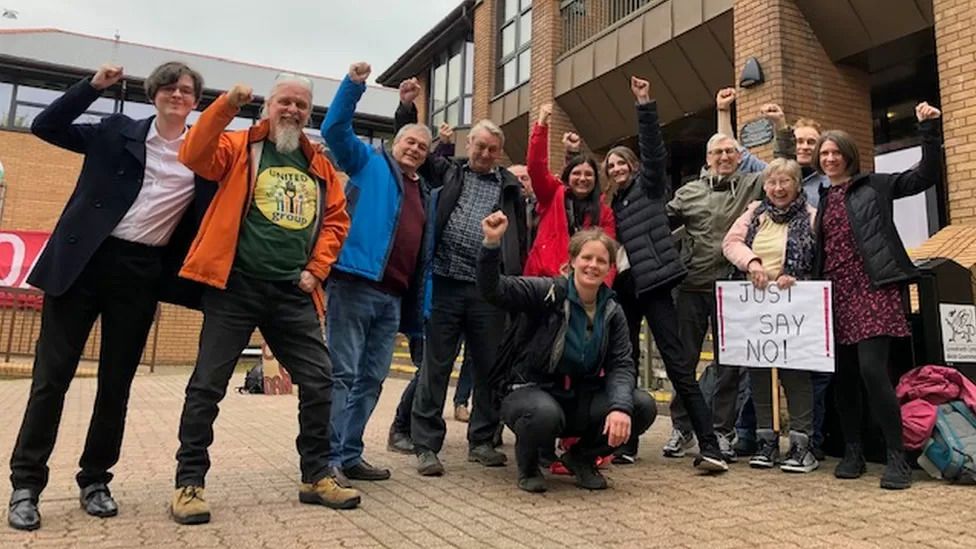 Chris Austin says campaigners would "jump up and down a bit and have a glass of lager" to celebrate the decision

The decision marks the end of another chapter in Wales' long history of coalmining.

Opencast mines - where coal is extracted from the surface - as opposed to traditional underground pits - were developed across the UK during and following World War Two.

In recent years, Ffos-y-Fran had been the UK's largest and - since the pandemic - its last remaining active site.

There is another outstanding application to extend an opencast site at Glan Lash in Carmarthenshire, though that mine has not been operating since 2019.

It remains to be seen what this set-back means for the mine's operators and their plans for restoration work, which will now be the subject of increased scrutiny.

A spokesman on their behalf previously said they were working on revised proposals for restoring the land, described as a "major project" which would involve turning parts of the site into a "tourism and leisure destination".