Manchester Airport's managing director is to stand down amid criticism of long security queues which have led to passengers missing flights.
Manchester Airports Group (MAG) said Karen Smart had decided to leave the business after eight years.

Earlier, Greater Manchester Mayor Andy Burnham said police and fire and rescue service staff could be drafted in to help tackle the chaos.

Ian Costigan will take on the role of interim managing director.

Travellers at the airport, which is owned by Greater Manchester's 10 councils and an investment firm, have faced long queues for check-in and security over the past month.

The problems first came to light in mid-March when passengers were left waiting for hours, with some forced to queue outside in the car park while others missed their flights.

MAG previously apologised and said the industry was "facing staff shortages and recruitment challenges at present, after the most damaging two years in its history".


'A difficult moment'

Charlie Cornish, the group's chief executive officer, said Ms Smart had guided the airport "through the most challenging period of its 84-year history".

He added that while there would be further challenges ahead, he was "confident we will soon start to see the benefits of the recovery plans Ms Smart has helped put in place".

A spokesman for MAG, which also runs London Stansted and East Midlands airports, said Ms Smart, who has been managing director for two years, had decided to return to the south of England, where her family lives, to pursue "fresh career opportunities".

Mr Costigan, who joined MAG in 2013, has held a number of senior roles in the business, including his most recent post as group transformation director.

Airport management are due to meet political leaders and unions to discuss the ongoing situation.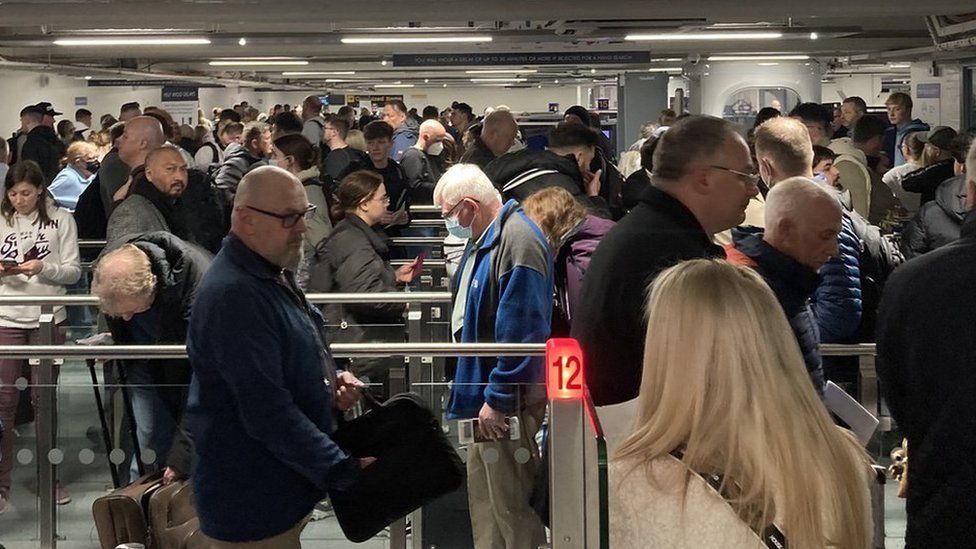 Andy Burnham is meeting airport bosses to discuss the "concerning" current situation

Mr Burnham said he would be seeking reassurances about what was being done to bring the situation under control.

He said it was "a difficult moment for airports around the world", which had been "laid low for the pandemic" and were having to "scale up very quickly".

However, he added that passengers "don't want to see the scenes that we saw at the weekend", when hundreds had to join long queues to pass through check-in and security.

On Friday, Manchester councillor Pat Karney revealed that passenger numbers at the airport had surged since the easing of Covid restrictions.

"Two million people went through the airport in February [and] in the previous year, it was 70,000," he said.

He said the airport's management had put together a "six-point plan" to relieve the issues being faced, but added that those "should have seen all this [and] should have known the recovery was going to be very quick".