Kate Forbes says she feels "greatly burdened" that some of her comments during the SNP leadership contest have caused hurt.
The finance secretary has lost support from several SNP politicians after saying she would have voted against gay marriage had she been an MSP in 2014.

Ms Forbes has now taken to social media in a bid to reset her campaign.

It comes after she hit back at John Swinney, who questioned if her views would be appropriate for an SNP leader.

Ms Forbes, who is a member of the Free Church of Scotland, also said she believed that having a child outside of marriage was "wrong" according to her religious beliefs when she took part in a series of interviews on Monday and Tuesday.

There had been speculation over whether Ms Forbes would continue in the race after a series of MSPs withdrew their backing but she has made clear she intends to fight on.

She wrote in a statement on Facebook and Twitter on Thursday: "I feel greatly burdened that some of my responses to questions in the media have caused hurt, which was never my intention as I sought to answer questions clearly.

"I will defend to the hilt the right of everybody in Scotland, particularly minorities, to live and to live without fear or harassment in a pluralistic and tolerant society.

"I will uphold the laws that have been won, as a servant of democracy, and seek to enhance the rights of everybody to live in a way which enables them to flourish.

"I firmly believe in the inherent dignity of each human being - that underpins all ethical and political decisions I make."

Ms Forbes also said that her Skye, Lochaber and Badenoch constituents had "full knowledge" of her religious views and were "comfortable" knowing she would serve "faithfully and without prejudice".
She added: "It is possible to be a person of faith, and to defend others' rights to have no faith or a different faith."
Deputy First Minister John Swinney said on Wednesday that criticism of Ms Forbes over her views had nothing to do with her faith.
Mr Swinney, who has been standing in as finance secretary while Ms Forbes has been on maternity leave, said he "profoundly disagreed" with her views despite also having deep religious faith and questioned whether she would be an appropriate choice to lead the party and the country.
Ms Forbes' spokesperson subsequently claimed that Mr Swinney was essentially saying a woman with "Christian views" was not suitable to be first minister.
Nominations for the SNP leadership close on Friday with Health Secretary Humza Yousaf and MSP Ash Regan, who resigned as a minister over the government's controversial gender recognition reforms, expected to be the only other candidates.
The new leader is due to be announced on 27 March after a vote by party members.
Mr Yousaf was targeted by opposition MSPs at First Minister's Questions, with Scottish Conservative leader Douglas Ross claiming he had been "useless" as health secretary and had "made the crisis in Scotland's health service much worse".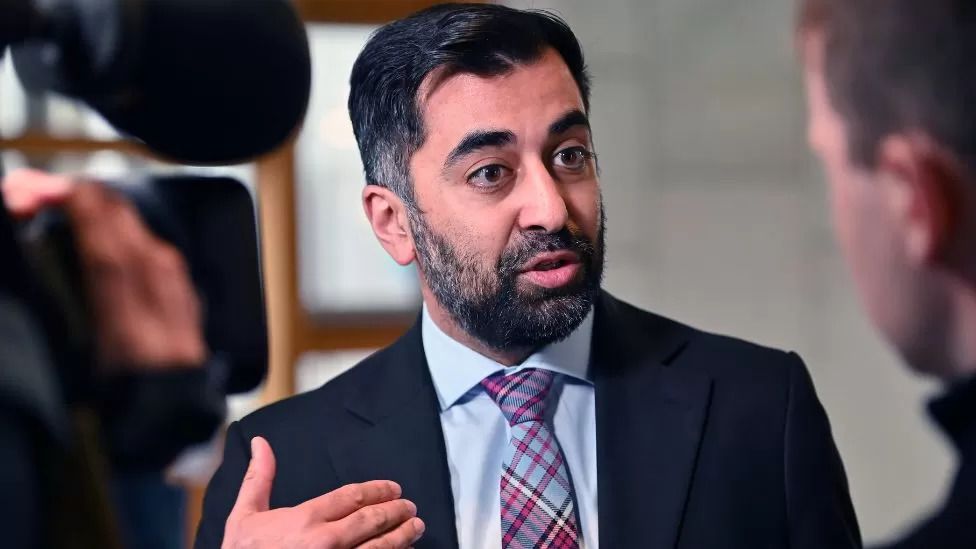 Mr Yousaf was targeted by the opposition MSPs at First Minister's Questions
Mr Ross launched his attack after a Freedom of Information request by his party showed a patient in NHS Borders waited 49 hours for treatment in A&E, while someone in Lanarkshire waited 54 hours and a patient in the NHS Ayrshire area had waited 60 hours.
The Scottish government's target for accident and emergency waiting times is four hours.
The Tory leader said: "Humza Yousaf is the worst health secretary since devolution, but it looks like he is going to fail upwards. In any other line of work Humza Yousaf would have been sacked, not promoted."
He asked First Minister Nicola Sturgeon: "Forget being SNP leader, why is he even still in government?"
Ms Sturgeon said it was "always unacceptable" for a patient to wait too long for NHS treatment, adding the health service was facing "significant challenges".
She said: "We are supporting our NHS with record funding, record staffing and the wider support it needs to address these challenges" and said Scotland - unlike other parts of the UK - had avoided strike action by NHS workers
Ms Sturgeon stressed that it was for members of her party to "elect a new leader of the SNP and effectively a new first minister for Scotland", adding: "Douglas Ross is sounding pretty scared of Humza Yousaf."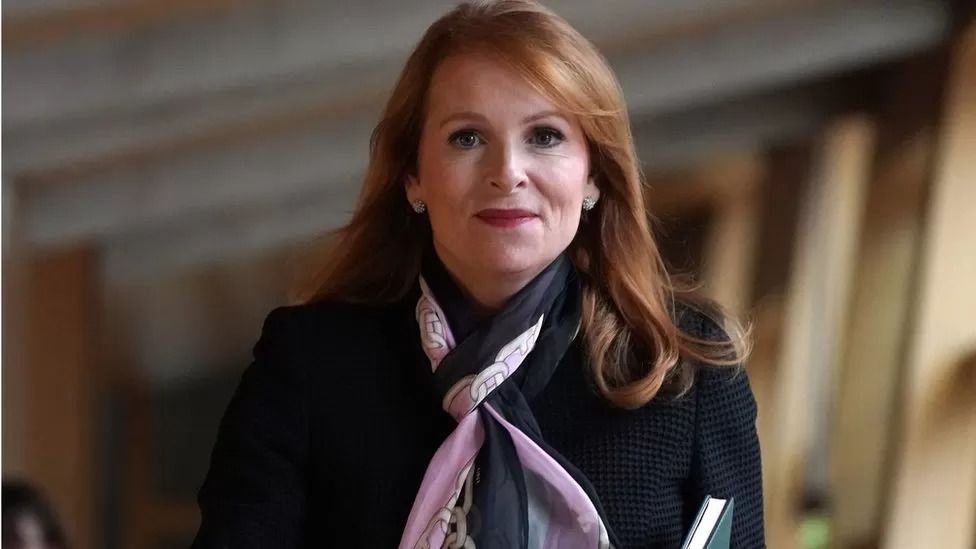 Ash Regan will formally launch her leadership campaign on Friday

Scottish Labour leader Anas Sarwar also took aim at the health secretary, saying he had "failed" and his recent NHS recovery plan was "more about spin than substance".

Mr Sarwar asked: "Does the first minister really believe that the man responsible for failing Scotland's NHS should be responsible for our country?"

Ms Sturgeon stressed again the decision on who the new leader would be was "one for my party".

But she sought to defend the health secretary's record, saying: "Since Humza Yousaf became health secretary - and this is what Anas Sarwar fails to mention - there have been, I think, three further waves of a global pandemic that have affected health services all across the UK, Europe and the world, that's not something that can just be ignored."

Following the session at Holyrood, Mr Yousaf said: "It's quite telling that my opponents want to attack me, want to discredit me quite personally and not focus on any of the other candidates. I think that tells you everything you need to know."

Mr Yousaf also praised Ms Forbes and did not rule out giving her cabinet position if he wins the contest despite seeking to set himself apart from her views on issues such as gay marriage and gender reform.

He said: "I think Kate is extremely talented, extremely able, I think anybody would want to see her at the heart of Scottish politics. I think she's got a lot to give to Scottish public life, including in government."

Ms Regan, who will formally launch her campaign on Friday, has called for an end to "mudslinging" in the leadership contest.