Crown Court judges have been releasing potentially dangerous criminals unlawfully because of delays linked to the criminal barristers' strike, the High Court has heard.
Lawyers for the director of public prosecutions (DPP) said judges must be stopped from bailing defendants whose trials have been put off for months.

It is a highly significant challenge to decisions by trial judges in England.

Barristers are in a dispute with the government over legal aid funding.

The indefinite, uninterrupted strike by barristers in England and Wales is an escalation of industrial action over pay, which began in April.

The BBC has discovered that at least a dozen defendants have been told in recent weeks they would be bailed back in to the community because of a lack of barristers to enable their cases to be heard.

In each custody ruling, judges said they had no power to keep defendants in jail beyond the standard six-month pre-trial limit - because the law does not let them consider the strike as a "good and sufficient" reason to do so.

In one recent decision, a senior judge at Oxford Crown Court said he could not extend the custody of four alleged murderers whose trial had been put back.

Two defendants waiting for trial in Manchester for alleged serious violence have also been released.

At other courts, one judge bailed a defendant charged with kidnapping with intention to commit a sexual offence, while another bailed someone facing serious drugs gang and county lines slavery charges.

Brought by Crown Prosecution Service head Max Hill KC, the test case at the High Court is focusing on cases in Bristol and Manchester.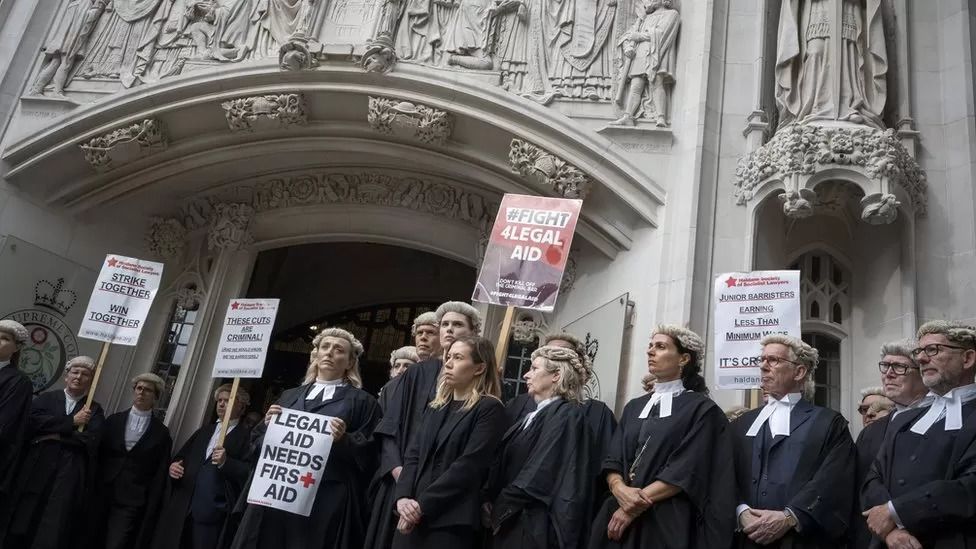 Barristers protesting outside the Supreme Court earlier this month

Tom Little KC, for the director of public prosecutions, told the High Court the law required crown court judges to take the strike into account as a reason to keep defendants behind bars while awaiting trial.

"Custody time limit applications are not the place to second-guess fine judgments about funding," he told the court.

"This is not a position where no trial is possible but a situation where individual advocates have taken a decision not to attend."

In one case being examined, the Bristol trial of a defendant accused of threatening someone with a razor failed to go ahead because of the strike.

Judge Peter Blair in Bristol said the government had had "many many months" to end the barristers' industrial action, adding: "In my view today's predicament arises precisely because of the chronic and predictable consequences of long-term underfunding."

Lawyers for the DPP told the High Court that those comments went beyond the judge's legal responsibilities.

"[The judge] is attributing fault and blame to the government and has entered into the arena and has done so with no detailed argument or evidence," said Mr Little. "He has taken into account a matter he should not have done."

But lawyers acting for three of the defendants in the cases being considered said the government's failure to prevent foreseeable delays did not mean judges had unchecked power to keep people locked up.

"The [Bristol judge] has said nothing that is wrong, improper or inaccurate," said David Hughes, for one of the defendants.

"He was perfectly entitled to hold the views that he did based on that knowledge and experience.

"He was just expressing what the situation is. The dispute has been going on for many months now - and he was entitled to say that there has been a failure to address the dispute in a system that has primary legislation that makes time limits for custody in advance of trial."

The case continues. Dame Victoria Sharp, one of England's most senior judges, said the High Court would rule in the coming days.