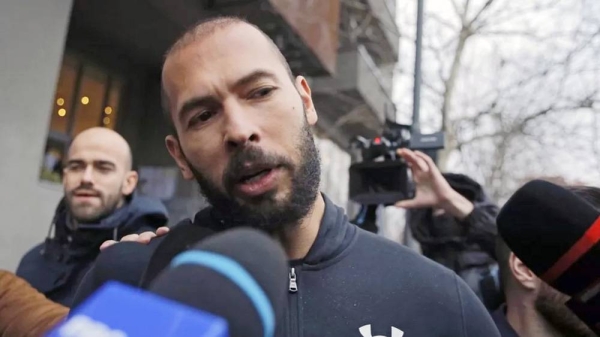 Judge explains extended detention of 'dangerous' influencer Tate
A judge in Romania has described the "particular dangerousness" of Andrew Tate and his brother Tristan in terms of their ability to target women.
He also pointed to what he called their "capacity and effort to exercise permanent psychological control over the victims... including by resorting to constant acts of violence".

The comments came in a written statement from the main court in Bucharest, in which the judge laid out his reasons for extending the brothers' detention last week.

As well as safeguarding the investigation and ensuring the suspects' presence at any future trial, the detention was justified by the need to manage social tensions and public order around this case, it said.

The Tates are being held in custody for an extra 30 days, until Feb. 27, while police investigate allegations of rape and human trafficking. Both deny the charges.

In his explanation, the judge highlighted what he said was the Tate brothers' ability to identify vulnerable victims, and to "consider them to be the culprits, rather than the traffickers who obtain huge profits from exploiting them".

His statement included prosecutors' claims that women recruited by the Tates were forced to work continuously for 12 hours, with only a five-minute break, he said.

It also outlined behavior consistent with the "loverboy method" often used by traffickers to draw women into the sex industry for profit, saying that all the alleged victims in this case had "asked the defendant[s] for attention and affection", which was made conditional on them carrying out activities that would bring the brothers income.

This statement justifying the brothers' continued detention is the clearest indication yet of the evidence prosecutors have presented in the case so far.

Prosecutors had not "fully clarified" the facts of the case, the judge's statement said, but added that this did not eliminate "a reasonable suspicion" that the defendants had committed the crimes they were being investigated for, which justified their detention on legal grounds.

Andrew Tate and his brother are being held along with two Romanian women closely associated with them — Georgiana Naghel and Luana Radu.

Investigators allege that in early 2021, the four constituted an organized criminal group, set up to "recruit.. shelter and transport victims...in order to obtain large sums of money by forcing victims to perform pornographic events" distributed on websites such as TikTok and Only Fans.

Earlier this week, as the brothers were taken in for computer searches by Romania organized crime unit, Andrew Tate reiterated his innocence, telling journalists that the case file against him was "completely empty".

Social media accounts belonging to the two men have continued to remain active while they have been in detention.

An appeal against their continued detention is expected next week.