Police forces across Great Britain have seen a significant rise in the number of mental health incidents they have dealt with in the past five years.
Some 21 forces out of 48 in England, Scotland and Wales responded to a BBC freedom of information request - and every force reported a rise since 2017.

In Merseyside, mental health-related incidents increased from 7,629 in 2017 to 28,039 last year - a 313% rise.

The government says such pressures are stopping officers fighting crime.

The Home Office said a new approach involving police and health partners is being developed to free up police time and better care for people in a mental health crisis.

BBC Two's Newsnight asked forces how many incidents had been tagged as involving mental health each year.

Of those that responded, police in North Wales saw the largest proportional increase, responding to more than five times as many incidents in 2022 (3,910) as in 2017 (781).

Gloucestershire Police saw the lowest rise, an increase of 16% over the same five-year period - from 6,737 incidents to 7,369.

It is not clear how the data was collected by individual forces and whether the definition of mental health incidents differed between forces, or changed over the five years.

Newsnight was given exclusive access to Merseyside Police's mental health triage team.

As part of the team, a mental health nurse and a police officer work together in Liverpool visiting those who are thought to be struggling with their mental health.

A triage car was first commissioned in 2019 as part of a six-month pilot and it was then recommissioned in April 2020. There are now three cars in the area. Experts believe the model reduces the amount of time police spend on such cases.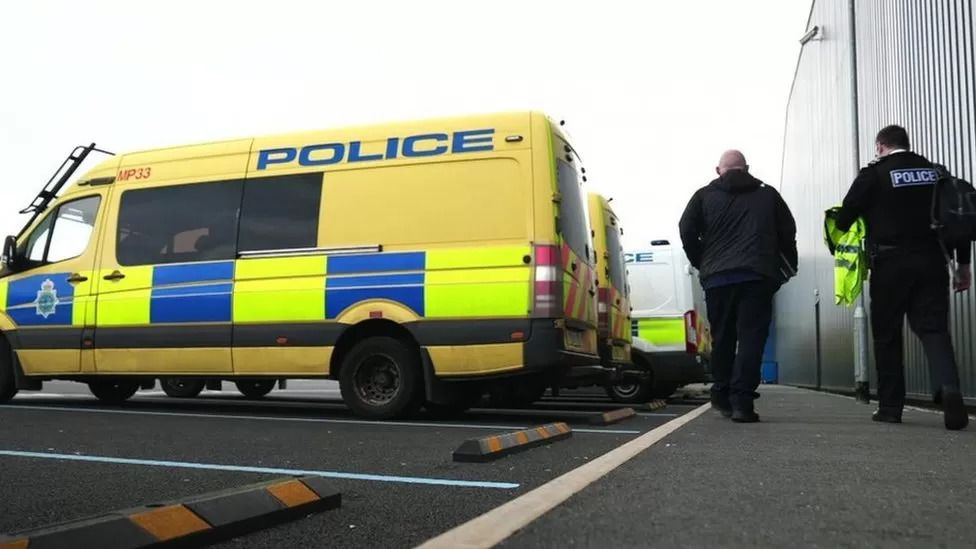 Police officers are believed to spend 20-40% of their time dealing with mental health calls and incidents

"It can help prevent hospital admission, get [patients] more access to more appropriate support and in a more timely fashion," says Owen Winsland, a mental health nurse on the team. "And for the police, it reduces the amount of officer time that is spent dealing with health and social care issues."

"Certainly in my time, 17 years, we've never had any standardised formal mental health training," Sgt Paul Shelley told Newsnight. "We do have inputs from health around - in particular - diagnosis and how to deal with people in a particular way."

'Not police work'

The College of Policing defines a mental health incident as "any police incident thought to relate to someone's mental health where their vulnerability is at the centre of the incident". And police officers are estimated to spend 20-40% of their time dealing with such incidents.

Some police chiefs believe the rise is down to police increasingly being seen as the first resort for people in a crisis, as well as a lack of capacity in the community to deal with growing mental health demands.

In November last year, the commissioner of London's Metropolitan Police said for every mental health patient his officers deal with, they spent an average of 14 hours in A&E. Sir Mark Rowley said officers were doing health and social care work that was "not police work".

The Home Office said the new approach it is developing "will make it easier for staff in police control rooms to identify the right agency to deploy at the outset when responding to 999 calls concerning individuals experiencing a mental health crisis".

The government says £150m capital investment announced last month will improve the places and spaces across the NHS for people experiencing - or at risk of experiencing - mental health crises to receive care and support in more appropriate settings outside of A&E.

It says the funding will allow for the procurement of up to 90 new mental health ambulances, which will take specialist staff directly to patients to deliver support on scene or transfer them to the most appropriate place for care.