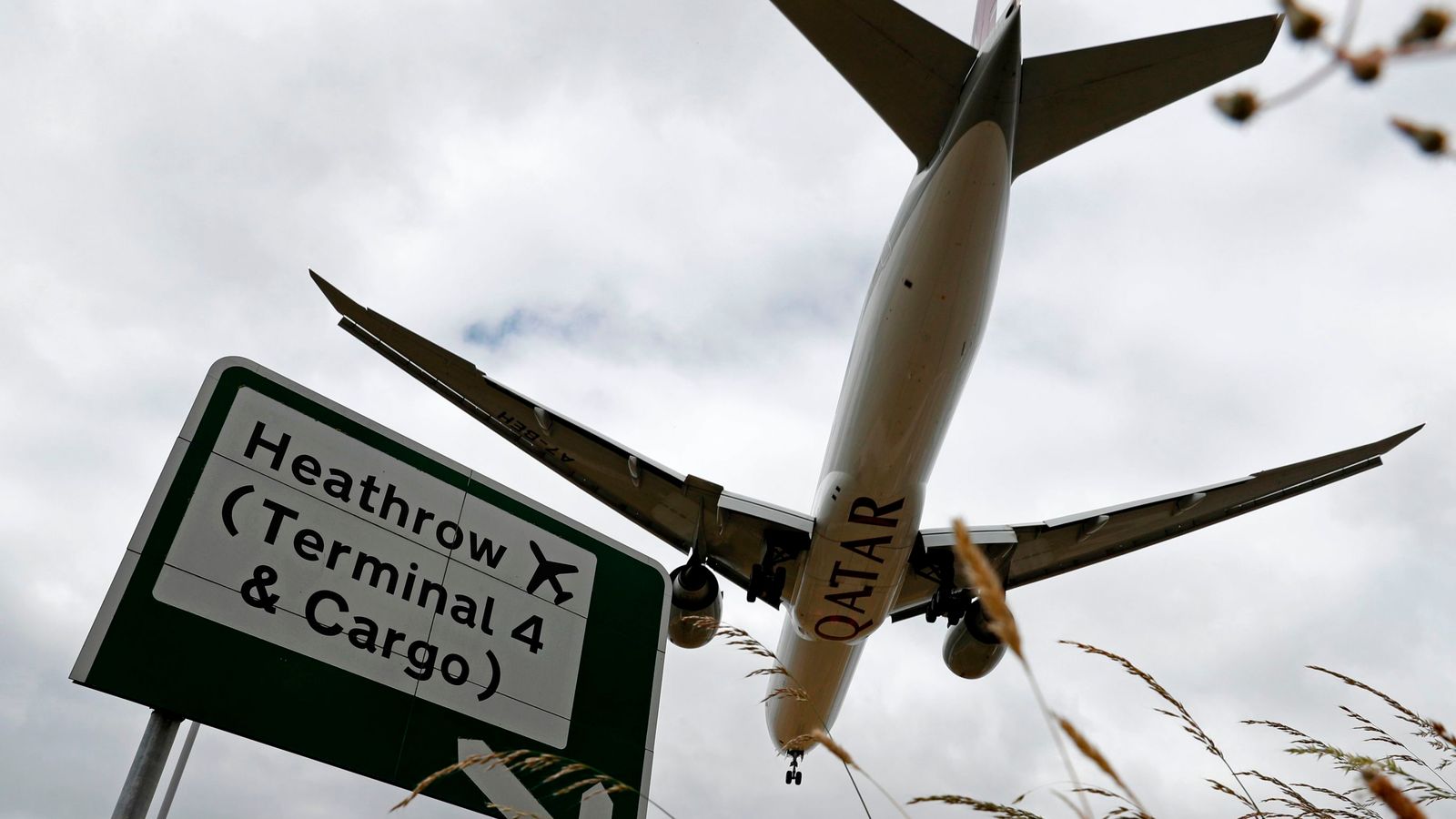 Hundreds of workers to strike at Heathrow Airport in run-up to World Cup
Passengers using five major airlines are set to face the threat of disruption for at least three days from 18 November as 700 contractors, including ground handlers, prepare to walk out in pay disputes.
Hundreds of workers at Heathrow will walk out in the run-up to the World Cup finals this month over demands for better pay.

Unite said 700 staff, who are involved in ground-handling, airside transport and cargo and are employed by dnata and Menzies at Heathrow, will strike for three days starting from 18 November.

The World Cup in Qatar starts on 20 November.

"It will lead to disruption, cancellations and delays at Heathrow terminals 2, 3 and 4," the union said of the strike in its statement.

"The strike action will particularly affect Qatar Airways, which has scheduled an additional 10 flights a week during the World Cup".

It added that other airlines to be "hit heavily" would include Virgin Atlantic, Singapore Airlines, Cathay-Pacific and Emirates.

However, Virgin denied it had any passenger service contracts with either dnata or Menzies and insisted that its flight programme would not be affected.

Passengers returning to the United States for the Thanksgiving holiday, which falls on 24 November, were likely to be hit.

Unite said both companies, which are contractors to airlines, had offered pay cuts when compared to the rate of inflation.

Dnata had offered its workers a 5% increase, the union said, while the offers for Menzies workers varied between 2% and 6%.

Airlines were yet to comment but dnata said it had activated contingency plans to minimise disruption while rejecting the union's claims around pay.

Alex Doisneau, managing director of dnata UK's operations said: "It is disappointing that Unite plans to progress with this costly industrial action, despite our offer to staff of an award which, with previous increases, amounts to a pay rise of 15.5% (20.2% for HGV drivers) since December 2021.

"This is in line with inflation and amongst the best in the industry."

The company described Unite's demands as "irresponsible" and a threat to its UK airport operations business as it was making a loss each month due to challenging conditions.

A Heathrow spokesperson said: "We are aware of proposed industrial action from Dnata and Menzies colleagues at Heathrow, and we are in discussions with our airline partners on what contingency plans they can implement to support their ground handling should the strike go ahead.

"Our priority is to ensure passengers are not disrupted by airline ground handler shortages."

Unite regional officer Kevin Hall said of its plans: "Strike action will inevitably cause disruption, delays and cancellations to flights throughout Heathrow, with travellers to the World Cup particularly affected.

"However, this dispute is entirely of Dnata and Menzies' own making. They have had every opportunity to make a fair pay offer but have chosen not to do so."