Travellers planning to fly in to Heathrow for the King's coronation next month were warned they faced disruption as airport security officers prepare to walk out for another eight days.

The strikes, scheduled for May 4-6, 9-10 and 25-27, follow a 10-day walkout by security staff that ended earlier this month.

Unite said the strikes will cause "inevitable disruption and delays" at a time when people are expected to be travelling to the UK for the King's coronation on May 6.

However Heathrow Airport insisted that services will run smoothly during the fresh wave of strikes.

It comes as traffic wardens in Westminster are to strike on the day of the King's coronation in a dispute over pay and conditions.

The GMB said its members employed by contractor NSL will be taking action short of a strike from May 1 to 8 and strike action on May 2, 4 and 6.

Announcing the fresh Heathrow strikes, Unite general secretary Sharon Graham warned: "This dispute is bound to escalate with more workers being balloted and disruption set to continue throughout the summer."

Unite regional co-ordinating officer Wayne King said: "Strikes next month will cause further disruption to airport passengers but this dispute is a direct result of Heathrow's stubborn refusal to make an offer that meets our members' expectations.

"Our members have been crystal clear they are seeking a substantial permanent increase in pay. A small one off lump sum payment will not alleviate the financial pressures our members are facing on a daily basis."

Unite said the current average salary of a Heathrow security officer is £30,000. This is made up of a basic £26,000, after three years' experience, with a £4,000 shift allowance.

Around 1,400 members of Unite joined the previous walkout, which covered much of the busy Easter weekend.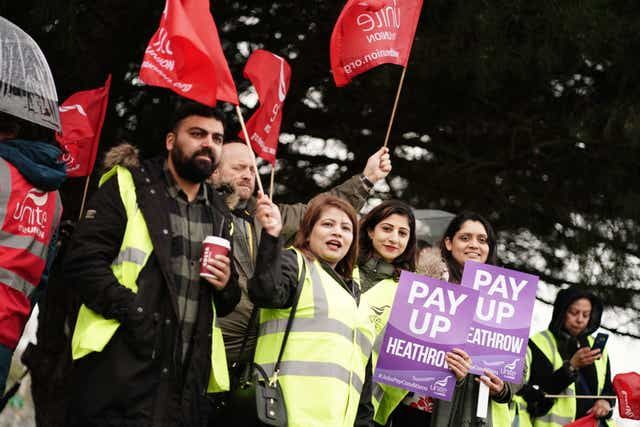 Picket line outside Heathrow Airport

The industrial action saw British Airways cancel 72 flights, disrupting the travel plans of around 100,000 people who were hoping to make it to America and Europe.

The strikes involved security officers at Terminal Five, which is used exclusively by British Airways, and campus security guards who are responsible for checking all cargo that enters the airport.

A Heathrow spokesperson said: "We kept Heathrow running smoothly during the first 10 days of Unite's failed industrial action, and passengers can have confidence that we will do so again this time.

"We will not let Unite disrupt the flow of visitors to the UK during such an important period for the country.

"The majority of Heathrow colleagues do not want to strike and want to accept the offer on the table. Each day that Unite refuses to allow members to vote on the 10 per cent pay increase - and a £1,150 lump sum payment - is a day that costs colleagues money they deserve now."

Further strike action during the King's coronation was also announced on Wednesday, with parking wardens in Westminster walking off the job on May 2, 4, and 6.

The GMB union said its members, employed by the council's contractor NSL, are in a dispute over pay and conditions.

GMB organiser Alex Etches said: "This is a great example of a simple truth in the world that is rarely acknowledged: that behind each great historical event are hundreds of ordinary workers working behind the scenes.

"Working people like our members might seem to do unimportant jobs, but they are the engines of history.

"This dispute is simply about working people being paid a decent wage for the physically demanding and very important job that they do.

"If NSL fail to make a sensible offer in time, we'll see just what an important job our members do as the King makes his way from Buckingham Palace to Westminster Cathedral on Saturday May 6."

Meanwhile, a strike by workers at the Passport Office is to be escalated next month.

The Public and Commercial Services Union (PCS) said its members in all Passport Offices will walk out for four days at the beginning of May.

Union members have been taking industrial action since the start of the month, but it has been limited to some staff in some offices.

Almost 2,000 PCS members working as passport examiners in Belfast, Durham, Glasgow, Liverpool, London, Newport, Peterborough and Southport have been on strike since April 3 in the union's long-running dispute over pay, pensions, redundancy terms and jobs.

They will be joined from May 2-6 by 1,000 workers in non-examination roles such as admin, anti-fraud, policy and commercial in the same offices, as well as interview officers in Birmingham, Corby, Hemel Hempstead, Leeds, Portsmouth, Sheffield and Plymouth from May 3-6.

The prospect of a growing new wave of walkouts increased further on Wednesday with news that senior civil servants are to be balloted for strikes in an escalating dispute over pay.

The FDA said its Executive Committee voted to launch a ballot in response to the Government's decision last week to give civil servants a pay rise of between 4.5% and 5%.

It is the first time the union has approved a national strike ballot over pay in more than 40 years.