The government's flagship green heating scheme has been described as "seriously failing" by a Lords inquiry.
The Boiler Upgrade Scheme grants households £5,000 to help switch from a gas boiler to a low-carbon heat pump.

On Wednesday, the Lords Net Zero Committee said grant take-up is so low the national target for green heating is "very unlikely to be met".

The government responded by saying it would launch a marketing campaign to make people more aware of the scheme.

Heating in UK homes produces nearly 17% of the country's greenhouse gas emissions, which are responsible for climate change.

To meet the UK's climate change targets, the government wants to install 600,000 low-carbon heat pumps annually within five years - currently only 50,000 are installed annually.

The Boiler Upgrade Scheme was meant to kick-start the heat pump industry in England and Wales, and reduce the cost of installation for homeowners.

But in her letter to the government, Baroness Parminter, chair of the Lords Committee, heavily criticised ministers for not doing more to raise awareness of the scheme - which is on track to issue just half of the allocated grants.

She told the BBC: "The scheme isn't working as well as it needs to. It is absolutely critical that the government boosts public awareness... we need to give people the confidence to know about why these changes are important."

Heat pumps use electricity to run and are three times more efficient than a gas boiler, so as we switch to renewable electricity homes will be cheaper to heat and produce less emissions.

Anthony Hibbs got a heat pump installed in his new-build home in Newcastle-under-Lyme through the scheme last year. He told the BBC his new heating system was "absolutely brilliant".

But he said finding information on installers and the scheme was difficult: "I had to look online and do a lot of research. It wasn't easy at first and I have never seen the scheme advertised as such."
The government's own research from Autumn 2022 shows 80% of people in the UK did not know what a heat pump was, let alone were aware of the scheme.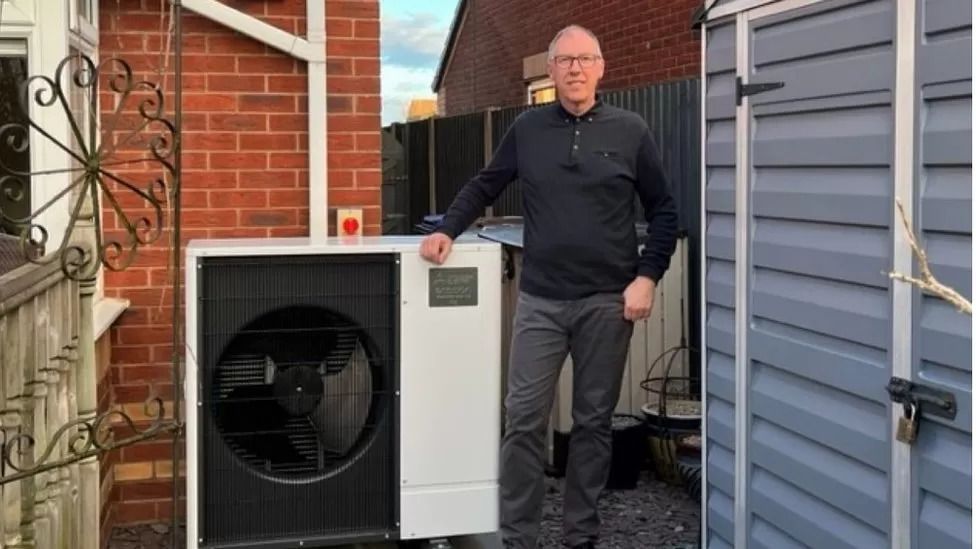 Anthony Hibbs said the Boiler Upgrade Scheme made a heat pump affordable for his family
A government spokesperson told the BBC: "We've recently launched a marketing campaign to further increase public awareness and will consider options to ensure our targets are met."
John Taylor, 71, another recipient of the BUS voucher, also said the government needed to make it clearer which installers to use: "I searched online and found cowboys out there. There is not a lot of guidance leading you to decent people - you are on your own."
There are an estimated 3,000 heat pump installers in the UK compared to 130,000 registered gas heating engineers.
The committee said the government is funding some training places for installers but needed to give more certainty to engineers that it is worth investing their time in getting retrained.
The problems with the scheme are reminiscent of the government's previous Green Homes Grant which was meant to support households with energy efficiency measures like insulation, but was scrapped after less than a year in 2021 for lack of installers.
But Rebecca Dibb-Simkin, Chief Product and Marketing Officer at Octopus Energy, which was praised by the Committee for its investment in heat pump design and training, said the scheme had boosted confidence in the industry and Octopus Energy has 50,000 people on its waiting list for a heat pump.
She said: "Government and business need to work together on this, we hope the grant will continue.
"We know we can generate demand, and the grant would help people with the cost… it's kind of a perfect relationship."
The committee has said that for lower- and middle-income households the grant is not enough, and they are being put off by the higher upfront costs of installing a heat pump compared to a gas boiler.
Even with the grant, Mr Taylor and Mr Hibbs spent £8,500 and £6,000 respectively on their heat pumps.
Stew Horne, head of policy at The Energy Savings Trust told the BBC: "That upfront cost is a real issue, and policy has to focus on addressing that... through grants or low-cost loans or through green finance."
He said that model was not new and was already being used in Scotland, where they also offer a free energy advice service to help households navigate installing a new heating system.
Countries like France and Germany have also pledged twice as much money to their low carbon heating schemes and offer larger grants for low-income households up to £9,700 to make heat pumps more affordable.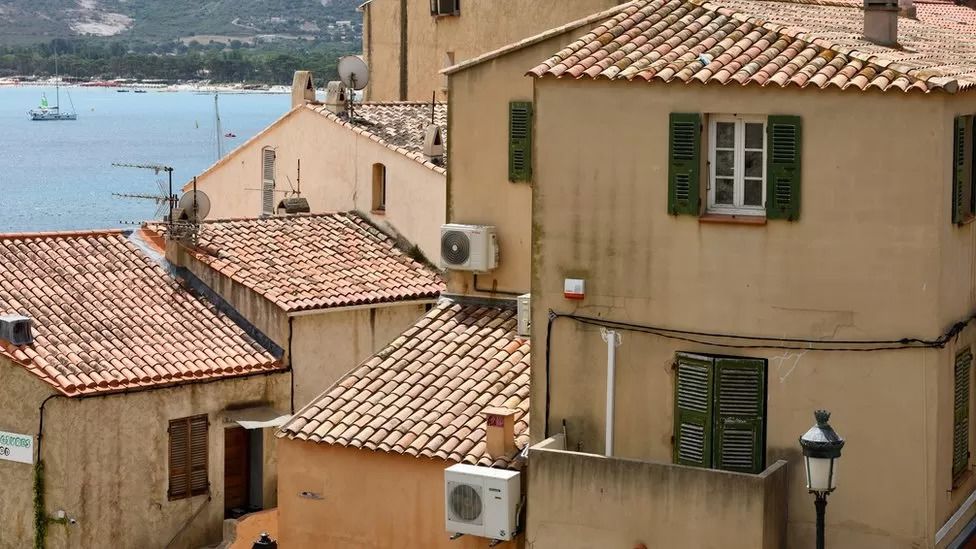 In her letter to government Baroness Parminter said additional support and funding needed to be offered to households, similar to the schemes in France

The Lords Committee for Environment and Climate Change said the government needed to expand the programme to match this scale and also guarantee that the unspent funding from Year 1 of the BUS - which they estimate at about £75m - would roll over to subsequent years.

The government declined to comment on what would happen to this unspent funding.

Baroness Parminter told the BBC she had made it very clear to government: "They have got to get that money back. It is not going to be acceptable if the underspend in the first year somehow disappears back to the treasury. The money was set aside for a good purpose."