There were more than 3,700 patients a day in hospital with flu last week - up from 520 a day the month before, the latest data from NHS England shows.
Of these, 267 people needed specialised care in critical care beds last week.

NHS England warns pressures on the health service continue to grow as viruses like flu re-circulate after a hiatus during the pandemic.

This time last year, when social mixing was low, there were only 34 patients in hospital a day with flu.

Prof Sir Stephen Powis, NHS national medical director, said: "Sadly, these latest flu numbers show our fears of a 'twindemic' have been realised, with cases up seven-fold in just a month and the continued impact of Covid hitting staff hard, with related absences up almost 50% on the end of November."

He warned this was "no time to be complacent" with the risk of serious illness being "very real" and encouraged those eligible to take up their flu and Covid jabs as soon as possible.

Admissions among children under 5 have been high this flu season, as well as among older people.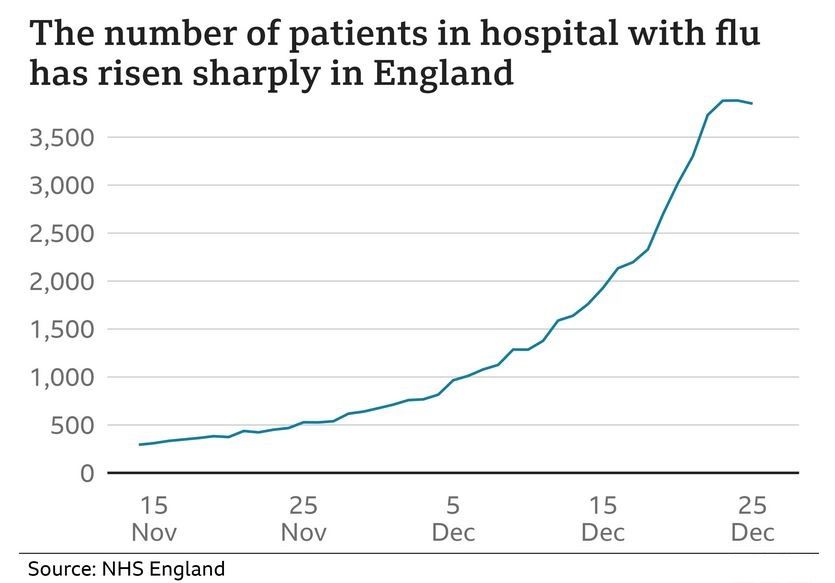 The latest figures show, last week:
* More than nine in 10 beds were occupied (93%), compared to 86% for the same period last year
* Some 12,300 beds a day (around one in eight) were occupied by patients who were medically safe to discharge but could not leave, often because the right community or social care support was not immediately available. This is the lowest figure since August 2022

* There were nearly 600,000 calls to the NHS 111 service last week, up more than two-thirds from this time last year

The report suggests NHS staff have also been affected by the spread of viruses during winter, with staff absences from all causes sitting at around 63,296 a day. This compares to 52,556 at the end of last month.

In Wales, admissions with flu have been rising since the beginning of December, with 702 people in hospital with flu on Christmas day and 29 of those patients required critical care support.

Flu-related hospital admissions in Scotland have also been steadily increasing over the winter with the rate at 7.5 patients per 100,000 of the population, according to the latest figures. This is the highest on record since 2017.

The latest figures published for Northern Ireland, for mid-December, show the number of positive flu tests in hospital have risen sharply compared to previous weeks.