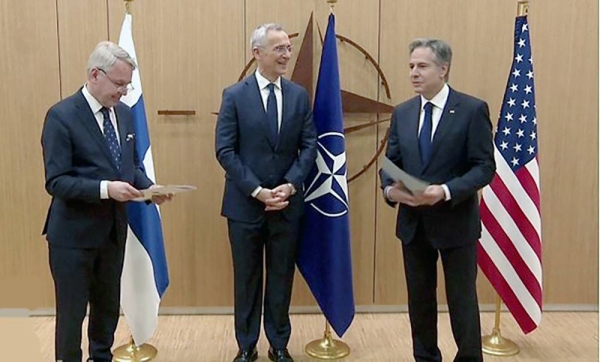 NATO's border with Russia doubles as Finland joins
Finland has become the 31st member of the NATO security alliance, and its flag will soon be raised at the alliance's headquarters.
The Finnish foreign minister handed the accession document to the US secretary of state who declared Finland a member.

Finland's accession is a setback for Russia's Vladimir Putin, who repeatedly complained of NATO's expansion before his full-scale invasion of Ukraine.

The length of Russia's border with NATO member states has now doubled.

Finland shares a 1,340-km (832-mile) eastern frontier with Russia and formally applied to join NATO with Sweden last May because of Russia's war.

Kremlin spokesman Dmitry Peskov warned that Russia would be "watching closely" what happens in Finland, describing NATO's enlargement as a "violation of our security and our national interests".

Finland and Sweden had previously both adopted a policy of non-alignment. But after the Ukraine invasion, they chose the protection of NATO's Article Five, which says an attack on one member is an attack on all.

In effect, it means if Finland were invaded or attacked, all NATO members — including the US — would come to its aid.

Russia's invasion prompted a surge in Finnish public opinion towards joining NATO to 80% in favor.

"This will make Finland safer and NATO stronger," NATO Secretary General Jens Stoltenberg told reporters on Tuesday.

"President Putin had a declared goal of the invasion of Ukraine to get less NATO along its borders and no more membership in Europe, he's getting exactly the opposite."

US Secretary of State Antony Blinken said he was "tempted to say this is maybe the one thing we can thank Putin for".

"Because he once again here has precipitated something he claims to want to prevent by Russia's aggression," he said.

Sweden's application has for now become stuck, with Turkish President Recep Tayyip Erdogan accusing Stockholm of embracing Kurdish militants and allowing them to demonstrate on the streets. Hungary is also yet to approve Sweden joining.

As he handed over the accession document to Blinken, Finnish Foreign Minister Pekka Haavisto said he had a very important initial task: "The task is to give to you for the deposit also our ratification for Swedish membership."

Stoltenberg said earlier NATO would ensure Sweden would become the next member to join.

Finland will get an iron-clad security guarantee. Article 5 — our collective defense clause "One for all and all for one" — will now from today apply for Finland

Helsinki's journey to accession has lasted less than a year, and Tuesday's ceremony coincides with the 74th anniversary of NATO's founding in 1949.

"Finland's a terrific ally, very capable, shares our values and we expect a seamless transition into its proper seat at the table," US ambassador to NATO Julianne Smith told the BBC.

She said she hoped Sweden would also join at the next NATO summit in Lithuania in July.

The Kremlin said that Russia was being forced to take counter-measures to ensure its own security, tactically and strategically, but pointed out it had never had disagreements with Helsinki in the way that Ukraine had become "anti-Russian".

Meanwhile, Defense Minister Sergei Shoigu said on Tuesday that Russia's short-range Iskander-M ballistic missile system had been handed over to Belarus and was capable of carrying nuclear as well as conventional weapons. Some Belarusian fighter jets were also capable of carrying nuclear weapons, he said.

Stoltenberg said NATO had not yet seen any changes to Russia's nuclear posture that would require any change by the alliance. He added there would be no NATO troops stationed in Finland without the consent of the government in Helsinki.

NATO will now have seven members on the Baltic Sea, further isolating Russia's coastal access to St Petersburg and its small exclave of Kaliningrad.

Peskov told the BBC that Russia would be watching closely how NATO used Finnish territory "in terms of basing weapons systems and infrastructure there which will be right up close to our borders, potentially threatening us".

"Based on that, measures will be taken," the Kremlin spokesman said.