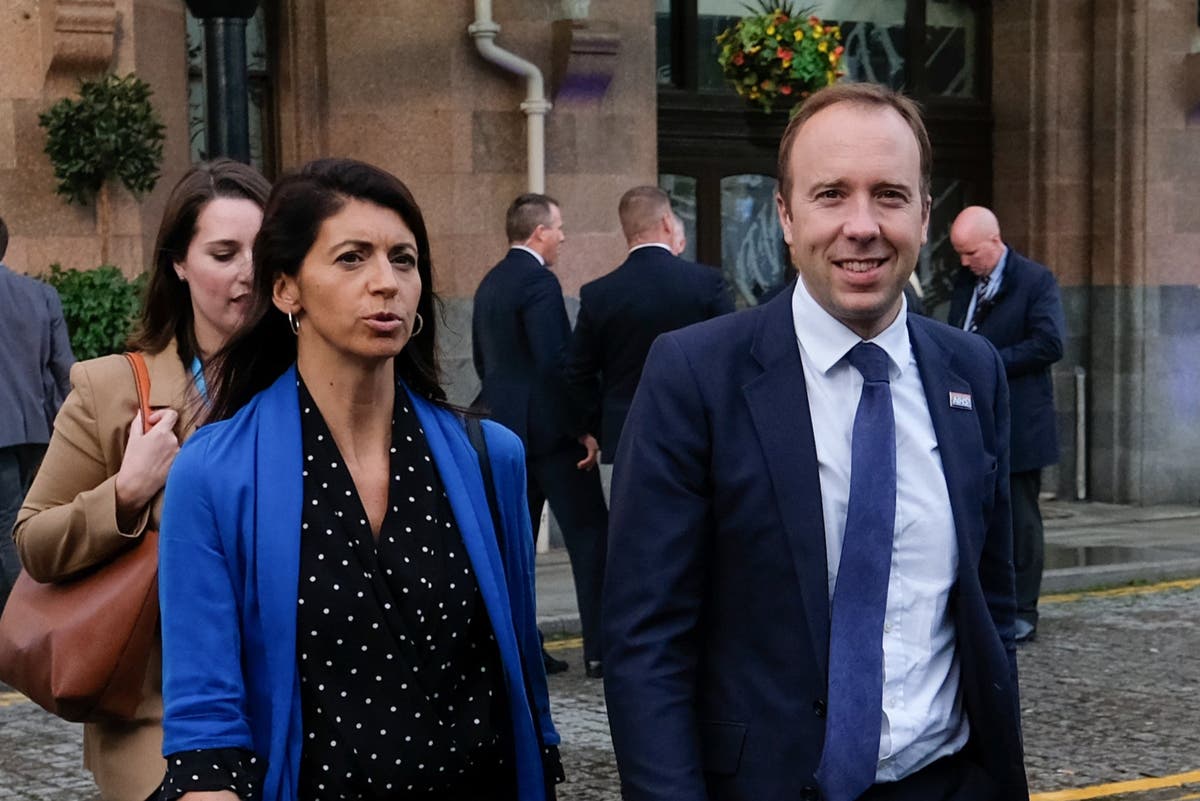 'Do the honourable thing': Calls for Hancock to step down as MP
Matt Hancock faced the first threat of deselection on Wednesday as a local councillor called on him to "do the honourable thing".
The former Health Secretary faces a backlash in his West Suffolk seat after he resigned from the Cabinet over leaked footage of him kissing a female aide.

Mr Hancock admitted he had flouted the "no hugging" social-distancing rules that were in force at the time of his clinch with Gina Coladangelo.

However, Tory councillor Ian Houlder said he was "disgusted" by Mr Hancock's behaviour and has written to his local association calling for him to be deselected before the next election.

He told the Standard: "There is no way I, as the Conservative member for this particular ward, would vote for him. What he did was beyond the pale. As far as I'm concerned he's politically finished.

"It's nothing to do with his sordid affair because otherwise you'd have an empty parliament wouldn't you?

"It's the very fact he stood up there for a year spouting, pontificating, ordering, browbeating, slagging off people who broke his rules."

He said he "absolutely" wants Mr Hancock to be deselected, adding: "I actually want him to do the honourable thing and tell the party he is not going to stand at the next election and in fact he resigns. As soon as they've found a new candidate, he should ask for a by-election to be called."

Councillor Houlder said he wrote to the Prime Minister when the scandal first broke, adding: "I wrote to Matt Hancock as well saying how disgusted I was with his national behaviour as a minister of the crown – I said it's just appalling and he should resign immediately."

However, other councillors are expected to try to shut down any attempts to have a vote against Mr Hancock.

Mr Hancock's constituency association is said to be divided in the wake of his decision to leave his wife of 15 years, Martha, who is a popular figure. He is said to have delegated much of the work of networking with local worthies to his wife.

One anonymous councillor told the Telegraph there was not "outrage" but a "sense of sadness" for the family. They added: "There is support for Matt as a constituency MP and that seems to be holding up."

The Standard has contacted the local party for a response.

On Tuesday the Standard revealed that senior Whitehall insiders believed that the CCTV camera that ended Mr Hancock's career was deliberately tampered with to catch him in the act in a "stitch up".