Diesel prices in the UK rose by an average of more than 2p in a day as Russia's invasion of Ukraine continues to affect global oil costs.
The fuel jumped to a record £1.76 per litre on Tuesday, up from almost £1.74 on Monday.

Petrol prices, which have also increased to record highs, rose to almost £1.65p a litre from about £1.64.

The continuing price rises come amid warnings of potential global oil supply problems.

Recent rises in the global price of oil has pushed up prices at the pumps in the UK, but there are hopes recent falls will transfer to cheaper fuel.

Simon Williams, fuel spokesman for the RAC, said drivers could save almost 4p a litre by buying their fuel at one of the big four supermarkets, where the average for petrol is 161p and 171p for diesel.

"We continue to remain hopeful that retailers will soon start to pass on recent reductions in the price of wholesale fuel to drivers when they next buy supply. That ought to lead to petrol stabilising at around 160p while diesel ought to stay where it is based on current wholesale prices," he said.

The British Retail Consortium (BRC), whose members include major supermarkets which sell fuel, has said retailers understand the cost pressures facing motorists.

Andrew Opie, of the BRC, said they would do everything they could to offer the best value-for-money across petrol forecourts.

The International Energy Agency (IEA) said high commodity prices and sanctions against Russia for its invasion of Ukraine were "threatening to create a global oil supply shock".

It estimated three million barrels per day of Russian oil could be taken out of the global market as a result of international sanctions.

The agency warned only Saudi Arabia and United Arab Emirates have enough spare production capacity to offset the shortfall in Russian output, which it said was the largest oil exporter in the world.

Russia continues to export oil for the time being due to deals and trades made before Moscow sent its troops into Ukraine, the IEA said. New business has all but dried up, however, because many Western countries are seeking alternative fuel supplies.

Some countries, such as the US and Canada, have banned Russian oil imports, but by contrast, the EU, which is much more reliant on Russian energy, has stopped short of a ban.

Meanwhile, the UK has said it will phase out imports of Russian oil in response to Russia's actions by the end of the year.

Prime Minister Boris Johnson has travelled to discuss energy security and other issues in Saudi Arabia and the United Arab Emirates.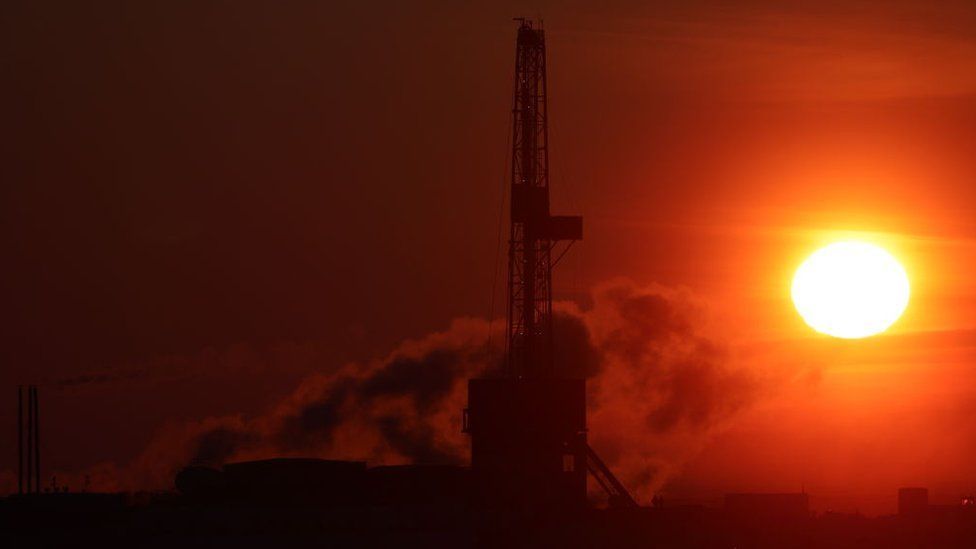 A Rosneft oil rig drilling the first exploration well in the Khatanga Bay, Russia

The IEA said the world was "faced with what could turn into the biggest supply crisis in decades", with global energy markets "at a crossroads".

It added the "implications of a potential loss of Russian oil exports to global markets" could not be understated.

"Russia's invasion of Ukraine has brought energy security back to the forefront of political agendas as commodity prices surge to new heights. While it is still too early to know how events will unfold, the crisis may result in lasting changes to energy markets," it said.

The price of Brent crude oil - the global benchmark for prices - hovered around $100 per barrel on Wednesday, having previously reached record highs of more than $130 a barrel in the immediate aftermath of Western countries hitting Russia with sanctions.

The UK only imports about 6% of oil from Russia, but is affected by the global shifts in price which are driven by supply and demand forces.

RAC fuel spokesman Mr Williams said UK fuel prices had increased at the fastest rate on record, with petrol rising 13p since the start of the month and diesel increasing by nearly 21p.

He said a full tank of unleaded for a family car was now almost £91 on average.

'Drivers need a break'

UK motoring groups have said fuel prices are likely to fall as global oil prices stabilise.

Yet, there is a concern some retailers might be reluctant to lower their prices for fear of being caught out if wholesale costs jump back up again.

"The big question is how keen will retailers be to pass on those savings at the pumps as they will no doubt be extremely conscious of protecting themselves from any more rises that could suddenly materialise," said Mr Williams.

"Drivers badly need a break from these relentless daily rises."

The RAC has called on the chancellor to cut fuel duty or VAT in his upcoming Spring Statement.