The emotional final on-air conversation between Dame Deborah James and BBC presenter Tony Livesey has been voted moment of the year at the UK radio industry's annual awards.
The You, Me and the Big C podcaster, who also set up the Bowelbabe cancer research fund, died last year aged 40.

She made a touching last appearance alongside Livesey on BBC Radio 5 Live last May, shortly before her death.

It was named the Radio Times Moment of the Year at the Aria Awards on Tuesday.

In the interview, Livesey was heard refusing to say goodbye, while thanking Dame Deborah and offering "a big warm hug".

She responded by thanking him back for his support, as well as listeners for "coming on this crazy journey with us."

Livesey, who was on hand to pick up the award, told the Radio Times last month that ending the call was one of the hardest things he has ever had to do.
"I couldn't put the phone down as I knew it would be the last time I would speak to her," he said. "We were like young kids on a date - 'you put it down', 'no you put it down.'
"In the end she put the phone down. And that was the last time I ever spoke to her."
Dame Deborah launched the podcast with fellow cancer patients Lauren Mahon and Rachael Bland, to explore life with and myths about the disease. It won the Arias' impact award on Tuesday evening at London's Theatre Royal.
Another of the night's winners also focused on life, death, love and loss. US comedian Rob Delaney's A Heart That Works, a memoir about his young son Henry who died of a brain tumour, took the award for best audiobook or reading.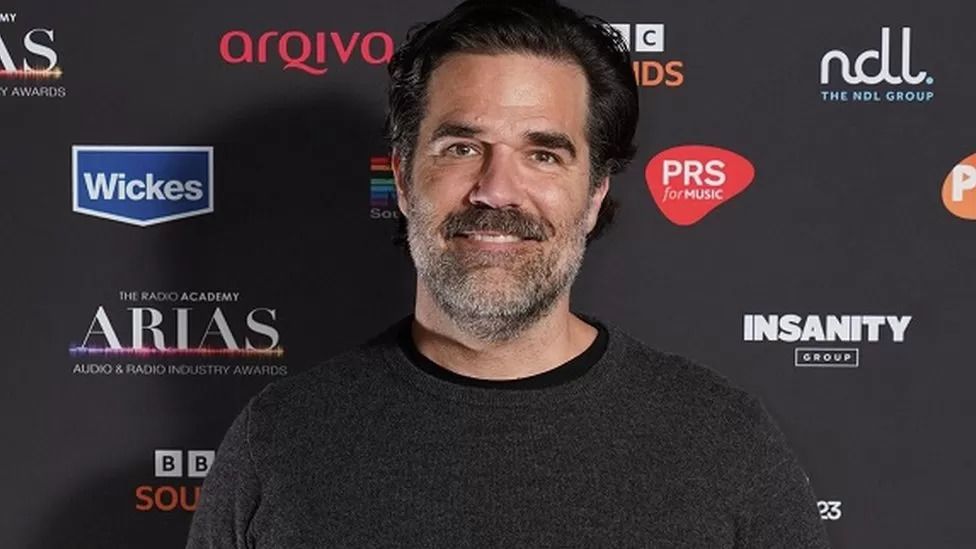 Rob Delaney's book and audiobook tackle the topic of his son's death

Other winners included comedian Romesh Ranganathan - for his BBC podcast For the Love of Hip Hop - as well as BBC radio DJs Craig Charles and Tony Blackburn.

Blackburn won the pioneer award shortly before being discharged from London's Wellington hospital, where he had been for three weeks with a chest infection.

"After my treatment and a rest I look forward to getting back at Radio 2 and BBC local radio to doing what I love doing," he wrote on Twitter.


Elsewhere at the awards, run by the Radio Academy, 1Xtra's Nadia Jae picked up the prize for best music breakfast show. 5 Live Breakfast won best speech breakfast show and TalkSport's Adrian Durham was named best speech presenter.

Radio 4 won UK station of the year, and In Dark Corners - its investigation into historical sexual abuse at Scottish schools - was named best factual series.