Charities are facing "lacklustre" festive donations as the soaring cost of living hits the finances of organisations and their sponsors.
Fewer people are donating to charity compared with before the pandemic, according to a survey by the Charities Aid Foundation (CAF).

Rising prices and bills mean the money that is donated does not go as far, while demand for services is rising.

One charity boss says it is leading to choices that "make me cry".

Lara Bundock, founder and chief executive of The Snowdrop Project, which supports survivors of human trafficking, said it was no longer possible to cover the travel costs of everyone who needed her charity as a safe haven.

That left some people in need questioning whether they could afford the fare to visit Snowdrop, she said.

"The economic climate and cost of living crisis has hit harder than any of us could have imagined," she wrote in a message to supporters. "For the first time in 10 years, I've had to make some hard decisions to keep the charity going."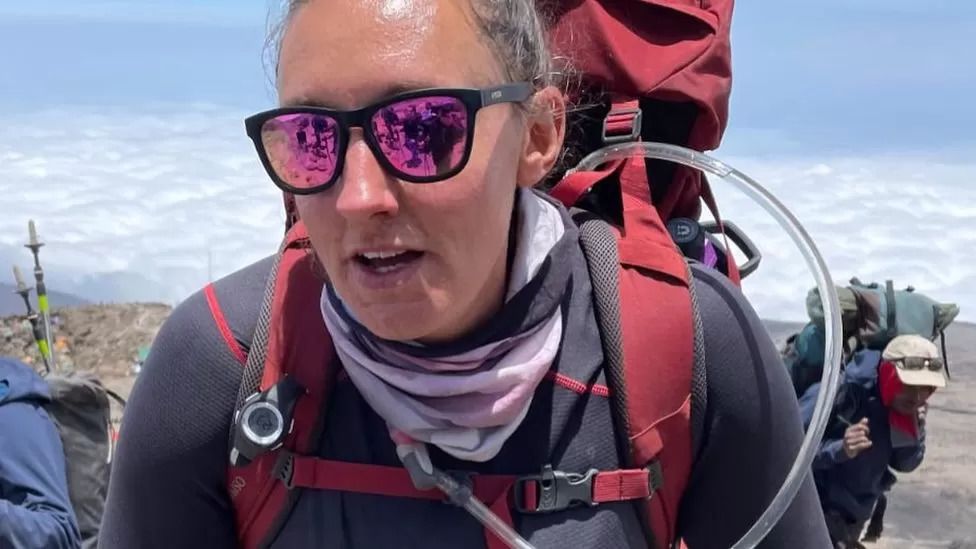 Lara Bundock on a fundraising climb of Kilimanjaro
She said the charity's outgoings had increased by £10,000 a year, with a sharp increase in the cost of heating and lighting their premises in Sheffield.
The charity has cut some of its English language teaching and Ms Bundock, who has climbed Kilimanjaro to fundraise for the charity, said finances were stretched but she was determined to retain experienced, key staff.
"I'm aware, of course, that everyone is struggling. I hope that if you can't donate, then they can share information with others, or companies, who maybe can," she told the BBC.
The CAF, an advisory group for the charitable sector, said this time of year - particularly November - was usually a key month for donations owing in part to national events such as Remembrance Day.
However, its survey suggested people had fewer opportunities to donate during the pandemic and the number of people donating had failed to pick up this year. That was likely to be the result of the pressure of the rising cost of living, the CAF said.
Some 36% of those asked had donated in the previous four weeks, CAF's November survey showed. This was slightly higher than same month in the previous two years, but down from a 43% average during November in the pre-pandemic years.
'Understandable'

Those who were donating were giving more than four or six years ago, but that comes at a time when high inflation is eating away at the spending power of those donations.

"People cutting back on their donations during the Christmas period is understandable but it is a concern for the many charities that rely on festive fundraising, especially following two years of cancelled charitable events and appeals," said Neil Heslop, chief executive of the Charities Aid Foundation.

"Charities know more than most the pressures people are feeling as they try to provide for their families during this incredibly challenging time."

The CAF said that a third of charities had seen demand for their services increase significantly compared to last year, and people were more aware of those in need in their local communities.

It said people could add to the coffers of charities by declaring their donation so Gift Aid is added. There were also tax-efficient ways of giving directly from pre-tax pay or pensions.

It is also urging people to volunteer their time as an equally valuable way to help.