With quick wins increasingly exhausted, Kemi Badenoch wants to shift the UK's post-Brexit focus away from big-ticket trade agreements.
Britain's trade chiefs have long loved a headline-grabbing, Instragram-worthy free-trade deal to get the Brexit blood pumping. But Kemi Badenoch has something much less sexy in mind: motorways.

The current international trade secretary — a onetime Tory leadership challenger and a firm favorite of the party grassroots — has spent the past few months since taking the reins at the Department for International Trade (DIT) stressing that she sees more to the beat than the host of big-bang agreements struck under previous holders of the post.

Instead, she's trying to shift her department's focus to the more prosaic stuff: ensuring businesses are actually using the deals Britain has already struck, reducing trade barriers, upping inward investment and boosting exports. And she's got a favorite automotive metaphor to hammer the point home.

"Trade deals are like the motorway," she said last fall. "It's fantastic, you get them built, but if cars aren't going back and forth, then you might as well not have built them. The going back and forth are exports and investments." It's a line she tried out again in a pre-Christmas grilling by British lawmakers, telling them: "I want to emphasize that free-trade agreements are like the motorway."

The shift in approach has already earned plaudits from some industry figures — but it's also being seen as a sign Britain has banked many of the quick wins up for grabs after leaving the EU.

Now for the hard bit

Keen to show Brexit was worth it, the U.K. embarked on a free-trade-agreement (FTA) negotiating spree after leaving the European Union, securing a host of rollover deals, big from-scratch agreements with Australia and New Zealand, and kicking off negotiations with the likes of Mexico, Canada, the Gulf States, India and Israel. 

While the agenda often courted positive media attention and helped rocket then-Trade Secretary Liz Truss to the top of the Tory pack, the U.K.'s deals are now coming under closer scrutiny, and experts argue the country's trade honeymoon is over. A long-coveted free-trade deal with the United States is stuck in limbo.

"The real test of trade agreements is their usage by businesses, particularly small and medium-sized firms keen to export more goods and services," said William Bain, head of trade policy at the British Chambers of Commerce. A balance must be struck between negotiating improved trading terms "while ensuring business gets the most value out of these agreements," he added. 

Marco Forgione, director general of the Institute of Export & International Trade, welcomed Badenoch's "clear message" that "an even keener focus will be brought to increasing exports and investment opportunities."

"I think Kemi Badenoch is absolutely right to focus on where our strengths lie," said Nicholas Lyons, who, as the lord mayor of the City of London, acts as an ambassador for British financial and professional services. "You can spin a lot of wheels trying to do too much and end up doing nothing."

Change in emphasis

The U.K. is not shying away from free-trade negotiations entirely under Badenoch. During her short tenure, Britain has agreed a digital agreement with Ukraine and, in December, started the process of negotiating an enhanced free-trade agreement with South Korea. The U.K. also hopes to accede to a major Asia-Pacific trade bloc, and a deal with India could come early in 2023.

Yet Badenoch and Prime Minister Rishi Sunak have already done away with Britain's love of setting deadlines for FTAs, arguing that they want to prioritize depth over speed instead of pegging complex agreements to largely-political dates.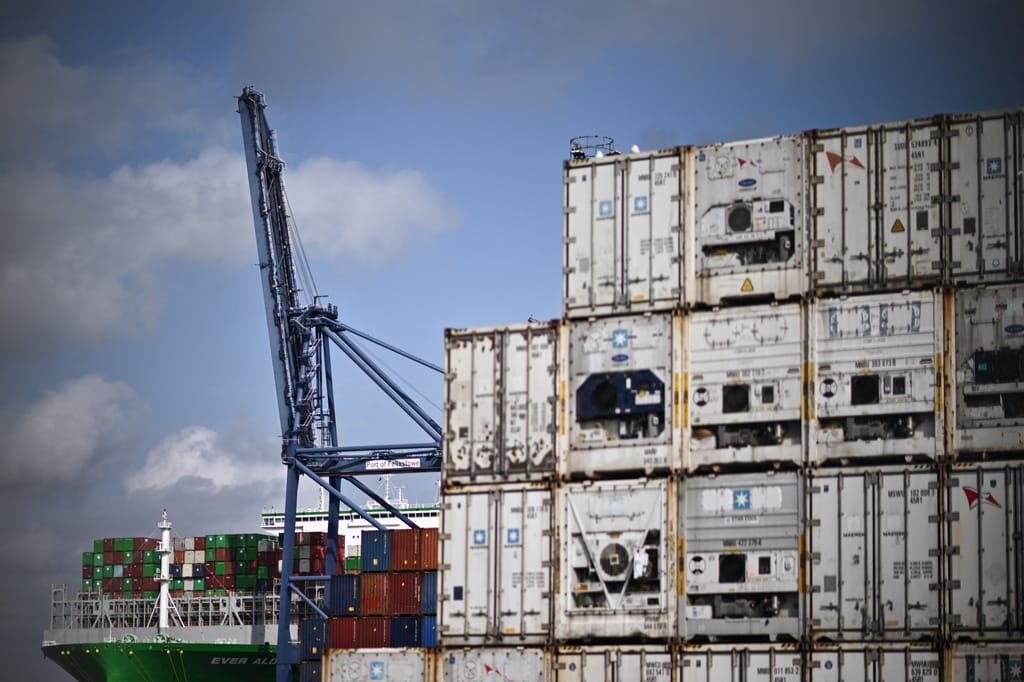 Britain's biggest container port, Felixstowe

Badenoch, who backed Britain's EU exit, has said she believes it was "critical" for the U.K. to demonstrate its newfound independent trade policy post-Brexit. But, she said, "using [the rollover deals and FTAs] and making sure that they are working and are more efficient, and so on, is going to be my approach."

Her department still has a "lot of work to do in the less sexy areas of getting tariffs removed and so on," she told the international trade committee.

The shift, officials say, is about emphasis, and a desire to make clear that there's more to trade than FTAs.

Badenoch told MPs that she "definitely wanted" more time to look at the U.K.'s proposed deal with India when she entered DIT in September, but ultimately had to defer to Truss, by then the prime minister, who stuck to the October Diwali deadline set by Boris Johnson.

She appears to have an ideological partner in Sunak, who, unlike the more libertarian Truss, has already expressed caution about the downsides of free-trade deals. Sunak has branded the U.K.'s agreement with Australia "one-sided," while Badenoch once warned of the trade-offs involved in FTAs and the "impact that opening up our markets will have on domestic producers." 

After a period of broad consensus between successive trade secretaries, Badenoch seems set on taking the department in a new direction.

"My approach is going to be different from previous secretaries of state," she told MPs. "I would like us to move away from DIT being seen as the 'Department for Free-Trade Agreements,' and back to the Department for International Trade."