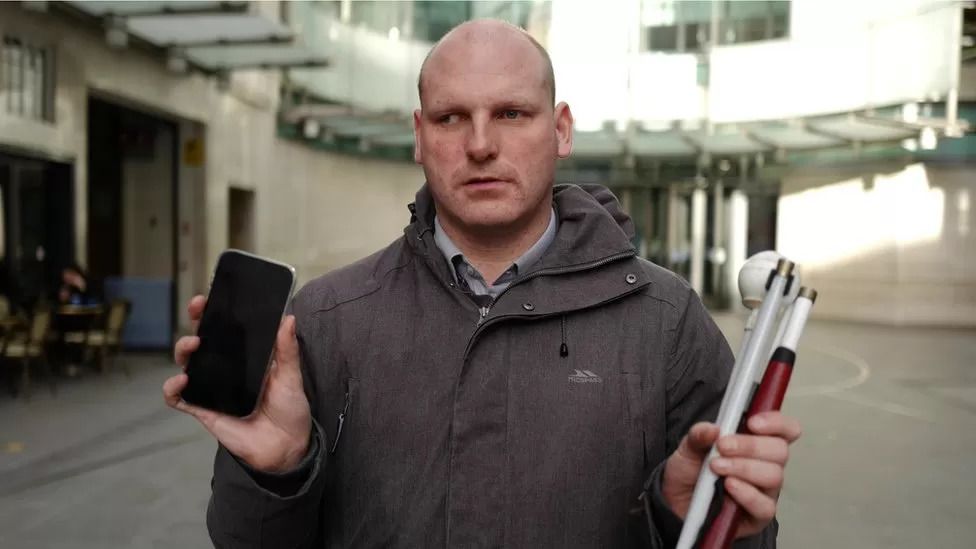 Blind BBC News correspondent Sean Dilley defeats mugger who stole his phone
A blind BBC reporter says he "instinctively" leapt on a mugger who had stolen his mobile phone - and managed to get it back.
Sean Dilley was targeted on Tuesday while on a break during a night shift at London's New Broadcasting House.

A person riding a bike snatched the phone - but Dilley did not give up easily and instead made a split-second decision to try to detain his attacker.

He said afterwards he suspected he was targeted because of his blindness.

A member of the public is allowed to attempt an arrest if they suspect a serious criminal act is taking place and they intend to deliver the suspect to the custody of police as soon as possible.

The news correspondent took his opportunity when he sensed that his attacker was still next to him so jumped in that direction and managed to get them onto the ground.

He then restrained their arms and was able to retrieve his phone.

Dilley sustained several cuts and injured his elbow in the incident, which happened just before 0600 GMT. He said he was concerned about protecting himself but also wanted to ensure the person was as safe as possible.

He used a voice assistant on his phone to call 999. As he waited for the police, another person arrived and offered to help.

At that stage, with his assailant continuing to struggle, Dilley told them he would let them go as long as they left immediately.

Three police officers arrived soon after and Dilley said he was grateful to them for their quick response, describing their attitude towards him as "friendly" and "helpful". The trio walked him back into the BBC newsroom.

Dilley said he hoped that his instinctive actions might force the thief to reconsider their actions in future.

"He picked the wrong blind person on the wrong day," he said.

He described his own actions as "stupid" and advised anybody in a similar situation that no property is worth risking their life for and to simply call the police.

However, Mr Dilley said he can't pretend he is not happy he got his phone back.

Police are investigating the incident as an attempted robbery and are appealing for witnesses who saw what happened in Bolsover Street, in central London. The witness who stopped to help told police the person ran off in the direction of Greenwell Street. Anyone with information should call 101 quoting CAD 1115/27Dec.